MendelChopRach: Anne Trenning's New Single Released

Anne Trenning has released her new single, which in fact is an oldie-goldie from the closet of after-graduation-compositions and the piece carries the beautiful mixture of exuberance and contemplation that every youth is full of.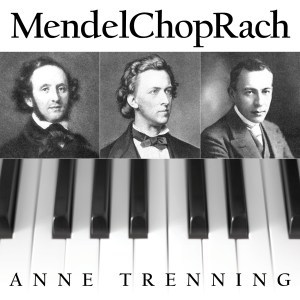 It's a passionate dedication to the influence of these three great musicians and composers whom she admires: Felix Mendelssohn, Frédéric Chopin, and Sergei Rachmaninoff.
The song begins with a powerful introduction before it goes into descriptive hand-movements on the piano. The piece shows the charm and mark of their music styles, but there is a creative element of a heart jostling with the muscle-memory of the fingers.
I have listened to and enjoyed many albums by Anne but I could very distinctively notice the passion and force that she has shown in this piece–indicative of her zeal to emulate the inspiration that she derived from the trio, and also the drive that she felt while learning classical notes that often reach the depths of one's soul.
What I like in Anne's music is the intention–it is free of fanfare and full of meaning. You can feel the care and concern that she has put in naming the song, composing, and presenting it to the audience. Oftentimes, when you listen to her, it feels like she is sitting in the same room and you are enjoying the music, smiling with her in simple joy.
Anne has released a video of the song, which gives the description of how she composed the song and also a brief biographical introduction to the musicians that she has dedicated this song to. Do check it here:
Surely, young musicians and composers can think of doing the same exercise of giving free reins to their hearts as they sit with their chosen musical instruments, and let the music flow–they may be influenced by what they learned, but it will give a vent to their creativity, and help them find their own spot.
I will definitely wait for more such hidden treasures that may jump out of Anne's closet!