The Moon Stays Bright – Digging Deep In to The Treasure Of Power In You

Once the body and mind are put to rest during meditation, the soul's journey begins. While the body and mind can travel only to known places, the soul can journey to infinitely widening cosmos and even beyond. Often, inspired music is the preferred companion during the soul's celestial journey. Very few artists are good at making music for contemplation and for Trine Opsahl, this is not a stranger's job. A talented Celtic harpist and an admired composer, Trine has been a harp therapist at the hospice and hence she knows the art of tweaking music in the soul's language.
About the Album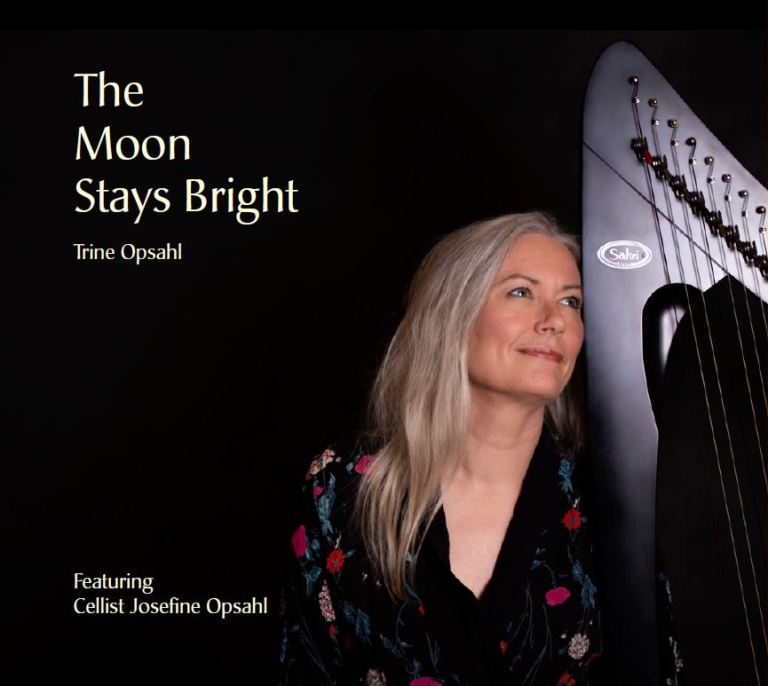 "The Moon Stays Bright" is a unique musical retreat rendering the audience 12 tranquil instrumental tracks to accompany the soul on a spiritual voyage. Released as Opsahl's seventh album, this album closely follows the Nordic or Celtic tradition and is intended to facilitate relaxation and meditation. Trine Opsahl has composed the different tracks of this album on her Celtic harp and Cellist Josefine Opsahl is featured on 3 tracks. Moonscapes I to III are 3 improvisations innovatively inserted into the tracks list. This album is a Thomas Vang's production ably mastered by David Elberling and recorded in Denmark at Vanløse Village Recording Studio. Elisabeth Rihn has done the photography while Nina Krogh has done the cover design.
In a note about the theme of this album, the author said, "The Moon stays bright was composed as a contribution to love; to life and to ease the burden that we all carry. A hymn to life as we walk through landscapes of love, happiness grief, and sorrow. A path we all are on together." The artist sounds so confident about the album achieving its intended purpose in a profound way when she says, "It is my hope that this collection of "songs" can open up a window to the kindness of love and life that exists in every moment. A kindness that we are hardly aware of in our everyday life. This is what this gift of music has brought me: a small glimpse of eternity, destiny, and togetherness."
A happy marriage of the cello and harp
In a few tracks, we see a happy marriage between the cello and the harp, as Josefine Opsahl joins her mother, Trine Opsahl, with her cello. Narrating why she chose to bring in the notes of Josefine into her compositions, Trine says, To me collaborating with Josefine on a few songs was simply an extra gift to me, to her, and hopefully to the listener. I love the way the music gets a new and different sound, lifting it up to new dimensions as the cello compliments the harp with its depth and human range. That was why I dared to repeat a few songs on this album with her on the cello."
The artist's language
As humans, we all have lived our lives and our experiences have deepened our understanding of ourselves, the world, and fellow humans. We are aware that life is a package of ups and downs, pleasures and pains, achievements and disappointments. Despite the uncertainties it sports, life looks beautiful as long as we are confident in ourselves and hopeful of the promises that life gives us. Having suffered pains, we all know the pain of pains. Having experienced happiness, we all know how it feels to be happy. Sharing joys and sorrows and the experiences of life feels comforting. A caring musician does this through inspired music.
Expanding the constricted consciousness
A suite of enchanting melodies, "The Moon Stays Bright" is awe-inspiring to any listener. The mollifying notes of the harp and cello softly whisper into your ears inviting you on a soul's journey in the vistas of expanding consciousness. What can result when you listen to the album is a spiritual adventure and a thrilling journey into your own deeper self! While listening to these tracks, personally I found a succession of riddles that the musical notes threw at my inquisitive mind. As I kept solving them mentally one by one, my exciting travel took off letting me pass through newer levels of spiritual existence.
The skilfully composed melodies have a dreamy character about them, not the one that will push you to slumber, but the one of somberness that will awaken you to higher states of consciousness. The healing element is evident in each of the pieces, curing the mind of all the injuries it has suffered and recharging it with better capabilities to accept and appreciate what the future life has in store too. Therefore, I would call listening to this album, a kind of attending a workshop.
Before, during, and after listening to the album
I strongly advise you to be with yourself alone when you commit to listening to this album and stay carefree keeping the world outside of you for some time. I bet you the experience can be awesome in pushing you into some deeply meditative moments when you can expect a kind of reconstruction of your consciousness. The peace that will linger in you after coming out of the treatment can take you forward to see the world around you in new colors, more promising, more fruitful, and more inviting.
In creating this album, the composer has put the healing and soothing power of music at work. This is an incredible achievement that you and I will admire for sure as we practically see what it can do with us. So, why wait for any more, prepare yourself for the treat at leisure and you will certainly love it to the core.