CD review of Trillium by Kori Linae Carothers

Album: Trillium
Artist: Cori Linae Carothers
Total Time: 49:31
Trillium is the third album produced by Kori. The album features many prominent musicians such as Artiste and Composer/Vocalist Aeone, award-winning Flugelhorn/Trumpet Musician Jeff Oster, eclectic musician Tom Shinness, Jim McCarty drums, and mixing/mastering Emmy-nominated engineer Jeff Silverman.
The album starts with "Crystal Fields"–a piece that is rather clear in every note and beautifully sets the tone of the whole album. It is not pacy or bombastic to give a thundering start, but moves gently. The flugelhorn and the violin provide a wonderful ambience to it.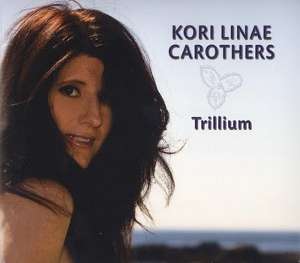 With a twang of sitar-like instrument, the next track rides on the strings. "Blue Ice" is festive in its mood and invites the listener to enjoy the rain and dance in forgetting joy. It is slow yet has a tapping pace. Multiple instruments give this piece a unique and distinct image.
After multiplicity of sounds, "A Rose's Tale" picks up the singular sound of piano…it is a brilliant suffix to the previous track. It picks up slowly and once again moves into multiple instruments.
"Midnight", as clear from the name itself, is slow, deep and thought provoking. The starting of the track reminds you of a conch or a particular note of Pt. Hariprasad Chaurasia's flute. Jeff Oster's flugelhorn produce brilliant sounds in the beginning before the piano picks the piece up. A brilliant piece indeed!
"Nez Perce" is a unique piece with lots of aboriginal-like sounds and giving the listener an impression of tribal areas. The language or a member of a tribe of the Shahaptian people living on the pacific coast describes the literal meaning of this track but it is very beautifully presented in the various instruments used in this song.
After experimenting with lots of instruments, there is something for drum lovers. "Tangled Up" provides a new freshness to the album with the violin coming up for higher notes and guitar making its presence felt with some tapping notes.
"Dancing in the clouds" is like extension of the previous number. The trumpet and drums make a very good pair. Indeed, a very peppy piece!
"Nantucket", once again, brings the listener back to serene and deep moods. Piano is the central instrument of this piece with guitar picking up mid-way.
"The Long View" starts with piano notes that are picky yet controlled. The whole piece carries piano music and gives a totally different mood to the album. If listened without too much disturbance around, its effect is pretty soothing and comforting.
If the listener has moved away from its present state, "Carpe Diem" tries to bring it back. However, its music is so lovely that it forces the listener to concentrate and meditate more deeply. With vocals and soft drums, the song gives ample time to relax and venture into deep realms of the mind. A very unique and beautiful piece indeed!
"3 Degrees" is the last track. It is played on the piano with soft drums picking up the pace and guitar carrying it forward.
The quaintness of Kori's music is so enthralling. It is rich in clarity, mood, and concept: all these characteristics are important to instrumental music and more so when it is experimental and involve variety of instruments and techniques. No wonder that Kori has been able to give a very rare collection of tracks and I am sure listeners would cherish this album in their collection.
I wish Kori to be able to produce such music for a long-long time and extend heartiest thanks for sharing such beautiful music with me.
| | |
| --- | --- |
| Track Name | Time |
| Crystal Fields | 05:10 |
| Blue Ice | 04:58 |
| A Roses Tale | 04:04 |
| Midnight | 04:36 |
| Nez Perce | 06:40 |
| Tangled Up | 05:06 |
| Dancing in the Clouds | 04:13 |
| Nantucket | 03:17 |
| The Long View | 04:52 |
| Carpe Diem | 03:56 |
| 3 Degrees | 04:19 |