Sacred Love: The Bliss of Feeling Music

Imagine free-falling at 100,000 feet and feeling confident enough to go with the experience. Powered by a natural propulsion system, every change of direction a perfect flow, and whether you glide straight, bank turn or dive deep, you soar and it's good.
That's what musical improvisation is to me. That's the bliss of music when a heartfelt feeling expresses through my song or musical passage.
Staying present and relaxed in a heartfelt feeling is the greatest challenge for musical artists. It was my fundamental challenge in creating the spacious music of Sacred Love. (SacredLoveCD.com)
Most of the songs on Sacred Love were captured at the moment of creation when my expression was full of heart-flow and free of mental reasoning. Culled from about 500 spontaneous sessions I recorded over a 12-month period, were tunes like Maui Breeze, Together, Edge of Eternal, Call to Spirit, Natural Moment, etc.
Once I had identified and developed arrangements of these songs for recording, the next challenge was re-expressing them in a studio with producer Will Ackerman at the helm. I had the golden opportunity to work with Will, a world-class producer of acoustic guitarists… in his own state-of-the-art studio situated in the pristine Nature of Windham County, Vermont. And joining Will was Grammy award winning recording engineer Corin Nelsen. Wow!
It took us 3 days to finalize guitar tracks for 8 songs. After about two weeks of listening, we agreed the guitar tracks hit the soulful spot and were ready for additional instrumentation.
Over the course of many weeks and sessions in Vermont, San Francisco and Los Angeles, we added cello, bass, percussion, English horn, flute, sax, violin, flugelhorn, vocals, and more guitar. I got together with Ravichandra Kulur and George Brooks in the Bay Area to record Shiva Grove and added Ravi's flute to Call to Spirit, and Humility. I then flew east to record Tony Levin on bass, Jeff Haynes on percussion and Jill Haley on English horn. I added Celso Alberti to Maui Breeze and Together working with recording engineer Stephen Hart in San Rafael, CA. One by one, we completed the orchestration of Sacred Love based on arrangements that included fixed parts and spontaneous improvisations expertly produced by Will Ackerman. I love Will's appreciation for natural creation…and it was such an honor to watch him work with stellar artists Jill Haley, Jeff Oster, Charlie Bisharat and others.
You can watch "The Making of Sacred Love" on YouTube.com/ShambhuMusic.
How did I come to the quality and feeling of the Sacred Love CD? I wanted to express the nurturing aspect of love through Sacred Love. If we can feel and embrace love in our lives, I think we can make the world a better place through the actions of our lives. I also wanted Nature to flow organically through the music. Listen to wind in the trees. Consider the sounds of rain or the rhythm of the ocean waves breaking on a shoreline. It's random yet perfect. Nature was the model for my music. In particular nature on Maui. Maui is a calm place with gentle morning light, rich evening sunsets, glistening moonlight on the rolling waves and the spirit flow there is quite powerful for me.
And because improvisation is core to my musical joy, Sacred Love features some exceptional live improvisations by musicians who hear, feel and express well both individually and collectively. George Brooks and Ravichandra Kulur on Shiva Grove, Eugene Friesen and Noah Wilding on Edge of Eternal, and Charlie Bisharat on Natural Moment.
We are millions and billions of souls on the planet. We resonate from a cosmic, rhythmic Source. We are a divine harmonious interplay.
So is Sacred Love which encompasses a peace, love, and healing energy that I feel at the edge of the ocean.
Natural Moment … is a clarifying, cosmic harmony with multi-dimensional rhythms and flows.
Edge of Eternal is spiritual 'light' radiating from the inner Sun. A luminous feeling is soaring and cleansing to the soul. Download a free copy of "Edge of Eternal" and let go in your own feeling of bliss.
Sacred Love is a gift through me to you. Please buy Sacred Love for your collection and find your bliss within. (http://sacredlovecd.com)
ABOUT SHAMBHU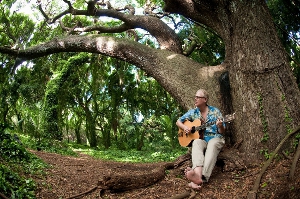 Shambhu is an acclaimed guitarist and composer who performs an exquisite fusion of contemporary acoustic, world, Indian and jazz styles that engender feelings of tranquility, harmony and fulfillment.
Shambhu's technical mastery of the guitar enables delicate expressions of nuance and subtlety while engaging audiences in deep spirit. His music has been called 'magical,' a 'journey', and 'opening a space within'.
Shambhu has performed with Carlos Santana, Narada Michael Walden, Premik Tubbs, and played on Whitney Houston's multi-platinum album, "Whitney." He studied meditation for three decades with the renowned mystic Sri Chinmoy.
His debut CD, "Sacred Love", was named "One of the Best of the Year" by Lloyd Barde at Common Ground magazine.
CREDITS:
Photo of Maui: Shambhu Vineberg
Photos of Shambhu: Mario Covic (MarioCovic.com)
Author: Shambhu Vineberg
Download a free copy of "Edge of Eternal" and let go in your own feeling of bliss.
http://shambhumusiclicensing.bandcamp.com/