CD Review of Facing East by John Wubbenhorst

Album: Facing East
Artist: John Wubbenhorst
Total Time: 68:52
This is the 3rd CD of John Wubbenhorst that I recently plugged myself to. Without doubt, John music is rich and improvised, which is very endearing to Indian audience.
The album starts with "East Wind"—a powerful drum based and tapping track. Tabla, drums, flute and guitar make a thumping start right at the beginning.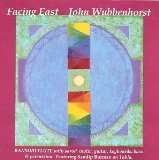 "Purnima" starts in full splendor that a North Indian Bamboo Flute could display. Purnima literally means the full-moon. Without doubt, the track is full-flute with traditional accompaniment of Tabla. The starting of this track is wonderful.
The longest track in the album, "The Dancers" starts with drums with Tabla making an entrance with fast beats. John's music has always been rich with percussion instruments and this is quite amply noticeable in this track. The track changes mood and displays various colors of music with its movement.
If you love to listen to music of a flute, you can't escape imagining yourself sitting somewhere in the Himalayas. At an unknown peak of those majestic and gigantic manifestations, you can move into deep meditation with some soulful music of the flute. "Himalayan", without doubt has the potential to give you that experience.
"Facing East" is the track that bears the name of the album too. It starts with a very deep and reflective mood of the flute. Imagine yourself facing East and welcoming the sunup during very early hours of a serene morning. John has played this piece really well. It sounds like traditional Indian music track with Sarod also making an entry.
"Morning Gopis" is a very different track. You will notice the signs of silver flute and a piccolo combined with Tabla beats and then bamboo flute picking up.
"No Mind" is a very elevated and high-calling piece. It starts with the flute and then the Sarod takes over and then finally it moves to multiple instruments. Mind is the most powerful entity recognized in the Indian mythology and philosophy and yet, there is no call to be mindless. No Mind is a state where the mind has been subdued and total surrender has been reached. Instead of being musically rich, this piece sounded philosophically rich, which is, of course, a very difficult thing to do.
"Rainbows/Rainbow Journey", like the name, displays different texture of the music. Electric guitar, Tabla, jazz drums, flute, cymbals—the track has it all.
If you want to co-relate the music of the next track with somebody's dream, you can easily do it. "Jeannette's Dream" takes you to a journey where you can roam around with a childlike feeling and enjoying the scenes around you. Like many good musical tracks, there is no limit what you can imagine with this track. Tabla, vocals, and flute give you lots to ponder upon. A unique piece indeed!
I like the way John tends to end all his albums—"All Bliss" is a beautiful collaboration of moods that are mingled to rise above the dichotomous feelings of joy and sorrow. The track is slow but apace, and gives you to let loose the mind and wander in the fields of bliss.
John's music is a beautiful conglomeration of Indian classical music and Western styles bringing out the latent beauty both the streams. I have listened to some other albums of John like "Bansuri Dreams" and "True Water", and I can very confidently assert that I have never been disappointed. The expectations are always high but John has always been up to the mark and always bringing new elements in his music. I like his experimental nature.
It has been a pleasure to listen to and then write about John's music…big thanks to him for sharing his gifted music with me. God Bless!
| | |
| --- | --- |
| Track Name | Time |
| East Wind | 05:11 |
| Purnima | 05:12 |
| The Dancers | 11:12 |
| Himalayan | 07:00 |
| Facing East | 08:29 |
| Morning Gopis | 05:29 |
| No Mind | 07:47 |
| Rainbows/Rainbow Journey | 06:54 |
| Jeannette's Dream | 08:22 |
| All Bliss | 04:36 |