"Isle Of Shadows" – Album Review: Mesmerizing Piano Melodies To Accompany You On Your Romantic Voyage

Classical music never fails to inspire and infuse new energy into the lives of musicians who feel the urge to walk down memory lane as they throw their whole body-mind into that journey. Though the notes remain the same, there's always a fresh perspective for both the musician and the audience. The settings, the environment, the conditions, and even the devices change, and therefore bring a certain kind of impact, which has stood the test of time.
Christopher Boscole's mission 'A New Age Of Classical Piano' sees one more brilliant addition in the album, 'Isle Of Shadows'. Boscole's new album in this series consists of 11 arrangements of a few traditional classics and some lesser popular selections like Finnish composer Selim Palmgren's 'Isle Of Shadows'. Boscole's original composition titled 'Until We Meet Again', gives a fitting conclusion to the album at the tail end.
Christopher Boscole's deep moorings in a musical family shaped his talents from a very young age. After being part of several Seattle-based bands, Boscole achieved a Bachelor of Arts in Music – Classical Piano and did his Masters in Studio Music and Jazz Piano Performance. Christopher has produced thirteen albums in piano that have inspired and uplifted millions.
The piano is a great choice for exploring romantic themes and Christopher Boscole is the right one to do it efficiently, thanks to his huge experience and special academic qualifications in this segment. Whether it is arranging the traditional classics or original compositions, Boscole has proved in this album that his acumen is definitely extraordinary when it comes to composing romantic themes on piano.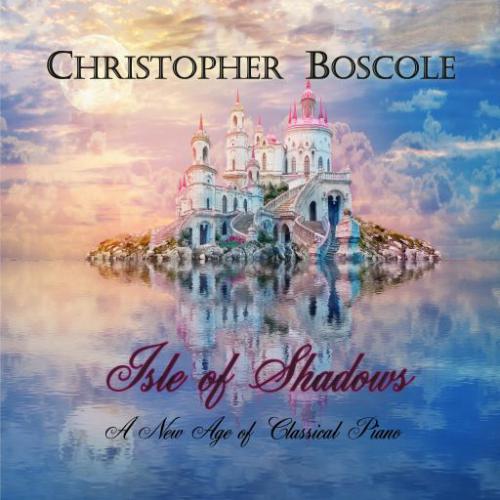 An Overview Of The Tracks
#1. Romance Sans Parlos in Ab Major, OP. 17 No.3 (3:21)
The opening track arranged by Christopher Boscole is a lovable composition I have come across. True to the meaning of its title 'romantic songs without words' The notes of the track closely work with your moods and trigger deep romantic thoughts. Meant to be listened to in isolation or with your beloved one, this is a real treat when you begin to commit yourself to the album. The meticulous deployment of piano notes set the phase for the rest of the tracks leading you on a romantic voyage into the Isle of Shadows.
#2. Nocturne in Eb Major Op. 9 No.2 (5:11)
"Nocturne" translates as 'short romantic composition on the piano'. The second opus in the album continues the mood promoted by the opening track. The softly set tunes of Nocturne bring out the best of piano in exploring a love theme.
#3. Sonata No. 8 Op. 13 "Pathetique" II. Adagio Cantabile (4.45)
"Pathetique" is an emotional or passionate composition usually accompanying romantic themes. In this track, Boscole has brought back Ludwig van Beethoven's classical composition. You will love the deep yet soft treatment of a romantic concept in this opus perfectly suitable to reaffirm your love bond with your beloved.
#4. 6 Lyric Pieces, Op. 28 "Isle Of Shadows" II. Skuggornas O (5.56)
The longest track in the album, "Isle of Shadows" is a scintillating member of the album in covering a love theme in an able fashion. Though the earlier tracks would have given the right setting to pursue this opus, the melodies of this track provide a more intense kind of romantic experience with many surprises on the way.
#5. Pavane, Op. 50 (4:32)
One of Boscole's arrangements of traditional classics, "Pavane" is accompanying music for a graceful court dance performed by couples. The reinvention of this theme for his new album helps enrich the romantic experience the album promises the audience. "Pavane" wears an exclusive charm among the different tracks of the album.
#6. Preludes, Book I, L. 117: Vii :La Fille aux cheveux de lin (3:30)
"La Fille aux cheveux de lin" is originally French musician Claude Debussy's musical composition for solo piano. This concept of Debussy's music has inspired Boscole to reinvent it for his new-age classical piano album. The sixth opus is an insightful induction into this album in fortifying the concept Boscole has invented for 'Isle Of Shadows'.
#7. Sonata No.14 in C-Sharp Minor, Op. 27 No.2 "Moonlight": I. Adagio sostenuto (5.31)
The seventh track is a fitting member of a musical album of love themes. Originally, one of Beethoven's representative creations, the composition was highly acclaimed for its mysterious and gently improvised first movement. "Moonlight" Sonata is a matchless composition perfectly suitable to listen under a silent and serene moonlight.
#8. Suite No.3 in D Major: II. Air (4.44)
The title of this track pertains to a 1730 composition by Johann Sebastian Bach. The exceptional charm of this original has compelled Boscole to handpick it for inclusion in his new album. A meticulous arrangement by the artist, the eighth track is sure to delight you beyond compare.
#9. 24 Preludes, Op. 28: No 17 in A-flat major (4:15)
In the ninth track, Chopin's highly admired prelude for piano solo finds a place. Originally set of short pieces for piano, Chopin's 24 preludes, Op. 28 was published in 1839 and covers all minor and major keys. This just adds to the beauty of earlier tracks as the listeners move along with the music. Whatever the setting surrounding him/her might be, this song will bring its impact on the mind.
#10. Solace: A Mexican Serenade (5:21)
"Solace: A Mexican Serenade" was published by Scott Joplin in 1909. The original piece was an effort by the artist to express a set of complex emotions in a lucid way. For Boscole, 'Solace' is the right choice for an involved and elaborate treatment of the love theme, especially after charting different moods of this emotion through the earlier tracks.
#11. Kinderszenen, Op. 15: No.7, Traumerei (2:59)
The eleventh track is the shortest opus in the album and originally it was Robert Schumann's Kinderszenen's creation to bring out a theme of a similar kind. You would be amazed by noticing the depth this album offers you when you talk about 'love' as the central theme.
#12. Until We Meet Again (5:41)
The last track titled "Until We Meet Again" is Boscole's original and the second longest opus in this album. Why the composer wants to place this track at the end of his album is not without reasons. The delightful and soft playing melodies perfectly connect with the deepest sentiments of the listeners and leave them with a lasting impact they will love to carry with them.
Take Home
The theme of the album is definitely romantic, and 'Isle Of Shadows' needs a special mention as it has done a meticulous job of bridging the gap between classical and new-age compositions and deploying them for a renewed purpose. In the arrangements and new compositions in this album, Boscole's tall talents as a gifted pianist and composer are evident. If you have been waiting to listen to a new rendering of the old classics, you will find listening to "Isle of Shadows" a delightful and unforgettable experience.