CD review of Calmness of Spirit by David Hoffman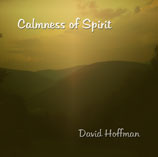 Album Name: Calmness of Spirit
Artist: David Hoffman
Total Time: 64:25
Calmness of Spirit certainly brings a unique calmness to your being when you plug yourself to it amidst the disturbing noises of your surroundings. The very first song, The Singing Frogs of Guadeloupe send you to a somewhat lonely place where you can enjoy your peace. If you are imaginative enough, you can almost picturize yourself standing on the banks of a pond where raindrops have stirred the singing imagination of frogs. In the back-drop, you can hear the vocals of Indian-style singing a child's laughter, which gives the song a joyous mood. A perfect start for such an album.
Julie's Dream takes you back to a reverie where the piano weaves its magic. It is sort of lilting peace that gives you much relaxation. The song ends with birds chirping as if somebody wakes up in the morning after a beautiful dream and his whole being feels bathed in bliss.
Beauty Drifting is a very imaginative piece. For a spiritual seeker, this song could be meditative. Just imagine the chosen form of God drifting towards yourself and the seeker would be able to concentrate very easily. If I am not wrong, I hear the sounds of flugelhorn in this song (I might be wrong as it sounds like a saxophone also). What you will relish is the introduction of flute in the middle of the piece. The music of flute just adds to the imaginative power of this song.
Pastures A Plenty is a very relaxing piece. It is the second-most lengthy song of the album and gives a very nice starting. The baritones of the trumpet make it a very good piece.
I liked the next piece Close Your Eyes and Dream pretty much. It is such an ethereal music that you can listen to it almost forever. Such music has the power of transporting you to a meditative state even if you are doing something with a devoted care. The introduction of flute is oriental and makes you feel as if you are flying without the limitation of your body. The best piece, I would say.
Evening Meditation, as clear from the name itself, is particularly composed for meditation. If the listener can imagine or actually sit under a banyan tree and close the eyes while listening to this music and isolating itself from other sounds, there could be nothing like that. A fresh breeze stroking the chest and caressing the hair–it could not be better.
New Age music often has a rich mixture of synthesizer, piano and sounds produced by wind instruments, which present a beautiful texture of sound to the listener. The Ambience of Motion is a very suitable example of this. It is subtle and moves very carefully. Motion is activity. It is energy. You can sense energy moving with this song. A beautiful piece indeed.
The Purity of Rain begins with the sound of rain-drops. Even while I was listening to this song, I could imagine myself sitting in a beautiful garden or orchid under a shade where I could enjoy a cup of tea and warm reminiscence of rendezvous with my Lord. For a poet, this song could be inspiration for a new poem. Being the longest track in the album, it gives you ample time to relax and imagine.
I liked the way Everything Will be OK begins. Usually, I have noticed that piano is used whenever something monumental ends in case of a production or creation. The piece instills faith that you don't have to worry. The pain, agony, distress, or sadness could linger a little long but in the end, everything will be okay. Just a beautiful and lilting piece to end such an album.
In the composition, David is very suitably assisted by Paul Adams, who so graciously shared the album with me. I congratulate both of them for creating such a beautiful and elevating compilation. I am sure, listener would enjoy this album to their heartiest contentment and will be greatly benefited from the energy that it conveys.
| | |
| --- | --- |
| Track Name | Time |
| The Singing Frogs Of Guadeloupe | 06:08 |
| Julie's Dream | 05:47 |
| Beauty Drifting | 07:45 |
| Pastures A Plenty | 08:48 |
| Close Your Eyes And Dream | 06:51 |
| Evening Meditation | 08:15 |
| The Ambience Of Motion | 06:53 |
| The Purity Of Rain | 11:01 |
| Everything Will Be OK | 04:57 |