Review of Chapters by Stephen Wallack
Stephen Wallack released his first full-length album with 'Chapters' and offers a rhythmic collection of songs on the solo piano. Why I mention rhythmic is because almost all the songs carry a strong undercurrent of rhythm, which makes it fast-paced and energetic. Yet, the softness, the serenity of a solo piano album is intact and if you are particularly attracted to this genre of music, there is nothing that should stop you from picking this new album from the stack or streaming/downloading it through online platforms.
Like the very straight-forward name of the album, Chapters, all the songs also follow the same pattern–they do not throw the listener off-balance with some hidden or too-deep or hard-to-decipher meanings. They serve like the keywords of what the listener should expect in any particular track.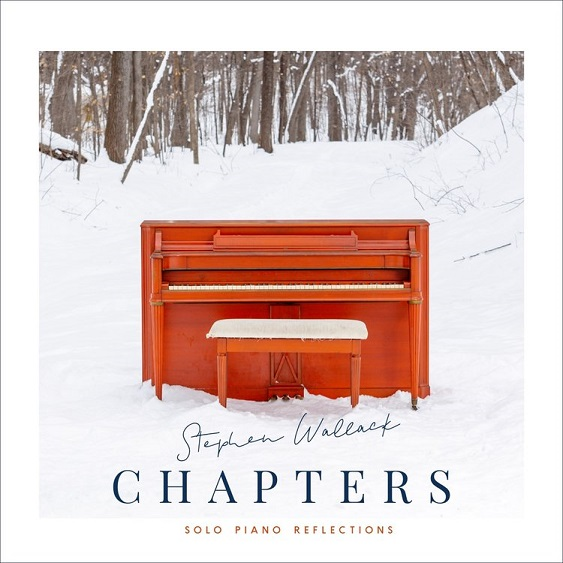 Album Name: Chapters
Artist Name: Stephen Wallack
Total Time: 54:19
There are ten tracks in the album of almost one hour of joyful listening. The tracks are composed based on various events and phases of the musician and therefore carry a varied sense of melody and theme. What's unique is that you could relate to the music immediately.
While 'Wedding Song' and 'Holiday' carry a sense of happiness and gaiety, 'Archer' and 'Cooper's Song' relate to more poignant moments and experience of life. I liked the 'Holiday' song most because though it has a mood of happiness it does carry the maturity and sensibility of a deeper emotion–I like this mixture.
What I like most about the album, though this is Stephen's first, is that he has made a compilation for everybody, which is not an easy task even for a composer with multiple album releases. Listeners carrying different moods will not be disappointed because they could relate to at least a couple of songs, at least.
Inspired by George Winston's music at an early age, Stephen has definitely his own style, and I would be very excited to see him release another one in the near future with other musicians making a unique combination of styles and instrumental sounds–kind of an experiment, which I deem would have great results.
I wish Stephen all the luck and congratulate him for taking the bold step of baring his soul through his music to the audience–an artist transmutes his/her bitter-sweet experiences into inspiration for others. I hope he will continue to share his gifts with the world!
| | |
| --- | --- |
| Track Name | Duration |
| Virginia | 06:51 |
| Oceans | 06:29 |
| Cooper's Song | 04:46 |
| Trains | 05:19 |
| Dad | 05:23 |
| Chicago | 04:26 |
| The Traceler | 05:33 |
| Wedding Song | 04:52 |
| Holiday | 04:55 |
| Archer | 05:45 |