Review of Holland Phillips' New Album–A Momentary Pause

How appropriate is to have a moment's pause in our minds and hearts and to ponder over what's going on and what could be the message in this global upheaval that has brought the whole world almost to a standstill! The universe is undoubtedly trying to convey a message, and we need to tune-in to listen to it, grab it, assimilate it, and most possibly translate it in some sort of action that would bring enhanced harmony between human beings and nature.
Holland Phillips has released his ninth album and I feel it is so suitable to make you reflect–a kind of slow and soft medium to let you pause and concentrate on things that really would matter.
With his experience and versatility, he has brought a rich mix of piano and instrumentation to give you all the support that you might need in order to have a momentary pause and let go of the pulls and pushes of the daily life and to give some time to yourself.
So, I invite you to have a pause, take a deep breath, and listen to this beautiful album.
Album Name: A Momentary Pause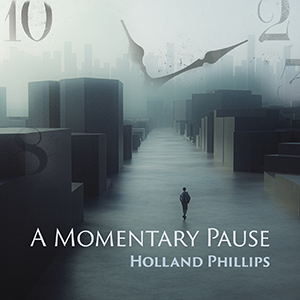 Artist Name: Holland Phillips
Total Time: 40:37
The album has ten songs that carry a lot of variation in terms of moods and instrumentation.
In the very second track of the album, Holland shows his prowess with the piano. The emotion that he has brought with "Whispers" made me wish he had given us more of those!
"Stepping Stones" brought memories back from the 90s film music that we had in India…a very relaxed melody.
"Dreaming On Ice" is again a very catchy melody for romantic evenings or just spending time with your beloved. Very beautifully captured by the combination of the guitar and the piano.
My favorite track of the album is "Palindrome." It flows like a slow-Jazz tune with nimble sounds of the cymbals in the background while the piano weaves its magic. It has a grand charisma behind its softness.
The title track of the album, "A Momentary Pause,' is the largest too and starts with the keyboards and the bass guitar, before the piano flows into it…brought a lot of stillness to the mind. Holland captures the essence of the song and is able to deliver the emotions every time.
"Bedtime Prayers" is again a very solid emotion-filled track and kind of stands out.
The album is ideal for playing in lounges, shopping malls, and public places, and also for deep intimate listening when you want to dive deep into your own self. I wish to hear more from Holland in the future!
Give a listen to 'A Momentary Pause' at Spotify