Review of Marya Stark's New Album: Sapphire

Rarely you get exposed to an album that is heavy on music and heavy on lyrics–when I say heavy, I bring the context of 'value' and 'brilliance.' Marya Stark, who is not only a musician but a bard and the one who 'muses,' offers a very powerful performance through her new album "Sapphire." It has visual, sonic, and poetic scenes that you see, hear, and read.
The album has a rich texture of string and percussion instruments and vocals that have the capacity to transport a listener to the worlds that she creates through her thoughts and compositions. If you hear the whole album in one go, you will not be able to come back to your normal surroundings–it will definitely take some time to recede back to the environment that you live in, such is the energy and beauty of this album.
Album Name: Sapphire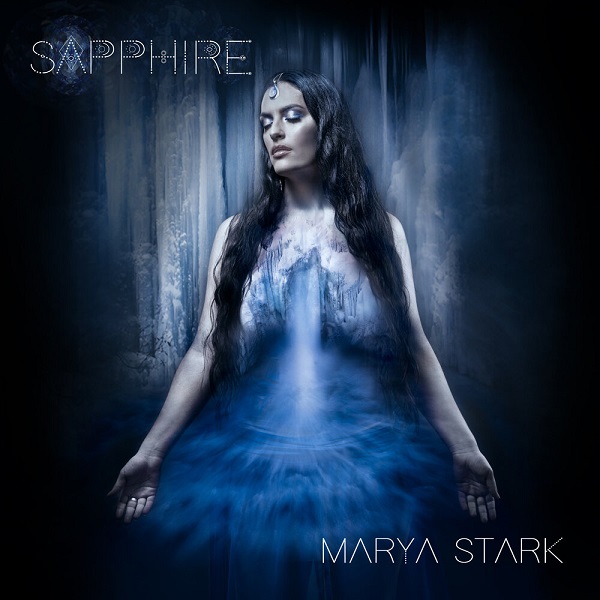 Artist Name: Marya Stark
Total Time: 49:41
The album contains ten songs and all have a different story to tell. There is never a dull moment in this album. I liked the way enough space was given to every musician and instrument to add their strokes to the pictures created by the songs–be it the Kora, Charango, or the Bodhran. You will be able to marvel at the distinctive sounds from time to time.
"Echo" starts with joyful beats and plucking of the strings that have a strange pull–it feels like you are riding towards a journey while 'we holding tight tight tight.'
She takes you to the Northern Lights with "Stargazer"–a brilliantly-composed and powerful song, allowing you to tiptoe with the stars before at 4:17s the drums take it to the Crescendo and the violins chipping in with passionate vibrations.
My favorite song of the album is "In Between." It is a muse, a talk, a re-affirmation with beautiful ambient background, and drum beats. The mandolin is truly a delight. And when she sings the words 'in between,' the song starts glowing with the music. Just loved it!
The title song "Sapphire" is a celebration of an intimate talk of the soul with the Source and invites you to listen to what goes on when one turns the gaze towards that end.
Being a multi-faceted personality, sometimes, it is easy to overlook the power of voice that Marya has–the study, the practice, the understanding of learning healing through sound has helped her tune her voice so effectively. "Blood of the Stone" will give you beautiful words and the Monsoon rumbles too, but at 4:27s, Marya shows the full range and beauty of her voice when she carries you and delivers to the other end. It feels like she hijacked you from your current position to a different plane of existence altogether!
I was intrigued to listen to "Celestial Butterflies" because it felt like an Indian romantic melody from the folks, and before you thought that what more can be added to this album, a Spanish beauty welcomes you through her black light–"Negra Luz."
I wanted to stick to the musical review of the album but "Baptism" needs a special mention for the words too–'As I am baptised in a downpour of stars.' What poetic beauty lies in these words, and I wonder how Marya does so many things! What other-worldly energy she carries in her creations!
"Crystal Chambers" is a vocal swim in the poetic waters before the drums arrive and make it a question for our souls to answer–'the waters are rising!'
I was wondering what more I could get from this album, and then arrived "Rose Lineage." It begins with the hypnotic sound of the Esraj that brings the sincerity and depth like a Cello–the song sounds like a Mantra with a drone before it takes the shape of a Samkirtana–the collective devotional singing with Tabla and drums bringing rhythmic stability. It was the perfect closing track for an album that is so thoughtfully envisioned and executed–starting with energetic progression, rising and waning through various planes and terrains, prodding and querying, and finally settling into a peaceful harmony!
I am afraid I have not written enough for this album. Why? Because there is so much to write, and I feel it will be remiss of me even if I try to cover them all.
I congratulate Marya Stark, Joshua Penman, and all the session artists who have come together to create this wonderful offering for the listeners to give them a chance of forgetting the elemental bindings for some time and soar high in the awakened planes.
| | |
| --- | --- |
| Track Name | Duration |
| Echo | 5:50 |
| Stargazer | 5:11 |
| In Between | 3:29 |
| Sapphire | 4:00 |
| Blood Of The Stone | 6:19 |
| Celestial Butterflies | 4:43 |
| Negra Luz | 4:58 |
| Baptism | 6:31 |
| Crystal Chambers | 7:29 |
| Rose Lineage | 7:01 |
Listen to the album on Spotify: