Review of Peter Manning Robinson's New Album: Double Helix

What we have in our hands is a very unique product and creation of the multi-award-winning pianist Peter Manning Robinson–a double CD bringing a total of sixteen tracks of piano music.
The two discs introduce completely different music-styles: Disc 1 has numbers that are more experimentation based and showcase the new elements that the Refractor PianoTM can bring on the table. Disc 2 brings the classical grounding that Peter carries and brings in the stainless beauty of solo piano music–slow, reflective, and full of emotions.
Truly, a unique combination of musical strands intertwining to make a helix running through our musical DNA, showing the proficiency and virtuosity that Peter brings to his music through the number of years of experience in various kinds of genres including live-performances, film scores, session music, and recordings.
Album Name: Double Helix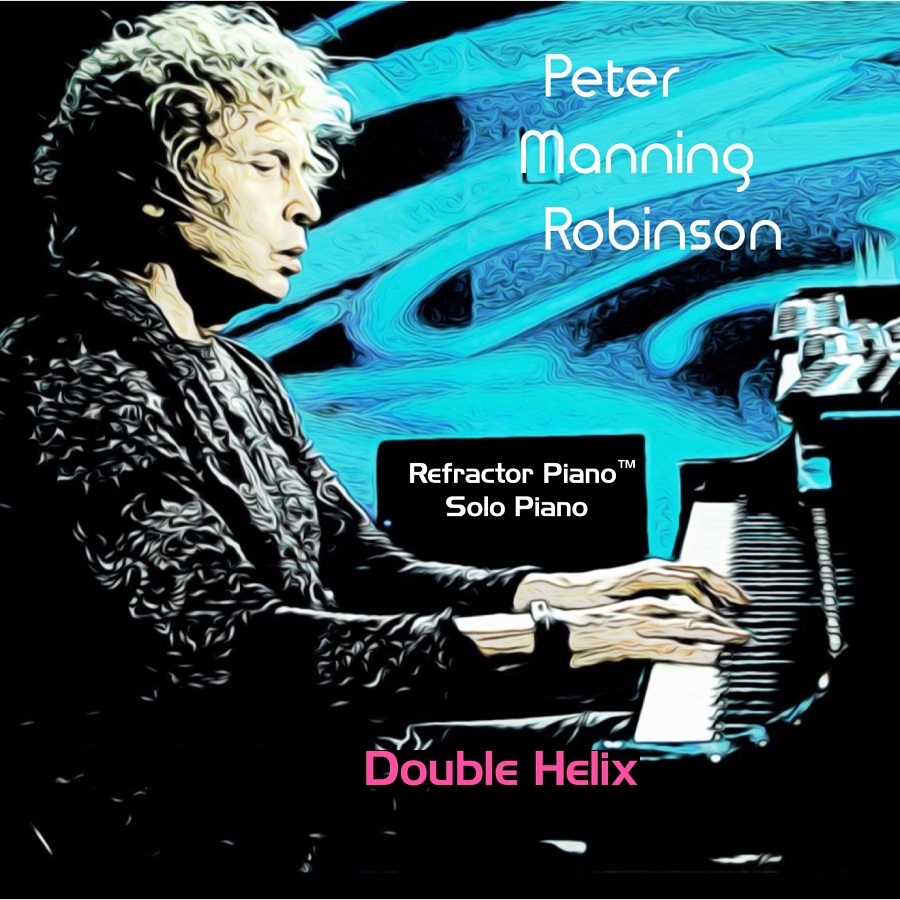 Artist Name: Peter Manning Robinson
Total Time: Disc 1 (44:21); Disc 2 (34:34)
This is the first time I got the chance to hear the Refractor PianoTM and I am totally blown away by its capabilities and range…sometimes, it feels like there are multiple instruments playing…what an invention and unique resource Peter has given to the music industry and of course the listeners, who are always keen on listening to new sounds!
The songs of Disc 1, played on a Refractor PianoTM are not the kind of music you will expect from a solo-piano album, but that is what is the specialty of a Refractor PianoTM. The very first song "Surfing the Sunrise" gives you a taste of what is coming next…a lot of groovy sounds coupled with curiosity and borderless imagination.
There's something mischievous in the song, "Fugitive Heart," while "Catch Your Breath" brings a sense of calmness around you–letting go of everything and floating with the sound waves.
I liked the grandness that "Invisible Highway" exposes the listener to while still carrying the experimentation streak.
The variety of moods that Peter has brought into various songs on Disc 2 is amazing. Aptly named as "Transformational Explorations," the music of the solo piano is very-very touching and softly inquisitive.
"Fresh Light" is like a dance number of a Charlie Chaplin film, and you would not be able to stay in the chair or your cot if you are listening to this song–maybe, you would like to give a spin with your spouse or whoever is around you; while "Enigma" is a very reflective piece inviting you to soak the sound and go deep within.
"Sweet Shadows" brings the movement almost to a standstill, which I feel is the power of a piano–it catches you from every direction and makes you feel like it wants to.
Frankly, I could have never imagined that this album will bring so much variety to my bucket, and I feel very honored to have gotten a chance to listen to such a unique compilation of music.
There's always something going on, and not a single stroke of sound is shopworn in the album!