Review of Nicholas Gunn's New Album: Sound Condition

When you get to know that Nicholas Gunn is releasing a new album, you ready yourself for surprises; yes, the pleasant ones! The concept, the instrumentation, and the variety that he brings in his music are rarely found in the genre or sub-category. He has a knack for carrying our experiments successfully and lending a new perspective.
His newest album is nothing short of an amalgamation of the struggle and forbearance of humanity during these testing times and a promise of better vistas that we all await with hopeful eyes.
Composed, arranged, and penned by himself, the songs and the vocals bring you the comfort that your body and mind long for.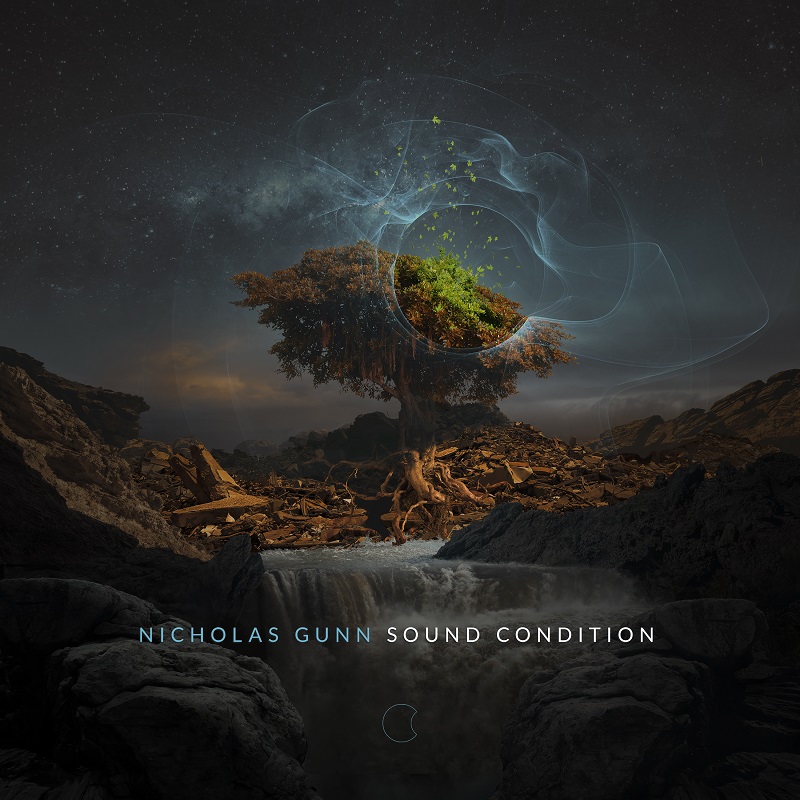 Album Name: Sound Condition
Artist Name: Nicholas Gunn
Total Time: 41:34
The album has ten songs and four of them feature Alina Renae with vocals. Like the previous couple of albums released by Nicholas, Alina's voice lends a rare human touch to the electronic-vibe that this album carries. "Just Us" will give you a fair idea of how indispensable her voice is when it comes to making this album a heart-touching one. Light on music, the song lets you enjoy the vibrancy of her voice to the fullest extent.
I would say, this album has very uniquely crafted tracks that carry you to various imaginative worlds. The very first song of the album "The Unfolding" sets a different tone than the previous albums that Nicholas has released lately. True to its name, it gives you a glimpse of the unfolding of a beautiful musical flower, which is going to show you different colors and moods. Almost halfway through, the song picks up the tempo letting you visualize various changes that are happening, before bringing the still freshness of the blossomed flower.
"My Body is A Temple" is another such example of experimentation. Based on Native American Flutes and a single human note, this song has that ancient undercurrent covered in the modern genre. Definitely, my favorite!
The same goes with "Flow." There is a strange power in these tracks, which you won't hear in typical electronic or ambient music albums, and I so happy that Nicholas has packaged this album with such soul-stirring numbers. The world has been jolted out of its self-destructing slumber, and this is the type of music that instills a sense of semblance and strength into one's heart. The use of the flute in both these tracks is beautiful, and no prize for guessing that Nicholas himself has performed on the flute!
With "Shine," you would be able to enjoy a romantic electronic number. Consider enjoying some rain or a day when you want to unwind and let go of your fear of "having two left feet" and give your body a spin–this song is a slow dance-number.
"Angels" introduces you to the beautiful voice of Aline Renae. Heavy with rhythm, the vocals give you some moments to nod and enjoy some relaxed time.
The title song, "Sound Condition" starts cautiously and a bit of mischief before launching itself into a slow trance mode. It becomes very catchy as the electric guitar effect comes into play.
"Broken" is where you see the stunning performance of vocals by Alina. The very first note coming from her throat makes you hold the arms of your chair tightly. She does it all so effortlessly!
It is time to reflect, and with "Language," you get that space before the song picks up the tempo and again brings you to the solitary beauty of the piano. This tiding and ebbing of pace and mood are very nicely done.
"The Promise" is the perfect curtain drawer for the album, calling on the listener to hold on as the difficult time passes by, changing and making us stronger with every jiffy.
This is the third album by Nicholas that I had the great privilege to write about, and I can very easily say that it is befitting and most diverse when it comes to bringing various elements and moods in the electronic or chill category. It is filled with purpose, emotion, and textures that are not easy to come with ambient sounds. It has everything!
| | |
| --- | --- |
| Track Name | Duration |
| The Unfolding | 04:31 |
| Shine | 04:13 |
| Angels (feat. Alina Renae) | 04:00 |
| Sound Condition | 04:21 |
| My Body Is A Temple | 03:40 |
| Broken (feat. Alina Renae) | 03:28 |
| Language | 04:38 |
| Just Us (feat. Alina Renae) | 04:05 |
| Flow | 04:55 |
| The Promise (feat. Alina Renae) | 03:43 |