"As The Crow Flies" – Album review

Winged Music to Fly Your Heart and Soul To Worlds Unknown
Recently, I embarked on Kenneth Hooper's album "As The Crow Flies" and was reminded of one of Plato's quotes on music, "Music is a moral law. It gives soul to the universe, wings to the mind, flight to the imagination, and charm and gaiety to life and to everything."
Artists who create music that can really inspire and elevate are on a mission that is akin to that of prophets. It requires a masterly accomplishment to be able to touch people's souls with music and do the work of mystics. From what we have experienced in Hooper's music, evidently, he belongs to a rare breed of artists who have magical and healing abilities.
Kenneth arrives quite late on the stage of professional music in his life. However, he is a treasure house with a large reserve of musical abilities to give to the world. His flute melodies are emancipating and elevating. Outside the purview of musical production, he plays his flute to heal. Hooper has mastery over a variety of flutes including Native American, Anasazi, and Chinese Xiao.
"As The Crow Flies" feels like a box of chocolates. Each of the album's six tracks is tasty beyond compare. The accompaniments have done an exceptional job in this album by significantly augmenting the effect that flute melodies produce in us. The entire voyage with the album is so thrilling that the charm of an exciting journey is neither lost nor lags anywhere.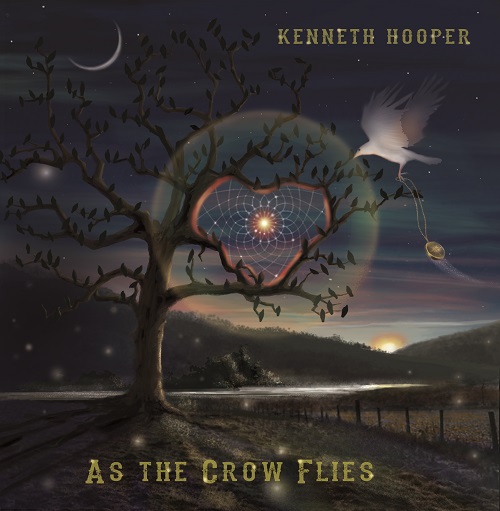 #1. Up Ahead (5:20)
The opening of the first track is very brisk with those energetic beats and rhythms, which are sustained throughout the opus. The flute melodies whisper a story in our ears – a tale that accompanies our journeys 'Up Ahead'. Though our destinations can differ, we feel we are all on a swift flight to our cherished goals. The tempo is kept up persistently proving that Hooper has taken the flute's music to a different level altogether.
#2. Forest Temple (6:45)
Temples are like fuel stations to refill our beings with the much-needed energy to push us forward with our journeys. 'Forest Temple' has an altogether different character in the album. The treatment feels eerie, really simulating the feeling of being inside thick woods. The mantra chants lightly voicing in the background as the track opens giving a feel of a temple in an unfrequented spot. The entire setting created in music feels like being stationed in a serene spot by a flowing stream inside a lush green forest. This is an amazing opus by all means.
#3. Afternoon At Chuck's (4:58)
The tempo builds up in the third track, which is also the shortest in the album. Though a slight nap will feel refreshing in the afternoon, there is no time to rest as the distance is too long in front of us and the time is short. "Afternoon At Chuck's" is an interesting composition that talks to your being in soothing but motivating tunes. So, you feel the urge to keep moving with your voyage with the same energy.
#4. Storyteller (7:11)
Stories are shared for many reasons. We learn from stories. Stories inspire us and motivate us to pursue our goals. In this track, beats and rhythms take a back seat allowing the flute tunes to rule the scene. The flute melodies narrate some astounding stories to our anxious hearts. The content is profound though it can differ for you and me.
#5. Respite (6:30)
The fifth track titled 'Respite' is a real masterpiece in the album. The opening of the track sounds like the background music of an epic movie. Moving with the track, you listen to soothing tunes that provide the perfect setting for an involved meditation. Ambient music in the background has a phenomenal role in this track. You enjoy truly restful moments as the opus keeps playing for you.
#6. Waking Dawn (8:58)
The highly surprising title, "Waking Dawn", is suggestive of the gusto we must have when it comes to moving with our goals. 'Dawn' wakes all of us from our sleep and slumber. When we are extra-spirited, we go that extra mile to wake up the 'Dawn' so that we can get started with our missions rather early and quickly in an unbridled fashion. This is the longest opus in the album and is my best pick in this lot. Simulating the sounds of dawn at the beginning of the track is astounding.
The flute notes, rhythms, and beats in this track are energizing and stimulating. They remind us that we have something important ahead of us and there is no time to wait and waste on anything insignificant. When the track gives a conclusion to the album, it has successfully put an end to our slumber and has prepared us for something substantial and will add a real purpose to our being.
Take Away
"As The Crow Flies" is a wonderful creation by Kenneth Hooper. The album is packed with some powerfully charged notes and melodies that can knock on the doors of your heart and bring you the much-needed comfort, motivation, and energy you have been craving to get from inspired music. As an artist, Kenneth always gives his best on his flute. I am sure you will find this one of Hooper's best albums you will certainly admire for what it gives you and the world.
Listen on Spotify: