Review of Thierry DAVID's New Album: Slow Motion

Are you intrigued by the title of this album? Is your mind disposed to judge this sound-book based on its cover or nomenclature? Or troubled by the breakneck speed of things around you, you are tempted to give it a try?–Well, whatever may be the inclination, let your mind go a bit deep and find the treasure that lies in this beautiful sonic trove. The connotation that I felt while listening to its music was that you are able to disassociate yourself from the maddening chaos that is running amuck over the surface and watch everything with a different perspective from deep within and see how much clarity you gain when the motion is slow and steady.
For experimentation, I shared the music with my niece and nephew who are entering the adolescent age and have very limited exposure to the new-age music. They replied that they loved the music and even went on to pick their favorite piece on the album: "Weightless Keys".
Let the whole system slow down, and observe everything from an atomic level–let this music take you to real depths!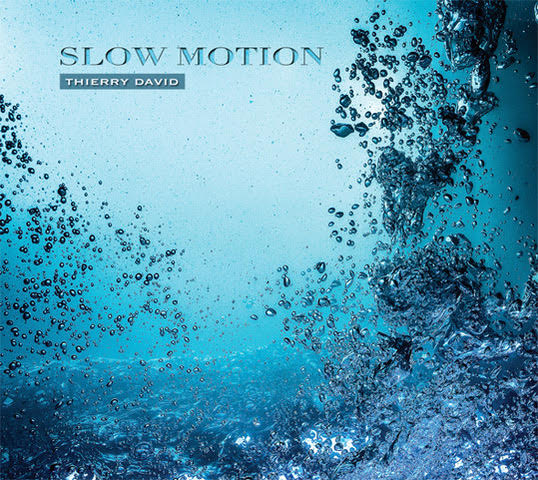 Album Name: Slow Motion
Artist Name: Thierry David
Total Time: 51:06
There are seven songs on the album with the longest running over nine minutes. They have a very thematic message that moves slowly and allows you to relax in its warm lap and rejuvenate your being.
Just read the names of the songs–how systematically they progress as you move along with music. The album starts with "Convolutions", a state of mind that does not allow you to enjoy the peace your being so eagerly pines for. But you have to address the issue. You can't wish it away.
The world will term your endeavor a wild one because it takes real courage to cut away from the flow and see things differently. "Wild Hope" starts with vigor and passion and brings soothing energy with it. The forest-theme sounds make it a perfect beginning for an adventure.
The title song "Slow Motion" begins slowly, pacing with intent and vision. It is a peaceful rendition of what your heart wants and desires for. Peace. Calm. Stress-less-ness. A state where things are settled and there is no unnecessary turbulence. What an option it would be if we get the time and ability to let go of everything and enjoy a break from all that is outside and let ourselves enjoy a warm bath of tranquility!
Once your being has settled and the desired speed has been attained, there's a possibility of sparkles and shine. "Diamond Drops" bring that positive vibration and a joy that could make you dance slowly, for there is a promise of things that were earlier unknown.
If you are trying to disconnect from the outer world and want to touch the inner spectrum, there is no way you could ignore the concept of divinity that lies within us–every culture, every civilization claims that we are nothing but a "Divine Spark" within, shrouded in various vestures. This mysterious piece signals a tryst with your own self.
"Dazzling Blue" is the first sensation of the post-experience bliss. It is the welcome melody of the rejuvenated soul that has is ready to return after a sojourn towards its source. There's a strange joy of conviction, victory and achievement.
And what do you feel when you realize the potential that lies within–away from the clutter and cacophony of the world that we are made to believe is real? Loss of burden, as if a huge boulder has been removed from your shoulders. "Weightless Keys" is the expression of that liberation and freedom.
The whole album, as I mentioned earlier, foretells of a journey that would start from you and end within you. This is music at its best–truly spiritual at all levels.
I invite you to listen to the songs and let yourself immerse in its slow, comforting movements.
| | |
| --- | --- |
| Track Name | Duration |
| Convolutions | 5:23 |
| Wild Hope | 9:26 |
| Slow Motion | 6:24 |
| Diamond Drops | 7:07 |
| Divine Spark | 8:28 |
| Dazzling Blue | 8:43 |
| Weightless Keys | 5:32 |