Review of Robin Spielberg's New Album: Re-Inventions

The roots sprout when they find the weather conducive and the soil appropriately aligned for the shoots to grow. On the earth of a human heart, where music has been sowed and cared for like stored seeds, the winds of introspective reflection and warmth of loving concern help melodies germinate, which carry the original intentions but have newer and interpretive forms. The beauty of music lies in its infinite possibilities, and how charming every rendition could be. Well, either you have to be a musician, or have the privilege of ears that turn pointy when they hear music!
Robin Spielberg, as she describes in a video about the album, has gone back to her musical roots, and have allowed her emotions to weave the sonic vines through her fingers on the piano. Picking up classical pieces and giving them one's own version is a daring yet fulfilling project–Robin has done well in her new album "Re-Inventions". The relaxed tempo allows you to appreciate the beauty of every note, and go deeper and deeper with the vibrations.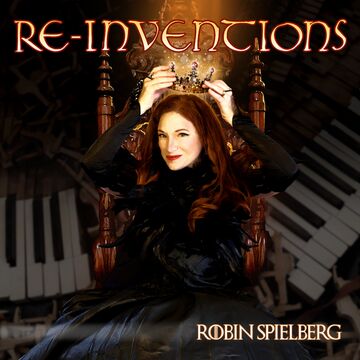 Album Name: Re-Inventions
Artist Name: Robin Spielberg
Total Time: 60:04
The album has fifteen classical songs, re-imagined and re-invented (Robinized!!!) that carry a personal touch and interpretation.
The subjectivity of music is its finest aspect–every pair of ears can convey a different meaning and mood to the listener, and every individual responds to music with his/her unique understanding. So, even if you are not learned in Western classical music (like me), you still will be able to enjoy the freshness of the older frameworks created by famous musicians of the past.
The first rendition is the classical piece of Mozart, "Piano Sonata No.16 in C major, K.545 (Reinvented)", which is imagined as a subtle melody of spring. It lets the album flower beautifully and invites you for an intimate rendezvous, where your tryst is with sounds.
In "Liebestraum (Reinvented)," the introduction of strings heightens the emotions and takes you right to the European scenes.
One thing you will feel while listening to these interpretations is that there is no hurry in Robin's heart, which shows how confident she is at the same time, how enriching-ly joyful are these creations for her. She must have blissed-out at many instances while playing. "Canon and Gigue in D major, P.37 (Reinvented)" is proof of that feeling.
"Les Patineurs Valse Op. 183 (The Skater's Waltz Reinvented)" is such disarmingly mesmerizing. It allows you to let go of and sit quietly in your garden chair while you stare in the blank without the weight of your body and mind, before the bells signal the arrival of a fresh attitude.
"Prelude and Fugue in C major, BWV 846" is once again a relaxing piece on piano alone, carrying a deep and sensitive touch.
The largest song on the album "Piano Sonata No.14, Op.27 No.2 (Moonlight Sonata): First Movement" brings all the caution in its movement. As a deep rendition of Beethoven's piece, it allows you to reflect and introspect. I found it to be the sonic reflection of one's mind while going through a situation like the pandemic–an amalgamation of thoughts where uncertainty and indecisiveness prevails.
You will notice a different touch rendered to "The Merry Widow Waltz (Reinvented)" by the violin on the forefront.
"Wiegenlied Op. 49 No. 4 (The Brahms Lullaby Reinvented)" will remind you one of the most famous tunes you will hear, even sometimes used in musical toys. Robin has truly revisited her childhood and carried a lot of emotions while rendering these pieces.
The shortest piece "Fantasie-Impromptu, Op. 66 (Reinvented)" again has strings but this time these sound more fanciful in the form of a guitar.
A great declaration of the piano, with the sound of the first note going on for almost 30 seconds, open the final piece of the album, "Ständchen, D.889 (Serenade Reinvented)". Its notes fill you with energy like that of a marching song, though the tempo is of a lullaby.
There are a lot of variations and layers of imagination that you will be able to notice, but what I liked most in the whole album is the intention–there is no desire to prove anything, to show-off, or to display the talent. It is just like a grown-up picking up his childhood toys and improvising in an intelligent way while still able to maintain the undercurrent of childlike curiosity. This shows they know what they are doing–it is not simply an experiment!
The difference in the level of an accomplished musician from an amateur is that there is no struggle–they float on the waves instead of laboriously trying to swim.
"Re-inventions" is that expression of the joy felt within!
Listen to the album on Spotify: