Portraits – A LOVE Story in Musical Notes

Humans have developed several systems to communicate. Music is one of the most profound tools of expression invented and developed by man through several centuries. To understand and appreciate good music, you will not need the knowledge of any language because music is a message conveyed directly from heart to heart. No other genre in human life has used music as a vehicle as effectively and elaborately as LOVE has used it. In other words, where there is LOVE, there is MUSIC. When you are in love, you become musical because music can ably convey even the subtlest expressions of Love precisely without any ambiguity.
A Love Story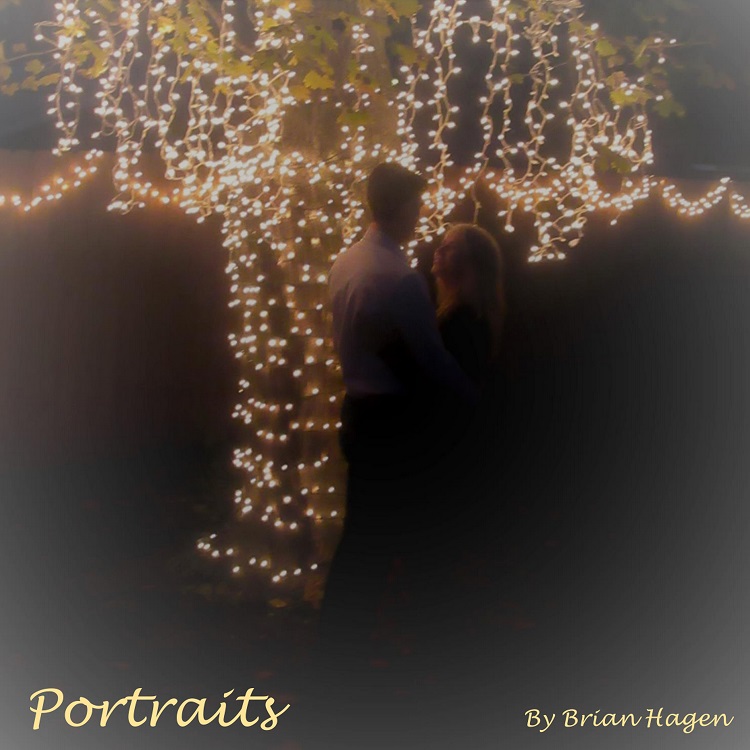 Brian Hagen's album 'Portraits', is not just a collection of musical tracks, but a highly unique kind of LOVE STORY in itself. The renowned composer, and artist, has invested in the incomparable power of music to give a medley dedicated to LOVE. In every story of love, there is joy, disappointment, dissension, separation, longing, reunion, and celebration. The author of this opera has given his best to treat the concept of love comprehensively covering different feelings and sentiments that govern love life.
'Portraits' is a rare music album and one of its kind. Glancing at the titles of the different songs of this album, you will feel the author has written a LOVE STORY in his musical notes. Before getting immersed in this love treat, prepare yourself by reminiscing the different feelings and experiences that haunted your heart when you were in love. Each one of us has fallen in love at some point in our life and therefore, while listening to the album, we are sure to relive our nostalgic past once again.
Track #1 – Iridescence
Iridescence is a scintillating visual effect due to the play of colors under the refraction of light waves. This opus marks the beginning of the love story. We fall in love with someone who attracted us and we celebrate the qualities that make us admire them. Playing for 03:30 minutes, the musical piece marks the beginning of a love story.
Track #2 – A Time For Love
The birth of love in the heart feels like the slow but sure unfolding of a bud into blossom. Time For Love, the second track of 04:26 minutes long celebrates the moment when attraction and admiration mature into love.
Track #3 – Finding The Stillness
Love brings a new meaning to our lives. Having got someone to love, we feel there is some reason why we live. The new companion makes life more livable by sharing the joys and sorrows of our existence and the aberrations and oscillations are stilled letting us discover a sense of peace lingering deep within us. The 04:03 minute track is indeed a piece of peace.
Track #4 – Garden Duet
Togetherness with the loved one is something we can celebrate joyfully. Nothing like finding a colorful and fragrant garden to celebrate moments of togetherness. Garden Duet is a sweet medley. For 04:16 minutes, you are sure to escape into an ecstatic world.
Track #5 – You Are My Everything
When we are in deep love, we fully confide in our most intimate companion. The loved one becomes the entire world and the rest around us disappears. 'You Are My Everything' is one of the best opus in this album and within 3:09 minutes, the artist is able to write a profound story of love.
Track #6 – Forever Love
Love life is so fulfilling, enriching, and elevating. When the love is comforting and enjoyable, we feel we are bonded with our partner for eternity. This track is composed of promising notes that lead us through hope and assurance for 3:56 minutes.
Track #7 – Through It All
Love life is a medley of ups and downs, elations and disappointments. No love can go on forever without challenges and troubles. In this track playing for 3:36 minutes, you start sensing a kind of uncertainty that might hamper the voyage of love getting in some unpleasant moments.
Track #8 – Regrets
When the confidence is broken and assurances are forgotten, love becomes a burden. There is nothing more that you can celebrate or hope to enjoy. When the crisis intensifies and the hearts move apart, a kind of regret sets within questioning the validity of love. These 4:30 minutes feel burdening and unbearable.
Track #9 – The Love We Had, The Love We Lost
In this track, the separation has already happened and the hopes of getting along seem to have been lost. One of the longest tracks of the album playing for 5:36 minutes, the musical notes of this opus highlight moments of weariness over the lost love.
Track #10 – After The Rain
Once the rain settles, there is a chillness all around. The calmness outside also mirrors the silence deep within. The lessons the tough moments gave us surface slowly and we wake up once again to a matured state of existence and a better understanding in these 3:30 minutes.
Track #11 – The Unforgiven
This 3:53 minute opus is a fantastic composition venturing to surface even unpleasant things in an acceptable way. When you prepare to understand your companion in the new light dawned on you, there could be some experiences you do not want to forgive. But life is all about overlooking the things you can't change.
Track #12 – Homage
The 3:22 minute long track is composed of thankful notes that pay homage to every single factor that contributed to the wisdom dawned on you. You wake up to the new reality and a new kind of understanding born out of maturity.
Track #13 – Reunion
When the differences are settled and we feel the whole episode of drifting away from each other was baseless, the vacuum is already filled in and there is a coming together for a new beginning. Reunion is a fantastic opus carefully composed musical notes to suggest the concept of reunion playing for about 03:36 minutes.
Track #14 – Starlight Dance
The peace experienced after the storm always feels so wonderful and inexplicably assuring. The reunion has piled up so many reasons to celebrate the love once again. Track 14 is a joyful piece of jubilant celebration playing for 03:33 minutes.
Track #15 – The Peace Within
The final opus of the album suggests the discovery of peace seated deep within. The love life has taught us that life is so beautiful despite the several odds and moments of uncertainties. The moments of contemplation and self-introspection let us discover the peace within. The final track of 4:17 minutes long gives an elevated ending to the LOVE STORY.
Await an immersive experience
'Portraits' is a fantastic album based on a profound concept. When you decide to get immersed in this album, you have made the right choice to experience one of the best musical treats of your life.