Album Review of Imaginary Trains–The Soul's Companion On Its Journey Inwards

Every inspired musical composition is a trigger to kick start a process of becoming. In this sense, music has a mission to fulfill with its serious-minded audience. While being listened to with a purposeful focus, inspired music works deep within our inner self promoting a journey of some kind.
In his 'Imaginary Trains', Michael Whalen has accomplished a New Age album of electronic and ambient music that speaks in the language of the soul. Michael says this album is inspired by Tangerine Dream & Kraftwerk's German Electronic music of the 70s and 80s.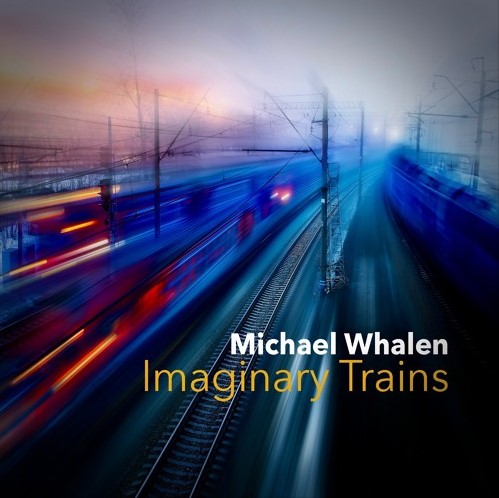 'Imaginary Trains' Production Info
'Imaginary Trains' is written, organized, performed, mixed, and produced by Michael Whalen. The third track, "Across The World To be With You" features Ricky Kej, and the eleventh track "Distance" features Donna Lewis and Ravichandra Kulur has contributed with his flute for both these tracks. Michael Whalen has contributed with synthesizers, keyboards, voice, percussion, guitar, and sound design and programming.
The album's mission
The purpose of the album is to take the audience on a virtual journey of the heart and mind. We can say this album has proved that electronic music can have a soul. Therefore, Michael has breathed life into music to invent a guide for his listeners to lead them through voyages in the vastly stretching inner worlds.
'Imaginary Trains' is the crown jewel in Michael's musical empire. He has journeyed with electronic music for so long and during his sojourn, he has invented and stocked up 200 unique and original sounds that are scattered all over this mesmerizing album.
Journeying with the tracks
1. Imaginary Trains (4:30)
The opening and also the title track starts with brisk notes to green signal a happy voyage. You are suddenly possessed by an excited temperament that readies you for an adventure. Many musical compositions that are said to stir your soul often wear somber tunes and push you to boredom. On the other hand, I found a joyful companion in this track to assist me in my inner voyage. I am sure this track will heighten your jubilant mood too and you will instantly fall in love with its mesmerizing musical notes that remind you of a train journey.
2. Against The Sky (4:14)
The second opus is another auditory treat made of lovely harmonies. The kind of travel you discover with the track is almost magical and mesmerizing. Each of your senses feels engaged and entangled in the joy that the notes of the track promote in you. In the end, the enticing member in the album will make you say that you want to listen to 'Against The Sky' once more.
3. Across The World To Be With You (4:40)
Ravichandra Kulur's flute has bestowed additional charm to the third track 'Across The World To Be With You'. The virtual journey finds a surprising momentum and you see many bright and attractive colors cheerfully waving to you flagging your journey.
4. My Immortal Beloved (4:28)
Albums and compositions might have shorter life spans, but music is immortal and ageless as the soul itself. In 'My Immortal Beloved', Michael has accomplished a soothing track that has some healing effects on you. Your mind and heart are thoroughly comforted and cajoled and made to feel, there is someone to fall upon at times of need.
5. The Wayward Sun (4:16)
The fifth track of the album maintains a consistent tempo all through creating a well-organized setting to relish the happy tunes. You enter the next phase of the journey discovering new vistas on the move. 'The Wayward Sun' is a meticulous creation carefully crafted in minute details to fuse the sense of forwarding movement, joy, and excitement together.
6. Vox Humana (4:02)
This is another track in which vocals are given prominence over instrumentals. You get a feeling that your journey has brought you to newer lands and fresher experiences. The excitement is further augmented and you start enjoying the virtual company of newer souls joining you on your voyage. I found this track to be one of my favorites on the album.
7. The Ribbon of Time (3:29)
Time is felt and perceived differently when it brings different kinds of experiences. Joyful time flies away surprisingly while sorrowful times linger for so long making it difficult to pass quickly. 'The ribbon of Time' is a uniquely rendered opus simulating wave-like movements similar to a ribbon's flutter in the air. This is the shortest opus in the album and is made of delightful tunes that make you enjoy the travel.
8. The Journey to Lights Edge (7:43)
I found 'The Journey to Lights Edge' a surprising member of the 'Imaginary Trains'. The voyage in this phase is replete with several wonders surfacing unexpectedly from different directions. The feeling you get is akin to how you feel while visiting an exotic place you have been craving to see for long.
9. Dream Together (5:27)
No two dreams resemble each other and it is nearly impossible to dream together. But, music has the power to make people share their dreams in common parlance. While united on a common objective, traveling together with music becomes an inspiring experience. 'Dream Together' is one of the shining stars in 'Imaginary Trains'.
10. Until The Night Is Over (8:06)
How do we spend nights? If we are asleep, we move through myriad dreams. If we are awake, we are entangled in a medley of thoughts. So, in 'Until the Night Is Over', we are engaged mentally though we are seemingly at rest. When the journey continues at night, we may not access the scenes on the way, but the awareness of movement is enough to bring us novel experiences, evident in the theme and treatment of this track.
11. Distance (4:32)
Aptly titled 'Distance', the last opus in the album is a charming example of a guided musical tour. This is another track in which the silky tunes of Ravichandra Kulur's flute mildly add to the richness of the melody in the background with the effect heightened by the vocals that remain prominent all through. You feel that within a short time you have traveled over a vast distance with the album. Nevertheless, you have not come farther from home as the journey is done inwards getting you only closer to your inner being.
Take away
A magical experience I found while listening to 'Imaginary Trains' is that time comes to a standstill and before you realize a few minutes have passed, one track leads you to another. The consistent tempo in all the tracks mimics the movement of a train making the whole experience thrilling and interesting. I found listening to the album was a highly purposeful and meaningful engagement for my being. In fact, 'Imaginary Trains' is a rare kind of musical feast that I thoroughly loved and admired and will recommend to any yearning soul that wants to get infected with a jubilant mood on its virtual journey. There are tons of reasons to applaud Michael Whalen for his amazing work on this album.   
Listen on Spotify: