Review of album Sacred Love by Shambhu Vineberg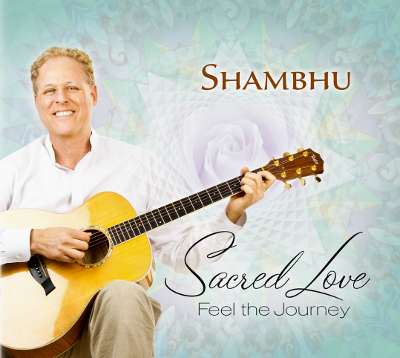 Album: Sacred Love
Artist: Shambhu Vineberg
Total Time: 55:35
A few days back I got this album from Shambhu Vineberg. Shambhu has been creating music that is soulful and touches the heart of the listener, and I was more than delighted to receive the album as a gesture that could be called friendly, brotherly or whatever adjective could be ascribed to it. In reality, it was like this: a gracious artist obliging a genuine listener! 🙂
I should mention that I wrote two poems inspired by pieces from this album and felt very happy to plug myself to "Sacred Love". The album surely radiates a lot of positive energy.
The album opens with a beautiful piece "together"…a call to move together as the journey of "Sacred Love" unfolds. The piece is full of emotions and rhythm that makes one sway in unison with the musical waves. The support of drums and violin is excellent.
The journey moves to the "edge to eternal"—though it is edge but it is not the end because it is eternal. The piece opens up like a new understanding that relishes in the finding that was native yet unexplored. The music sets the body into a slow-motion dancing-mode, where one seems to be observing one's own self.
"Eyes of a child" starts relaxed and opening to a new world. It sounds in continuity where the new understanding is seeing the world through the eyes of a child—nothing appears mysterious or doubtful; everything appears to be alright, which in the highest state of mind is the reality. There is no duality in the eyes of the child and this piece runs singularly on guitar only.
"Natural moment" moves into experimental mood where different instrument contribute their sounds to make it look as if there is nothing but whatever can be called natural. The piece is particularly beautiful with tender percussive movements and introduction of Sitar. A piece to tune to!
"Revelation" opens the reality very slowly with the cello and English horn moving softly and helping the mind know stillness. "Imagine" is created with Will Ackerman on guitar and sends the mind into an imaginative reverie, which is trying to leave behind the clutches of confusion and plunge into pure bliss. Very thought provoking and relaxing!
A touch of "While my guitar gently weeps by George Harrison" can be heard in the vocals provided by Claytoven Richardson in the next piece "Maui Breeze". The piece is rhythmic and introduces Jeff Oster on Flugelhorn.  A tapping number to tune to!
A very intriguing and "let go let God" attitude dawns when Premik Russell Tubbs opens the next piece "Nirab Amare". A light piece to relax and introspect! The name of the next piece would indicate the touch of piquant naughtiness it carries. "Hide and Seek" is like an engaging argument between vocals and guitar. After lots of deep and heavy pieces, this piece provides a fresh angle to the album.
"Shiva Grove" is a rare piece introducing Ravinchandra Kulur and George Brooks. The piece seems to invoke the spirit within with notes that sound experimental yet engaging and acquainted. The piece opens with deep notes of saxophone and flute combining to create a very rare piece. The journey continues and introduces the primordial sounds of "Om". Eugene Friesen carries the piece on Cello while the vocals, percussion, guitar moves in a procession. The flute seems to enchant the procession and energize it to move ahead and "Call to spirit", which resides inside and permeates everything.
The album ends with a piece that reflects the humbleness of a spirit before the Over-self—the universal soul that creates and dissolves everything within itself. "Humility" is like returning to the fold from where every piece of this album got created.
| | |
| --- | --- |
| Song Name | Time Duration |
| Together | 04:51 |
| Edge of Eternal | 04:49 |
| Eyes of a Child | 03:47 |
| Natural Moment | 04:32 |
| Revelation | 04:10 |
| Imagine | 03:25 |
| Maui Breeze | 04:41 |
| Nirab Amare | 04:48 |
| Hide and Seek | 03:34 |
| Shiva Grove | 05:25 |
| Call to Spirit | 06:17 |
| Humility | 07:16 |
Taken from the album guide:
All songs composed and arranged by Shambhu except "Nirab Amare" by Sri Chinmoy, "Imagine" by Shambhu and William Ackerman, and "Shiva Grove" by Shambhu, George Brooks and Ravichandra Kulur. Published by Sacred Love Music (BMI).
Saxophone on "Shiva Grove" and Flute on "Shiva Grove," "Humility" and "Call to Spirit" recorded at Studio D in Sausalito, CA. J. Jaffe, Recording Engineer. Violin on "Together" and "Natural Moment" recorded at The Complex, Los Angeles, CA. James Doser, Recording Engineer. Drums on "Maui Breeze" and "Together" recorded at The Mix Room, San Rafael, CA. Stephen Hart, Recording Engineer. Vocals on "Maui Breeze" and "Hide and Seek" recorded at Infinite Sound, Alameda, CA. Michael Denten, Recording Engineer.