CD Review of Starlings by Murmurations Duo

Album Name: Starlings
Artists: The Murmurations Duo (Suellen Primost/Jeremy Marais)
Total Time: 54:18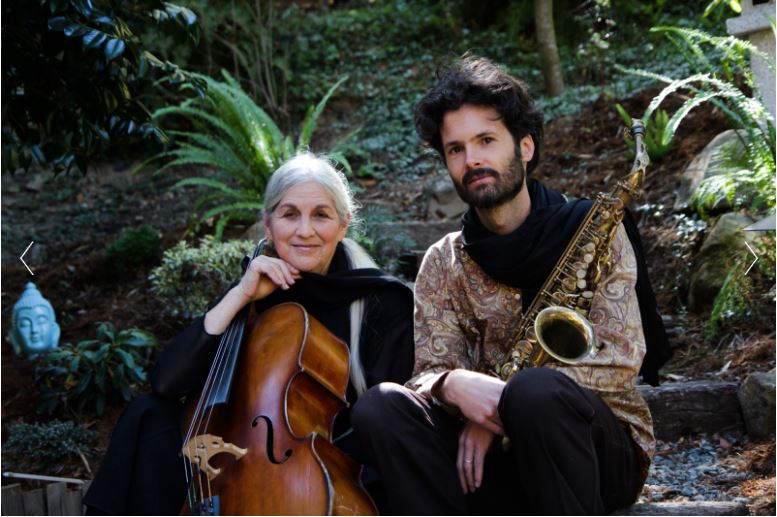 Of all the musical instruments, nothing defines the space better than a cello. Every brush of the bow on a string sets the very existence of your being. I may be sounding like making sweeping statements, but the depth and the range that the sound of a cello offers often replicates the stillness of one's mind–sitting quietly and restfully in a meditative state. And when you consciously listen to it, you feel as if you are holding the music like a thread and floating in the limitless space.
Now, add sudden deflections, unpredictable yet prestine movements, and quickly-changing patterns of saxophone to it, and you will get a rich mixture of murmurations.
This is what's on offer in this CD. Suellen Primost on cello and Jeremy Marais on saxophone take you to a journey that is inward. The path may not  appear smooth yet these starlings know exactly what and when to do the movements.
The music of the album is expansive, sourcerous and experimentally beautiful.
Being an Indian and avid listener of classical music, I simply relish the idea of improvisation. The best feature of this album is that all of the music is improvised. The very concept of improvisation is challenging, difficult, tough yet brings out the best of any artist. The spontaneity of a thought is captured in the notes, and the music and the musician becomes one, unintentionally.
Listening to this album, often, you are reminded of the song that Shambhu Vineberg, George Brooks and Ravichandra Kulur created in Shambhu's first CD named 'Sacred Love'. The song, a total improvisation, was a brilliant piece and remains my favorite of that album. It was named 'Shiva Grove'. I could feel transported to another realm of existence while listening to some of the pieces of this album. The first one, Inner Space, is especially enchanting!
The album has eleven tracks and each one of them offers you a new paradigm that you can savor. The accompanying artists have added the extra musings that a listener would cherish as the mind flows with the music.
Overall, the duo has done justice to the name, and offer a super collection of music suitable for relaxation, meditation and healing purposes.
I wish them the very best, and dream that they continue to fly together and offer more spectacles to us through their gifts.
| | |
| --- | --- |
| Track Name | Duration |
| Inner Space | 06:14 |
| Etang | 03:38 |
| Deep Within | 05:06 |
| Dovetails | 04:56 |
| Kartaa | 05:37 |
| Floating | 05:54 |
| Circle Danz | 05:06 |
| Ginger | 04:05 |
| Night River | 03:18 |
| Cherry Blossoms | 04:40 |
| Murmurations | 05:44 |