Review of Fellowship of Solitude by Lynn Tredeau

In the last couple of months or so, I met two people on separate occasions whom I had not met or even seen for the last 23-24 years (Yea, I know, what's my age, right!). Well, both of them had grown a big beard and were wearing a turban. I consider myself having an eidetic memory (a few bloated figures here) when it comes to recognizing people, but on both of these occasions, I could not recognize them by their faces. But when they spoke, it felt like there was a neuron that lit up in my brain and I could actually feel it traveling from my cerebral cortex and knocking at my tongue to spell out their names–which I did correctly.
This experience of 'sonic memory' apart from the visual memory that we have, made me thinking that sound indeed is a crucial part of our being. And what if we could have a 'sonic memory' from our past lives also, embedded deep in our sub-conscience? Well, though it is a topic of different research and debate, it certainly applies to Lynn Tredeau at a certain level.
She, after listening to Michele Mclaughlin, found her calling for music after dedicating many years for one of the most important parts of life–being with the family and enabling the family members to grow stronger and wiser. It seems the hidden treasure of music inside her knocked again and it started flowing through the beautiful notes of the piano.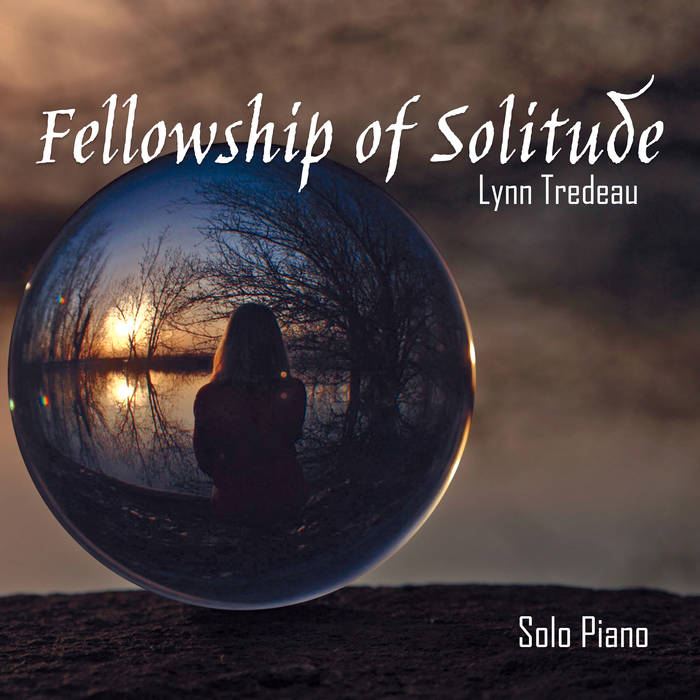 Album Name: Fellowship of Solitude
Artist Name: Lynn Tredeau
Total Time: 50:05
The album has 12 songs but the transition from one song to another is very smooth and effortless. This indicates that the listener can very easily tune to the album and float with various songs representing various shades of the same sentiment–the vibe, the feel and the theme remains the same. It is like writing multiple poems on the same subject–how artistic is that!
The title song 'Fellowship of Solitude,' like many other songs of the album, is a gentle piece showcasing the sublimity of solitude, which is not to be confused with loneliness.
'Land of Forgotten Dreams' probes and enquires and is shrouded in mystery depicting the confusion one will have at the moment of coming face-to-face with the forgotten dreams.
'Peace in the Midst' is another gem of a piano piece–giving us the true spirit of the instrument. Deep, gentle, and evoking peace, as it moves from one note to another.
'Afternoon Reflection' lays bare the travels and travails of a reflecting mind experiencing various ups and downs of existence. The notes and bright and shiny, rejecting the gloom like a sunny afternoon.
It is only in the 11th song 'Life is in the Journey' that I heard complex phrases. Lynn sets forth a very telling example of the journey of life, which is where the magic happens; the life happens. Once the journey is complete, there is no life as such.
Lynn has produced a complete package for the listener who is looking for some quality 'me-time.' The magic of solo piano is best represented in this kind of theme. Overall, the songs have a lot of light and thoughtfulness. A very interesting compilation, indeed!
I wish all the success to Lynn and hopefully look forward to hearing more of such magical music from the artist in future, as she continues to explore depths of her conscience and share them with the world.
| | |
| --- | --- |
| Track Name | Duration |
| Fellowship of Solitude | 4:18 |
| Traces of Daylight | 3:48 |
| Land of Forgotten Dreams | 3:20 |
| Call of the Owyhees | 3:42 |
| Love Leaves a Memory | 4:02 |
| What Hides in the Dark | 5:43 |
| Afternoon Reflection | 3:36 |
| The Time Machine | 4:40 |
| Peace in the Midst | 5:04 |
| Left Behind | 3:17 |
| Life Is in the Journey | 3:57 |
| Purple Fog | 4:38 |