Review of Milestones by Hollan Holmes
Ambient music has the power to make your body float–the classical space music genre is a perfect medium to transport you to a different level of existence, where you leave behind the shackles of bodily experience and swim in the sonic currents of healing sounds. Hollan Holmes has successfully exploited that potential by intricately mingling it with electronic layers of his synthesizer.
Yet, the beauty of the complete album lies that it is not simply for relaxation or rejuvenation–the elements that Hollan has so mysteriously added to the songs make it worthy of various moods. Like a potpourri of tastes and blends of different colors.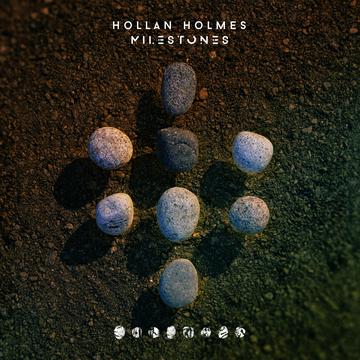 Album Name: Milestones
Artist Name: Hollan Holmes
Total Time: 64:59
The album starts with powerful sounds full of energy and spunk that you expect from an electronic album. With layers of synth effects and elements of experimentation that reflect the creative side of an artist, you will notice a freshness in the tunes and notes.
There are ten songs in the album and every song brings a new perspective of mindfulness. At a reasonable volume, the album can assist in meditation as well.
Though all the songs carry an element of space-experience, it is in the fourth track 'Slipstream' that you get it exclusively–a perfect catalyst for an esoteric experience.
Another intriguing track if 'Inner Sanctum.' True to its name, it prods the listeners to go deep and explore one's own self. 'Phone Call' is equally challenging when it comes to exploring the universe within. Interestingly, I found ' Something Wicked This Way Comes' very exciting and full of notes that could trigger creative juice inside you and make you create something–there is definitely a unique ambience around this track. The last song, 'Ayyappan,' carries a deeper audio current that has an ethereal touch and could transport to other planes. Ah, the whole second part of the album is so mystically conceived!
Spotted Peccary Music has a knack of bringing artists who could paint new vistas with their imagination and explore the realms of music from a totally new perspective. Congratulations to Hollan as he debuts with the label while bringing out his seventh album. It has all that makes a worthwhile collection!
| | |
| --- | --- |
| Track Name | Duration |
| Transmitter | 05:00 |
| One Giant Leap | 05:17 |
| The Truth Laid Bare | 05:44 |
| Slipstream | 07:02 |
| West Texas Backroads | 07:05 |
| Bulletproof | 06:21 |
| Inner Sanctum | 07:12 |
| The Phone Call | 07:10 |
| Something Wicked This Way Comes | 06:49 |
| Ayyappan | 07:19 |