Review of Blue Landscapes III: Frontiers by Robert Thies & Damjan Krajacic
Spontaneity often breeds freshness and never more than it does in music. What takes it to another level is two musicians coming together. This is what The series of Blue Landscapes by Robert Thies and Damjan Krajacic has brought to the listeners, and the third installment is nothing short of but a marvelous piece of artistry strewn with soul-stirring flute and intriguing piano. This is music at its finest!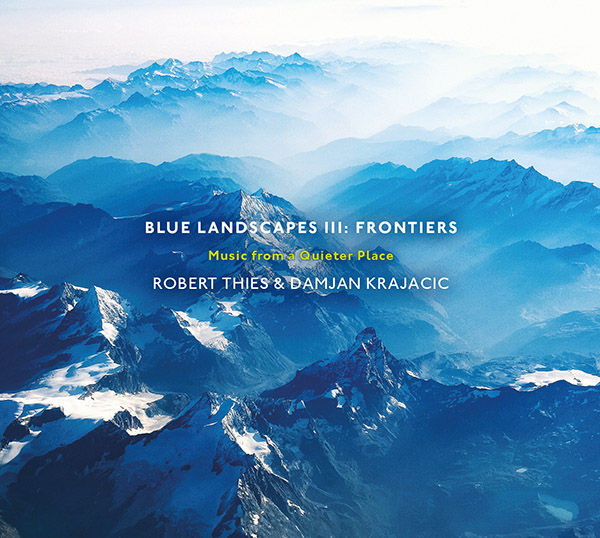 Album Name: Blue Landscapes III: Frontiers
Artist (s): Robert Thies & Damjan Krajacic
Total Time: 74:53
Robert and Damjan come from different musical backgrounds but it seems music has that beauty of synchronization which allows different streams to merge together and create a new taste, a new dream, a new color that appeals to the human mind like anything! As you hear the album, you will notice the comprehensibility and range of the piano melt in the delicate sound of the flute, and how both the sounds become indistinct at times. It feels like two trekkers inspiring each other to scale higher and higher summits of magical music.
There are fifteen songs in total and the album runs for more than one hour–a perfect getaway from the world of chaos and stress! Listening to the album, you will feel there so much natural freshness in it–as if there is no gadgetry but just bare elements and the sounds. There is stillness and softness and ample length of lull to allow your body and mind to consume the essence of the music.
The whole album paces very patiently and lets you reflect and weave your own thoughts around the sonic experience. I would say it is indeed a commendable job for any artist if the art gets you reflective and thoughtful in the present world of chaos and distractions. Robert and Damjan have been successful in creating that unique experience–my congratulations!
Rejuvenate and reconnect with your true self through nature-inspired and improvised music that brings fresh inspiration and relaxation to the mind and body.
| | |
| --- | --- |
| Track Name | Duration |
| Drifting | 03:37 |
| Forest Path | 06:56 |
| The Abandoned Monastery | 05:42 |
| Le Musicien | 03:34 |
| The Lighthouse | 03:46 |
| Goodbye | 06:24 |
| Frontiers | 06:09 |
| Tranquility | 04:24 |
| Take My Hand | 03:49 |
| Infinity | 06:41 |
| Distant Waterfall | 03:42 |
| Waves on a Moonlit Sea | 04:28 |
| The Valley of Echoes | 04:35 |
| Forgotten Memories | 06:28 |
| Letting Go | 04:38 |