Album review of A classical Meditation by gary Schmidt

Whether you are watching the rain on your patio on a free day or driving through a lonely road in the canyons, there is nothing more worthy of your companionship than good music. Classical music has the power of delivering healing touches to the beauty of solitude, and bring emotive responses within us.
If you are a lover of classical pieces and like to listen to some peaceful music on a piano, this album could be the immediate choice for you. Gary has a knack of bringing the peaceful side of the piano to an obvious forefront, and he has done just the same by rendering some of the classical pieces composed by various artists including Bach, Beethoven, and Chopin.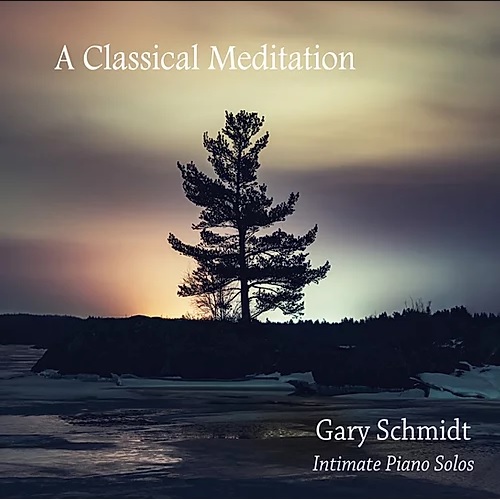 Album Name: A Classical Meditation
Artist Name: Gary Schmidt
Total Time: 62:55
There are 15 tracks in the album and all are classical pieces from the seventeenth century to the modern classics. If you know some of the classical pieces by their names, 'Moonlight Sonata,' 'Symphony No. 7,' and Chopin's 'Nocturne in C#m' would sound familiar.
In some of the pieces, you will hear an accompanying instrument like a violin, strings, etc, which definitely enhances the feel of those particular pieces. Yet, for the piano-lovers, Gary has justified all the pieces with his balanced play and movements.
This is the second album by Gary that I got to listen to and write about, and it would not be wrong to say that he continues to glue his audience to the songs with lucid and clear strokes that convey the message of the melody so nicely.
Wishing good luck to Gary with his new album and also looking forward to more inspirations as he continues to bring peace and harmony to his audience!
| | |
| --- | --- |
| Track Name | Duration |
| Adagio from Concerto in Dm | 03:59 |
| Etude No. 2 | 05:00 |
| Claire de lune | 05:20 |
| Pieces Froides: Danses de Travers No. 1 | 01:51 |
| Nocturne in Ab | 03:03 |
| Fur Alina | 02:11 |
| Piano Concerto No. 2 | 05:09 |
| Moonlight Sonata | 06:56 |
| Canon in D | 07:16 |
| Nocturne in C#m | 03:58 |
| Pieces Froides: Danses De Travers No. 2 | 01:34 |
| Piano Concerto in G Major | 03:21 |
| Orfeo et Eurydice: Melodie for Piano Solo | 04:25 |
| Symphony No. 7 | 05:11 |
| New World Symphony | 02:41 |