Review of Kokowanda Bay by RUTH AND EMILIA

Do you remember a wonderful album for kids 'The Spaceship That Fell in My Backyard' by the mother and daughter duo, Ruth and Emilia? Well, if you liked that album, brace for another brilliantly composed and full-of-cheer album 'Kokowanda Bay.'
What is 'Kokowanda Bay', you might ask? Well, tune to the third track of the album and you will receive a joyful answer.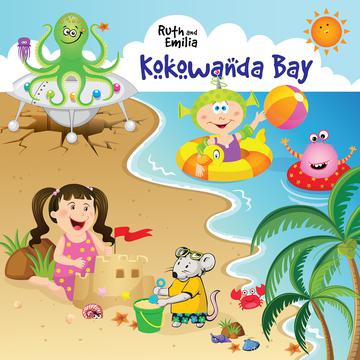 Album Name: Kokowanda Bay
Artist (s) News: Ruth and Emilia
Total Time: 34:18
I know that children's albums and music could be a bit peppy and light-hearted and could make you tap your feet, but this one is class apart. You will be able to marvel the professionalism and virtuosity of the music along with the easy-to-understand lyrics that have a story behind them for the children to dive in and lose themselves in the beautiful spot of Kokowanda Bay.
The album starts with fast-paced numbers, but do carry the essence of making children think creatively, and make them feel involved.
'Like Magic' is like a lyrical short-story that you could enjoy with children during the day or bed-time.
There are 11 total tracks and the longest one is just a quarter minute more than four. This leaves a desire to listen to the songs again and again and a wish that they could have been longer!
There's unique freshness in the album and I am sure it will also replicate the success of the duo's previous album, and fetch many awards in the children's category.
Wishing Ruth and Emilia the best of luck and more of such finely-crafted music in the future, as they keep sharing their gifts with the children!
| | |
| --- | --- |
| Track Name | Duration |
| Get on Up | 02:47 |
| Who Would Believe It's True | 03:10 |
| Kokowanda Bay | 03:05 |
| Little Kid with a Great Big Heart | 02:31 |
| Like Magic | 02:41 |
| We're Goin' Green | 02:52 |
| With My Snorkel On | 03:30 |
| The Food Chain | 02:18 |
| Turn It into Something New | 02:51 |
| Good Friends Never Really Say Goodbye | 04:17 |
| Soaring Through the Galaxy | 03:16 |