Review of Four Divine States of Mind by Yuval Ron

'When you are ready, the way will be shown.'
In the esoteric discussions where you talk about beyond-this-world things and how everything lies within one's self, this is the assurance that one receives while dealing with various obstacles, adverse situations, and the non-conducive environment one finds oneself in. When it is time, it happens. The time seems ripe as the world finds itself in a situation where the normal does not work. Mindlessness has to give way to mindfulness. Finding the answers outside will not work any more–each and every one of us must look within and listen to the call that invites you to rest and enjoy the bliss.
I believe because the world is ready, this album has presented itself!
Sometimes you feel that you have been given a bigger task than yourself–a responsibility that you doubt you would be able to perform. A strange kind of question prods your mind–are you even capable of doing justice to what you are going to do? To be very truthful, this is what I felt when I began writing about this music. It felt like I landed on a treasure trove and had no idea where to begin marveling at it. Losing myself in it seems to be the only way. Well, if you find me almost lost as you read what I wrote about this music, just believe that I am still floating somewhere on the sonic waves!
Album Name: Four Divine States of Mind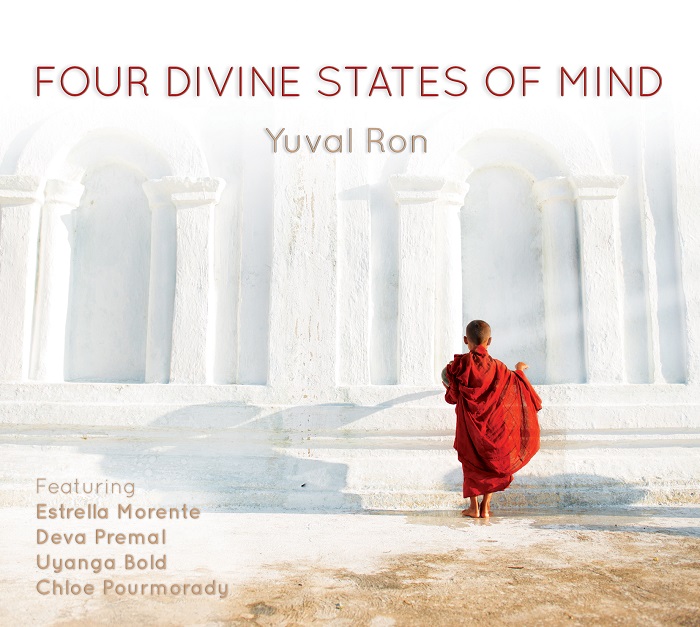 Artist Name: Yuval Ron
Featured Artists: Estrella Morente, Deva Premal, Uyanga Bold, and Chloe Pourmorady, and various musicians
Total Time: 53:53
The album is based on the concept of four states of Brahmavihara–the characteristics attributed to the Highest Self, which when one imbibes fully in one's life, help one ascend to that state of existence. To imagine, to try capturing that idea, and to put that concept to music, there is a tremendous onus, effort, ability, and belief. Yuval Ron has delivered it and of course, every other artist who contributed to the album must be applauded. And I must add that such an effort, a spiritually uplifting effort, is never carried out alone. It is always divinely ordained–you will keep feeling this as you listen to each song on the album.
It is very hard to conceive of an idea where artists, concepts, music, and styles from literally worlds apart would come together and fuse so imperceptibly that all apparent distinctions and variations would emerge to sing the same notes of the symphony. This album represents one such successful effort–the universality of the album satiates the individual hunger but does not define individuality. So, you may not 'find' yourself in this music; you may 'lose' yourself!
The very first song, "Loving Kindness (Metta)," claims the reality of everything: 'I am love.' And what would you do if you have achieved the very essence of your own existence–the Hebrew prayer lets you know that you will overflow with that love and love everybody else too.
The song starts with the melodious sound of Sarod (Alam Khan) and Chloe Pourmorady sweetly lets you float in the sea of the sustaining fluid. Subtly played Ghatam (Somnath Roy) and Ney (Malek Vossough) add a joyful feeling before Rachel Valfer sings the Hebrew verse in the Mawal-style at 10:00s and expands the feeling to a geographic expanse.
"Compassion (Karuna)" is presented by Estrella Morente. The song is a combination of Spanish lyrics and the famous Buddhist mantra 'OM Mani Padme Hum.' The words represent the central idea of every spiritual path–to find the True Self within. One of the prerequisites to qualify for that discovery is to have compassion towards all, for, the same spark illumines everyone.
The combination of Guitar (Adam Del Monte) and Oud (Yuval Ron) is quite unique as opening the doors to Andalusia, this song offers a rich mixture and touches of Flamenco, Middle-Eastern Style, and the Oriental seasoning. The soft rhythm is maintained on Udu (Jamie Papish), allowing you to lilt along the strings. What a unique way to drive the age-old and ancient calling of every spiritual path–'Go within!'
"Vicarious Joy (Mudita)" welcomes you to the Indian musical joy when you sing the universal prayer 'Lokāḥ Samastāḥ Sukhino Bhavantu.' This prayer has a bit of simple variation of Sanskrit words, which if you care to understand will bring more understanding. Lokaḥ (लोकः) means 'world' while Lokāḥ (लोकाः) is the plural meaning 'worlds'. Samastaḥ (समस्तः) means 'entire' but to grammatically justify the plurality of the subject of the sentence 'worlds' it also takes its plural form Samastāḥ (समस्ताः). So, when you pray that may everybody be at peace, you are talking about the entirety of all the planes of existence–this world and the worlds beyond. How beautiful and as Deva Premal, who joyfully sings this song, says that 'you can't sing with a closed heart,' this concept of vastness and openness allows you to be more than what you believe yourself to be.
Deva Premal is a veteran of mantra singing and celebrated world-wide, and to club Sitar (Pandit Nayan Ghosh) and Indian drums (Somnath Roy) to this mantra was brilliant from Yuval. True to the name of the song, the sitar dances on the rhythm. The introduction of 'Khamak' at 4:15s, a string percussion instrument popular in Eastern parts of the country, is quite delightful. Its sound makes your head swivel without you noticing it. Also keeping the traditional style of chanting, you will hear call-and-response between Deva Premal and the choir. I have heard this mantra sung and chanted in many styles at various gatherings, yoga sessions, workshops, etc., but this one is definitely a unique one–found it hard to control myself breaking into an impromptu Punjabi-style dance.
"Equanimity (Upekkha)" is the perfect way to let everything settle down–all the attentiveness, dynamism, activity, urge, and promptness subsides and there is this heavy and earth-like rooting that brings you to yourself. Interspersed with the Buddist chanting, this song captures you like a flying bird is caught by the call of its nest–it must return home!
The bell, wooden sticks, and the primordial calling of 'Om Shanti Om'–it is so peaceful.
The masterstroke is the introduction of Cello (Dennis Karmazyn) in this piece. There couldn't be anything more grounding than a cello playing in the first octave while the singer (Uyanga Bold) is calling 'peace' in the third octave–you can hear to this song all day long. One thing to notice in the singing style of the mantra is after 8:25s. If you have heard a Native Americal Flute, you will notice that Uyanga's voice spells those three words in that style. I am still at a loss of how so many different things could come together and fit so coherently!
To imagine bringing such a spectrum of artists, musicians, styles and concepts together, you require an inner urge and strength. Apart from enjoying the music, I would like to thank Yuval Ron and the whole team for thinking on these lines and serving the world with their gifts. It was needed!
Thematic, right-on-the-spot, and carrying weight–this album has everything!
You can listen to the album on Spotify: