Review of Kids Sanctuary–Healing Music For Your Child and Your Inner Child

With the unprecedented turnaround of events across the globe, children are the most vulnerable ones from all angles. Apart from the scarcity of food, education, sports, and dealing with the loss of family members, so many of them are staring at a blank future uncertain of what will happen and how they should prepare themselves to face the future uncertainties of life. More than ever, they need guidance and encouragement to keep going on, and maybe a way to tap into their inner energies and potential rather than banking solely on the ever-changing systems of the outer world. The pursuit of internal peace should be started early in life, and the present situation has augmented its need even further.
And what could be more supporting than music, which allows you to practice mindfulness and explore the beatitude of meditative time? Yuval Ron, known for experimenting and producing purposeful music, along with a team of like-minded people, has come up with this amazing album that is geared towards children (or the child within all of us) to unlock inner peace.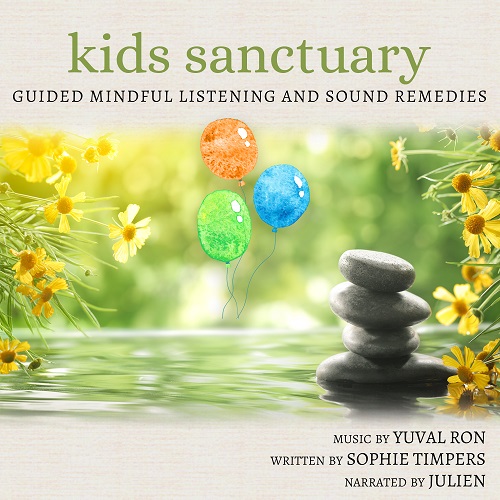 Album Name: Kids Sanctuary
Artist Name: Yuval Ron
The package is a very unique one as it comes in three discs. The first album, Kids Sanctuary: Healing Music for Your Child and Your Inner Child, has music that is carefully composed for a very relaxed listening experience with sounds of natural elements to enhance the meditative effect. Free of complex orchestration or showing their craftsmanship, the musicians have stuck to the plan of making it suitable for easy listening for children. A very few chosen instruments are used and natural elements enhance their effect very beautifully.
The second one, Kids Sanctuary: Guided Mindful Listening and Sound Remedies, has the same music but every track is narrated by a child Julien, which helps in establishing a connection with the children when they are listening to this music. The charming voice of Julien goes right into your heart, as he lets you enjoy and notice various sounds that are weaved within a particular song. I think this can be a good introduction to very young children who haven't done or heard much about meditation but are curious to know whether it is even suitable for children of their age or not. Yes, it definitely is!
The third album, Kids Sanctuary: Mindfulness Practices with Healing Soundscapes, again has the same music but it has a guided-meditation-like element to it, written by Sophie Timpers and narrated by Kara Alicia Goyal. This of course is like the next step for children who are grown up into adolescence or those who have at least some brace with the concept of imagination, mindfulness, or meditation. Meaningfully written and narrated with care and intention, it can serve as a guide for children or even adults to venture into the field of mindfulness. The interactiveness of the narration makes it quite interesting rather than a high-end barrage of instructions. You will notice how Sophie's experience in terms of writing very suitable content has helped it make it simple to understand, and at the same time, Kara's experience as a producer of children's program with BBC has given her the immediate edge to be able to connect with them through her voice.
There are five tracks on the album and almost all are close to fifteen minutes long, which are quite effective when you think of using music for mindfulness.
The title song, "Kids Sanctuary", starts with a beautiful bamboo flute by Radha Prasad and natural elemental sounds accompanying it. It sounds like the perfect way to begin exploring meditation and calmness–so natural and effortless.
"Sleepy Time" is based on a public domain-based theme called "Numi Numi". Lead by guitar, chimes, Glock, and bells, it is a very powerful theme. The vocal effects make it stand out.
"Enchanted Waters", as the name suggests, has a watery theme, and a lot of soft instruments like Kalimba, chimes, bells, and keyboards are used to create the running water effect. Very soothing!
The next song, "Bye Bye, Belly Ache" (How much everybody would like that to happen!!!) again has that tenderness and beautiful effects of glass harmonica played by Brien Engel. Sounding like an angelic journey, it has a very soothing touch.
"Focus Pocus" is a very reflective piece majorly played on the harp by Marcia Dickstein. The sound of the flowing water and birds bring a unique freshness to it.
Obviously, it is not a regular musical project, and there's a lot of intention and purpose that has gone into its creation. But what I liked most is its suitability and application. It is so much needed and so easily operable for parents, teachers, educationists if they want children to explore the impact of mindfulness, and also for adults who want to start on this journey.
A big thumbs-up to the team and my very best wishes–you have a done a great service to the children!
| | |
| --- | --- |
| Track Name | Duration |
| Kids Sanctuary | 15:46 |
| Sleepy Time | 15:08 |
| Enchanted Waters | 15:15 |
| Bye Bye, Belly Ache | 15:46 |
| Focus Pocus | 14:56 |