Single Review: Grant Us Peace by Kimberly Haynes

There's nothing stronger and dearer than the feeling of peace for a human mind that has understood the ephemerality or at least the impermanence of the material pleasures that we struggle to attain, vying with our limits and capabilities. These pleasures lose their shine quickly before our mind puts us onto another course of a tiring and toiling journey.
The recent outbreak of the pandemic, which, true to the very definition of the word, ensnaring the whole world and almost locking everybody up, gave us a realistic picture of how the whole web of our imagined comforts and routines can turn out to be shallow pursuit. In the end, all that mattered were the very basic needs to sustain our body, and a lot of human values (empathy, sharing, and brotherhood) that would help us work as a society.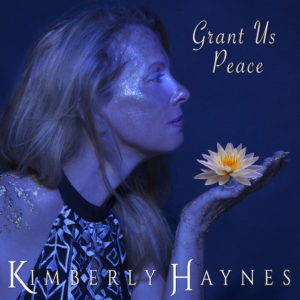 Kimberly's song, "Grant Us Peace" taps on that state of being in realization–the mind is ready to accept that there is something totally different from the chaos, and it is attainable.
The song is based on the Latin prayer from the Catholic liturgy "Dona Nobis Pacem", which means 'Grant us peace'.
It opens up with a sound that resembles a sustained gong note before a gentle guitar lets her voice float. The usage of harmonies is very nice to create an angelic feeling to the song.
The English lyrics acknowledge the homecoming of the mind, a spiritual analogy that conveys that the mind has realized its own value, and the futility of running behinds the objects of the outer world.
A beautiful song for meditation, prayer, and reflection.