Single Review: My Brother's Keeper by Kimberly Haynes

Sometimes, artists ask questions–very pertinent and basic ones. When they see too many cracks and leaks, they go back to their roots and create something that could artistically demand the listeners to synergize. The creation of these questions could come from a personal life event or experience, or a more prevalent, global situation just like we see nowadays. The butterfly effect of almost every incident reaffirms, whether we like it or not, that we all are connected.
Kimberly, through her song, "My Brother's Keeper", asks those very basic questions–can we be a bit selfless than we are at present? Can we be a bit empathetic towards others?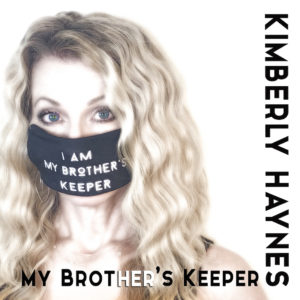 The song got a funky style and you can even groove along with the beats. There is a joy in the question because it needs energy and a resolve to put someone else's needs before your own. You can't simply sit around and wish–action is the key here. Prayer is also an action!
A twist in the lyrics can be noticed as the song becomes gender agnostic. You can see in the cover of the song also how creatively the word 'her' is of a different color.
Being used to her soft voice, I was pleasantly surprised by Kimberly's voice–how dynamic and resolute it sounds! Touching the higher notes, and also conveying the stressing feelings of particular words, shows the full range of repertoire. The whole rhythm of the song is peppy.
A beautiful twist to the fundamental doctrine of our very existence as humans–'live and let live'.