Review of myndstream Collection VOLUME 1

I was sitting in my room giving a preliminary listen to this album when my nephew entered.
"What's up, Chachu (uncle)!"
I just handed him my headphones and asked him to give a listen. As he settled into my chair, he remarked: "Music has so much power!"
Within a few seconds, amazed and calmed by the effect of the song of this album, he marveled: "From where do you get such type of music? It is so wonderful. I feel like I am sitting inside an ocean while the marine life peacefully goes on doing whatever they have to do."
This is particularly interesting because he has never been in that situation–under seawater. He has never scuba-dived or done any snorkeling either. How could he explain such a situation just by the sonic stimulation that he got from the music? Well, that, as I say, is the poetic power of music. And it would not be an exaggeration to say that this album has plenty of that.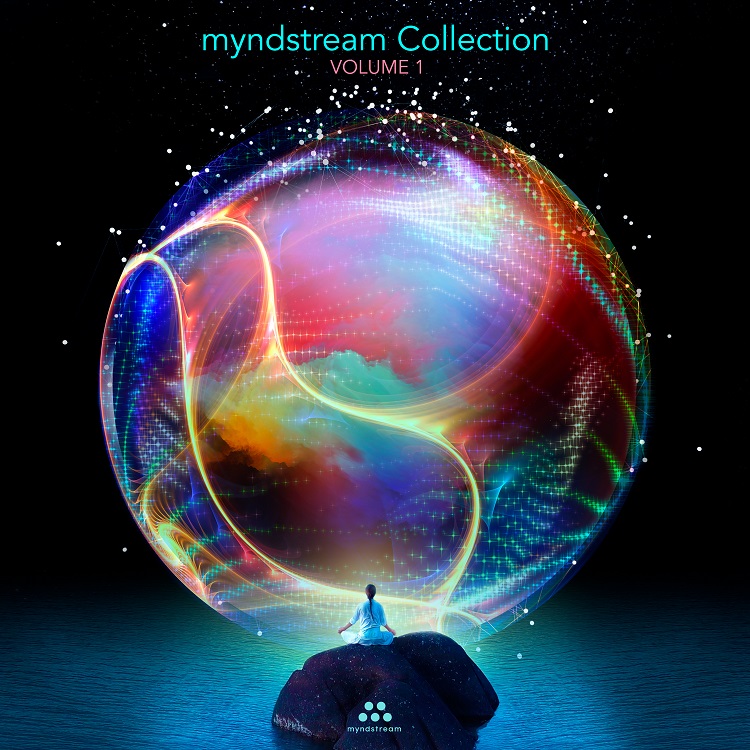 Album Name: myndstream Collection VOLUME 1
Artist (s) Name: Various
Total Time: 51:10
myndstream asked a few celebrated musicians from various genres to address the questions: "What does mindfulness sound like?"
Hailing from different backgrounds and enjoying a wide experience and repertoire, the musicians came up with their versions of mindfulness–the way they think it may sound!
My nephew remarked as he finished listening to one complete song: "When we get so much peace and joy listening to these songs, what kind of frequency and state the musicians might be in to be able to create such a music!"
Well, that, to me at least, is the beauty of this art form. It can open vistas and realms that are otherwise hidden from our perception. Music has that unique power to take us deep inside and let us explore the inner world, as they say.
The music on this album dives into our inner worlds mostly in its electronic form and is very helpful if you are looking for some ambient music that is suitable for mindful meditation. Particularly, "Realize," "Song of the Firefly Harmonium," and "Parting of the Ways" are very suitable for a relaxed, simple-posture or even reclining-chair contemplation.
The album opens with an electronic sortie into inner space with "Blue Steel." Setting the tone for the whole album, the song gives you a unique feel and allows you to shut the outside noise.
If you can feel the beauty of solo piano, "Sierra Dreamscape" would take you softly in its arms and moving like a lullaby, will deliver you into the lap of peace.
"Garish" is one of the shortest pieces on the album but it offers a very unique perspective as you introspect.
With "Whispers of Hope," once again you are able to explore the range of the piano, especially the higher notes adding such a flourishing beauty to the scene.
"And Then There Were no Words…," right from its opening note promises a grand spectacle in a truly electronic world. The electronic guitar assumes a soothing avatar and takes you on an unexplored journey.
If you like the planetary and spacey effect, "The Sunflower Ghost" brings to you the beautiful taste of what a lot of people term ambient music. Moving slowly, the song adds an angelic charm to your poise.
"Always Returning" has that rendezvous effect filled with so many emotions when you see your beloved after a long time. It liked its poignancy and vibe as it tries to overpower the memories of difficult past that one had to undergo and embracing the joyful present that lies in front of the eyes.
Leaving everything aside, "Circles" moves like a baby before it gains momentum. Weaving wreathes of piano notes, the song lets you create your own world.
The last song, "Ambient 2," also one of the longest ones on the album, explores the boundaries of the mind as it sends vibrations that can pierce really deep.
That the album brings so many musicians together, allowing them to delve into their own musicality with creative freedom, there remains little doubt that it would be any less than worthy of a cherished collection of any sincere listener.
For me, it is one of those albums which I would like to return to whenever I need to regroup myself and connect back with my inner being. Such music is what could help us remain sane in the continuously jolting world!
| | |
| --- | --- |
| Artist (Track) Name | Duration |
| Daniel Lanois "Blue Steel" | 03:13 |
| Mark Isham "Song of the Firefly Harmonium" | 05:27 |
| Gustavo Santaolalla "Realize" | 03:35 |
| Lisa Bella Donna "Parting of the Ways" | 05:13 |
| Kathryn Bostic "Sierra Dreamscape" | 04:45 |
| Michael Brook "Garish" | 02:44 |
| Jordan Rudess "Whispers of Hope" | 02:42 |
| David Torn "And Then There Were no Words…" | 03:53 |
| Rick Wakeman "The Sunflower Ghost" | 04:39 |
| Michael Whalen "Always Returning" | 04:38 |
| Marcelo Zarvos "Circles" | 04:54 |
| Cliff Martinez "Ambient 2" | 05:27 |