Review of Holland Phillips' New Album: Eleven After Midnight

One of the first things you will notice about Holland's music is the ease with which it kind of gels with you–effortlessly, it allows you to slide down in your chair a bit and take a break. A kind of gentle invitation to let go of the continued engagement and allow yourself a pause where the sound waves massage your mental agitations to let you regain the composure and balance. I remember, last year when I heard his album, A Momentary Pause, this feature stood out among the nicely composed songs with beautiful orchestration.
In his newest, and 10th album overall, the artist brings back to you 'night melodies' or at least they are composed during those hours. I have read about a few other musicians who like to explore that unconventional time to compose and record music, as they find a different kind of inspiration and resourcefulness. Once again, the album lives up to its unique name and timing by bringing out melodious, soothing, and meaningful songs for the listeners.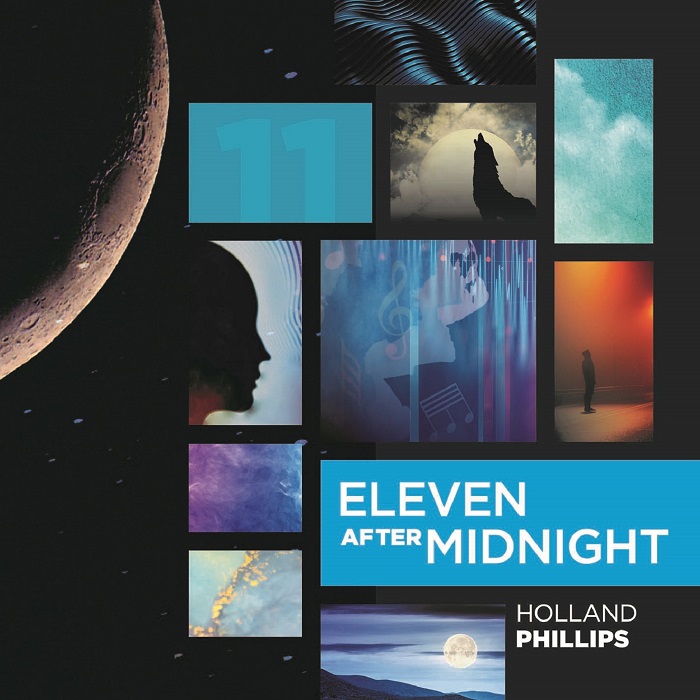 Album Name: Eleven After Midnight
Artist Name: Holland Phillips
Total Time: 41:01
There are eleven songs (!) on the album and if you carefully notice the nomenclature, you will see that it feels like a journey of some sort.
With "Lights Off", the artist invites you to a personal experience of traveling into the realm of a night and exploring the world with a different vision. The piano and the orchestration are invitingly soothing and you just can keep the song away.
"All That We Are" starts slowly and turns into a thematic song as the legion is readying itself for the flight. The ambient sounds of the synthesizer are very nicely done with the piano.
Look at the horizon where we are heading–joyfully riding our mental wagons. "That Distant Horizon" introduces digital rhythms as the listeners start enjoying their travel.
True to its name, "Stranger Dreams", stands out as a unique song as it introduces bass strings and more rhythms. The listener is now completely merged into the new experience and there are newer experiences. My favorite piece on the album!
Deep into space now, feel the sweetness of "Wolf Moon Rising" as the placid piano and orchestration allow you to marvel at the spectacle. Notice, as you imagine your journey, a faint smile twirling on your lips as you let the music take you in its fold completely. A very nicely composed song for mental imagery!
Welcome to the strange lands! The sounds turn digital and there is a palpable curiosity as you experience "Landing on Mars". The longest song on the album, it is a completely theme-based song where you find yourself in a different atmosphere and environment. After around two minutes into it, as it lets you settle down and soak in the experience, you start exploring the planet and the rhythm supports you quite beautifully.
"From The Music Fields" is a beautiful gift that the new geography is bringing to you as you settle down your being. Mixing the piano with a very laid-back orchestration, the song offers you rejuvenation from your journey and acceptance of the new presence. There is a beautiful lull in the notes that makes it very poignant–not an easy thing to do on ambient sounds!
The title song, "Eleven After Midnight", is a beautiful amalgamation of expressing the beautiful time that you spent but also reminding you that the hour of retreat is fast approaching. It has that emotional quotient that refuses to come back but the song prepares for the inevitable. You will notice the drums declaring signing the retreat beautifully.
Like "Stranger Dreams", you will notice bass strings in "Calling Us Home". The time has come to bring yourself back from the mental sortie that took you to far and distant lands. But there is a hint of joy and satisfaction because your soul gained a new perspective–it could receive the gifts of different energy and equilibrium.
The piano allows you to ponder and reflect on what has conspired and how it has given you something to cherish. "Pieces of You" is a very beautiful piece as it celebrates the wonders of your excursion. Imagine yourself breaking into a couple-dance with yourself!
"At Night's End", you are ready. You had a break and what a beautiful one it was! Though you long to remain there for more time, you have to come back. The ambient sounds bring that effect very nicely. It is the smallest song on the album and offers a mixture of bitter-sweet sentiments.
As I said in the beginning, there is an ease in the music and it lets you just flow with itself. There is a purpose and the album definitely achieves it. What a beautiful gift it would make during times that force us into solitude, though we continue to struggle to make peace with ourselves. This is truly wonderful!
| | |
| --- | --- |
| Track Name | Duration |
| Lights Off | 03:25 |
| All That We Are | 03:38 |
| That Distant Horizon | 04:00 |
| Stranger Dreams | 03:20 |
| Wolf Moon Rising | 03:30 |
| Landing On Mars | 04:32 |
| From The Music Fields | 03:38 |
| Eleven After Midnight | 04:07 |
| Calling Us Home | 04:10 |
| Pieces of You | 03:38 |
| At Night's End | 03:03 |