Album Review–"Behind the Veil"
Unearthing Perennial Memories For You And Me
Music fulfills several ends and purposes in life. People have various reasons to listen to music. Therefore, different people choose different styles of music that give them what they seek. Musicians in the mainline respond to the trending expectations and create music that people look forward to receiving eagerly.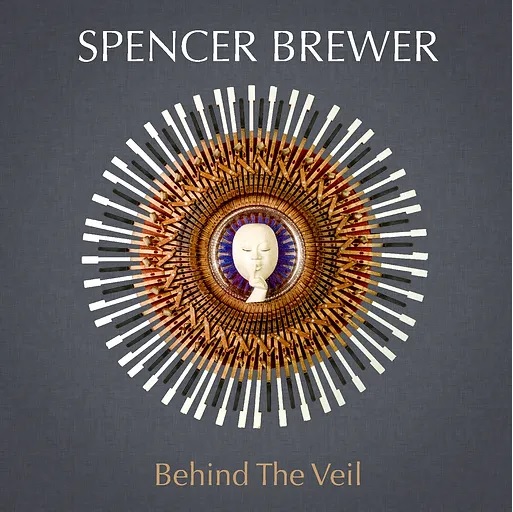 A legend in music production three decades back, Spencer Brewer has been away from recordings for so long. When he is making a comeback, a lot has changed about music and what people want from music. Nevertheless, his first album in fourteen years looks native to contemporary styles and trends. 'Behind the Veil' is a thumping accomplishment in powerfully reflecting the popular tastes of our times.
In this new album, Brewer is seen on Piano and Synthesizer. Nancy Rumble joins him on Oboe and English horn. Paul McCandless's Soprano Sax, Jeremy Cohen's Violin and String arrangement, and Quartet San Francisco's Strings have all together turned this album into a real masterpiece that will add real value to our music collection.
Looking at the album's title as a music reviewer, I find something intriguing. Our curiosity is roused towards that which is not fully revealed. This curiosity makes – what is behind the veil – look all the more charming and interesting. Applying this to musical production, an artist will be able to nurture the thrill of the audience by sustaining the element of surprise all through. Precisely this has happened with the album in a prominent way.
Most titles of the tracks suggest the theme of nostalgia looking back at the glorious moments of life. So, both in its theme and treatment, you see the album widening your imagination and letting you see life from a renewed perspective. The artists playing for the album have done phenomenal teamwork to keep the audience spellbound and well-tuned to each of the twelve tracks. Now, let me record my comments on the different tracks of the album.
1. Parasols in Paris (3:27)
Free-flowing notes of piano further enhanced by the accompaniments add a special charm to 'Parasols in Paris'. A short piece, the first track conveys the artist's message crisply. If you wish to get back to an enticing chapter in your childhood, this composition can ably accompany you.
2. And So It Goes… (3:09)
Time waits for none. If you wish to envision a future episode, music can give wings to your imagination and take you forward. 'And So It goes . . .' is a brisk composition assembling some tantalizing piano notes together. 
3. Portraits (4:36)
'Portraits' represents some still moments of life frozen in time. Celebrated moments of life are worth preserving like a portrait for posterity. The third opus is a necklace of elegant notes that venerate the memories preserved for a lifetime.
4. Myths and Legends (5:20)
The fourth opus 'Myths and Legends' is one of my favorite tracks in the album for quite a few reasons.  Tales that have conquered time are like guideposts to our lives. The melodious and crunchy notes of this track inspire us with faith and hope.                                                                
5. Together We Make One (3:02)
Whether it is with our friends or with our colleagues at work, togetherness lets us face the odds of life easily and stand supported during times of need. Making a team, we stand to win. Almost flowing like a song in instrumentals, the fifth opus still lingers in my ears long after listening to it and the message of unity is profound in these notes.
6. Legend of Rene Anguiano (4:07)
During the very start of the sixth track, the piano notes get brisker and sharper. The melodies from the artists' instruments together beacon us to a plane that feels more comfortable and enjoyable. 'Legend of Rene Anguiano' is an incredibly sweet and engaging track in the album. 
7. Behind the Veil (4:39)
The title song has many surprises for the listeners. True to the theme, the semi-transparent nature of the image behind the veil is sustained throughout the album. When you try to decipher what the composer intends to give through this title and composition, you are kept guessing till the end.
8. Eden (3:13)
'Eden' has a singular charm among all the tracks in the album. Fusing soft playing notes of elegant beauty, the composer has done a remarkable job in creating this track to delight the audience beyond compare. 
9. Summertime (4:20)
Summertime is lovely for many reasons. The thriving flora around makes you feel in heaven. In your search to find some shade, you are made to enjoy the much-needed respite that can be comforting too. The ninth track named after summer is colorful right from the beginning. The long winding notes bring the beautiful scenes of summer in front of your eyes. Due to its exceptional charm, this track will make you listen to it several times again.  
10. Remember When (3:07)
Sweet memories are perennially enjoyable anytime in our life. Recollecting some inspiring episodes of bygone days, we are once again made to relive those wonderful moments. The tenth track has a predominant touch of nostalgic travel. You will enjoy it thoroughly while letting it accompany your travel to the past.
11. Where We Used to Play (3:32)
Nostalgic memories of the places where we spent our happy childhood can trigger the same kind of happiness at any time in our lives. The eleventh track suitably carries us to rediscover the fantastic locations of our young days. Keep this in mind as you listen to this opus and you will bubble with joy all through.
12. Walls That Move (5:28)
The final track is also the longest opus in the album. Nothing on the earth has the power to halt your imagination. Walls that move is a lovely composition giving the fittest conclusion to the album. The notes get softer and promote a deeper contemplation of your sweet memories. When the walls have moved, you see a bigger picture that has all the wonderful memories of your life right in front of you.
Take Away
Spencer Brewer has chosen to end his fourteen years of incognito mode from music production and has gifted a fabulous album to enthrall his fans waiting to discover him. The gusto that is seen pumped into this production is something marvelous and seems addictive in how the album charges the listener's musical sensibilities. So, 'Behind the Veil' is all set in its own merit to create an indelible mark as the artist's best album ever!