Album Review–"Clouds Below"
Now Is the Time To Explore The Unexplored
Finding the clouds below us is not an everyday experience. We must make an air-bound journey or climb a tall mountain to enjoy them from above. Finally, when we get to see them from an upper altitude, the rarity of the scene makes it something special, which we are tempted to adore.
The concept of the album "Clouds Below" has been inspired by opposites or contrary forces that coexist and evolve. Unlike the sun and moon which alternate their presence in the sky, clouds are seen gliding in the airy ocean all the time. So, Pamela, Randy, and Sarah Copus known as 2002 get us a fabulous composition in New Age Music, built on a stunning theme. In three of these tracks, three guest artists also joined them with their instruments.
In this album, the trio embarks on a voyage to explore the unexpected paths taking us all along to admire the breathtaking scenes we confront. This is an album to meditate, relax and escape into our inner self. I have been keeping track of the new arrivals in this genre. As music for contemplation, I found this a valuable addition to my music collection. Before you fit this album into your listening schedule, let me review each of these charming songs for you one by one.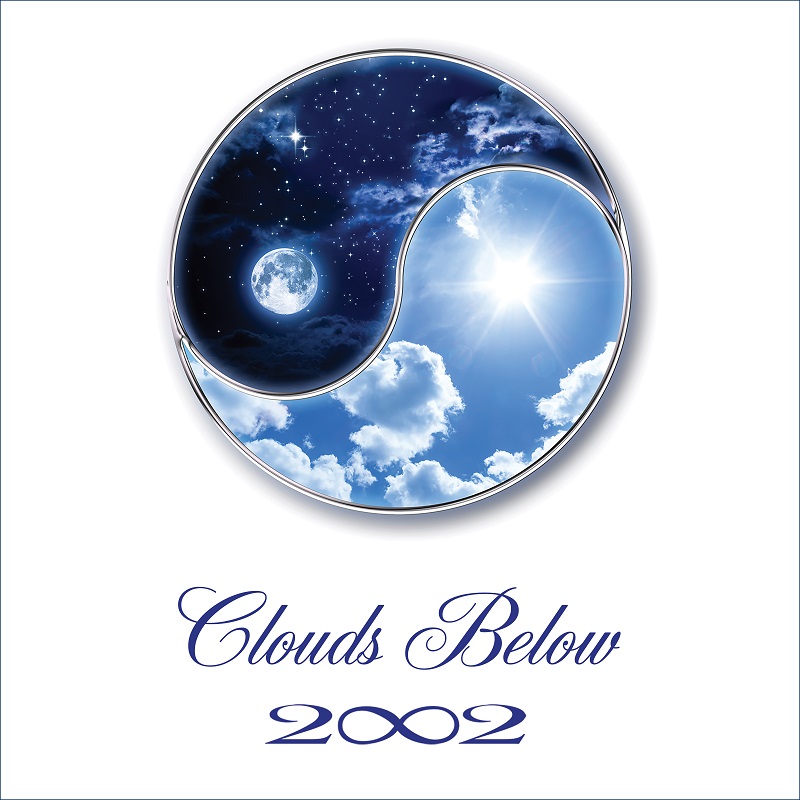 #01. Soulmate
The opening piece 'Soulmate' is a kind of platter on which the full course of delightful auditory treats is served. The soothing piano notes interact with the core of your being reviving the cells in every corner with their magical touch. Like a sweet companion to your soul, the first song accompanies you to some pleasant astral planes to discover peace and solace.
#02. Glimmering Hope
In the second opus titled 'Glimmering Hope', KeyReel Razkolenko joins the trio on his 5-string violin. Hope is what fuels every search and every journey. Bereft of hope, no journey gains meaning and purpose. The second track is a sweet song of scintillating piano melodies ably enriched by the captivating notes emanating from the violin. A superior peace surrounds you leading to the third track.
#03. Landing
'Landing', the third piece, is my favorite in this album. Rightly titled after the coming down of an aircraft, the melodic sounds bring the act of a massive flight's landing in front of your eyes. Symbolically, the concept of landing is connected with Homecoming to discover renewed hope and exuberant joy.
#04. City Blue
In this piece, Ryan McCulough joins the composers on his Saxophone, which takes the song to the next level by infusing a rare kind of enthusiasm into the composition. There is a subtle hint of jazz in this. Blue is the symbol of expansiveness and the fourth title brings in front of our eyes some incredibly nice scenes characteristic of a flight's journey. You feel like traveling in new vistas and enjoying breathtaking landscapes all along.
#05. First Light Of Dawn
The first rays of the rising sun bring with them freshness, hope, and renewed promises that move us forward successfully with our new day. The fifth piece 'First Light of Dawn' is a charming song anyone will instantly fall in love with. To achieve a particular effect, the composers have worked with the sweet sound of a harp that stroke your consciousness with a message of jubilant happiness. 
#06. The Flight Home
The sixth opus 'The Flight Home' is an assemblage of happy tunes that caress your mind and heart with the message of reconcilement with the odds of life. When we book peace with all those aspects we can't change, we begin to discover a rare kind of tranquility that permeates everywhere around us. This song is sure to put you in a harmonious existence with your own higher self.
#07. Clouds Below
The seventh and title track is a real treat that delights your auditory sense. Listening to these peaceful tunes, you feel like floating above the clouds on a casual drift in the sky. The composers have infused a real sense of wonder into the piano notes that carry your forward discovering some inspiring sights all along.
#08. Air and Light
The vast sky above us is the airy ocean where air and light engage in several peaceful dances, especially during dawn and dusk. The eighth track is an inspiring assemblage of skilled piano notes that seem to happen in the widening cosmos that lacks any borders. A sense of freedom surrounds you as you listen to this blissful song.
#09. Riding The Current
We need to ride the current during every moment in life. Whether it is the physical or mental tryst we wage with life and situations, the game becomes endless and often tiring. The ninth piece titled 'Riding the Current' teaches a different strategy for playing the tough competition of life. Charge the soul with sweet music and initiate a compromise with the challenges you face with the weapon of melodies and it is all done.
#10. Everyday Miracles
Miracles are not reserved for any special day. They are seen around us every day if we are watchful and sensitive to celestial blessings. 'Everyday Miracles' is a fantastic piece in this album composed of a careful selection of melodies that uplift your soul. James Song's violin is a real taste enhancer that ably heightens the effects of the skillful piano notes. The result is peace and a joyful celebration of a successful transmutation undergone by your soul.
Take Away
"Clouds Below" is an incredibly sweet composition. Each of the tracks has its own unique merit in accompanying your soul's journey. I thoroughly enjoyed this album and strongly recommend it to everyone who seeks some solace, refreshment, and a momentary relocation to a different world of joy and hope. If you have been looking for music as your soul's companion, you will have reasons to adore this album as one of your precious musical collections.
Listen on Spotify: