Album Review—Free Air by Derek Wille

Unbridle The Emotions And Set The Spirit Free  – Exploring An Unknown Character of Jazz
'Freedom' is always at the root of creativity in any form of art. Every successful artist unleashes the power of his imagination and free will and as a consequence produces music that emancipates his followers. 'Free Air' is a marvelous collection of jazz songs I highly admire, enamored by its unique charm and the power to rouse the listener's consciousness and transport it to unknown realms. Whether jazz music is your favorite genre or not, you are sure to fall in love with the tracks of 'Free Air' and find it an exceptional musical treat to add to your precious collection.
About the Artist
Myndstream recording artist Derek Wille holds a reputed career in the international music arena spanning over three decades. Having cultivated an authentic musical voice, Wille composes and performs music and has produced hundreds of recordings for a long list of renowned artists. Wille's music is unique, characterized by simple melodies and intricate chord changes and hence it always drenches your senses and promotes peace and reflection. He creates music that evokes deep emotions and stands out as a highly influential work in the international jazz scene. The fact that his music transports his audience to exotic worlds is rightly identified by Jean Bayou, President  – S.A.W., who says, "Derek's Music is incredibly deep and haunting . . . with many nuances that take you to places you have never been before". Dixie Crosby of Baja Times finds Derek's "creativity and joy of life" reflected in his music and his songs taking the listeners "on a musical journey through life and love." Therefore, listening to Derek is certainly going to be a rewarding experience for anyone.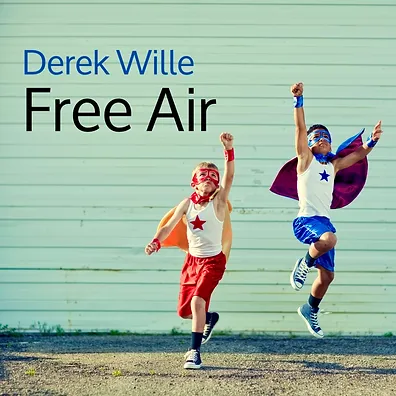 "Free Air" Explores An Unknown Character of Jazz
"Free Air" is a collection of jazz songs Derek Wille has produced along with Michael Whalen for Sand Dog Music. Wille has produced, arranged, and mixed all of these tracks and has contributed with his piano, percussion, bass, drums, and guitar. A team of accomplished artists has joined him on other accompaniments. I found an unusual charm distinguishing Wille's 'Free Air' from any other work in jazz. True to its title, the most common feature underlying all of the tracks in 'Free Air' is the complete freedom beneath its concept and deployment. As you listen to the tracks, you discover that you are under no compulsion to continue the constrained existence of your spirit. Your unwillingness to be bound sets you free and lets you wander like "Free Air".
1) 3 Legged Cow
The opening track starts with the thrilling honks of the trumpet. Trumpet is certainly the hero throughout this track doing all the masterly work the artist wants to accomplish in the audience. Surprising notes accompanied by short and crisp beats evoke fresh moods that prepare you for a lavish feast in the album.
2) Suel B Lanota
In sharing the characteristic spirit of the "Free Air", 'Suel B Lanota', one of Derek's earlier compositions certainly deserves a place in this collection. A bizarre kind of freedom prevails throughout the track ably continuing the mood triggered by the first song.
3) Manumina
The third track 'Monumina' whispers into your ears, "Come on, it is time to dance; hop and rejoice the moment." The redeeming music makes you forget everything around you and slip into the enthusiasm of a kid. The thrill you discover with this song is stunning and highly energizing.
4) Teenage Hair Obsession
During different moments of life, different obsessions overtake us and govern our existence. 'Teenage Hair Obsession' is a highly interesting song that lets you crave unusual things in life. The fast-paced musical notes command the release of your spirit and you wander in the wilderness like a manic craving for absolute freedom.
5) Hoot – N – Bobo
Part of an earlier album "Riding High", 'Hoot – N – Bobo' is an exceptionally charming composition and a fitting member to be included in this inspiring collection too. The quick-paced tunes shatter the imagined boundaries and accompany you on a tranquil voyage.
6) Passing Thru
Meditation understood as concentration in its simple terms is focusing on the present moment. 'Passing thru' is an altogether different track in this collection. The relatively softer tunes penetrate into the core of your heart and inspire a strange kind of contemplation as you move on with the tracks.
7) Got A Lot Of Static
To evolve and transform, you must be unwilling to remain static. Whether it is life or art, only a childlike enthusiasm can propel you to discover new experiences. The tempo of the notes and beats indicate a hasty journey ruled by a discovered sense of free will.
8) Easy
Life gets easier to live when you are ready to take in all of its surprises with an open mind. The eighth track 'Easy' is a delightful assemblage of musical notes and beats that evoke an unusual kind of freshness in the mind and heart.
9) Free Air
The title song of the album, the ninth track, deserves special mention and applause. As the track opens, the sound of a car moving swiftly with a honk looks innovative. The song is exceptionally organized and melodious and inspires a rare kind of jubilance in the listener.
10) We Were There
There is an element of nostalgia in the tenth track 'We Were There'. Probably, the artist felt some kind of reflection is necessary in life's journey at some point in time. The penultimate track seems to consolidate the experience the audience discovered with the songs so far before moving to the final destination.
11) Arturo
The final song 'Arturo' occurs like celebrating the destination the audience has reached with 'Free Air'. The tunes and notes are unearthly and trigger an elevated feeling. The movement of time seems to stop here and take in the past, present, and future – driving the message that a tranquil state of mind is also the one that has conquered time. The exalted feeling you discover is rather matchless and highly inspiring.
Take Away
In 'Free Air', Wille has touched on an uncommon characteristic of jazz. He has ably invested in the power of jazz to work with the deepest human emotions and free the spirit to experience complete freedom. The result is a stunningly refreshing state of mind that affects you after you have gone through all the tracks. Your enthusiasm hops like that of a little child and you embrace a happy state of being. I am sure, you will not be the same after the 'Free Air' has made you a fan of its beauty!