Album Review—Varnams Reimaged by Kavitha Jayaraman

Unlocking The Windows Of Carnatic Music For The Digital Age Audience
Carnatic Music is one of the oldest and richest musical traditions with its origins in South India. Along with its North Indian counterpart 'Hindusthani', Carnatic music forms the backbone of Indian classical music. The timeless appeal of Carnatic Music has ensured a consistent following for this school of music that patronized this heritage over its existence for over a few thousand years till date.
Artist Info
Kavitha Jayaraman, an award-winning Veena player and Vocalist is an artist with rare musical abilities. As a renowned artist in Carnatic Music, Jayaraman wears the hats of a teacher, analyst, curator, and performer and is seen passionately performing on the stages across India and the U.S.A. Her soul-stirring music both instrumental and vocal has won her an international audience that actively follows her on social media too.
Album Info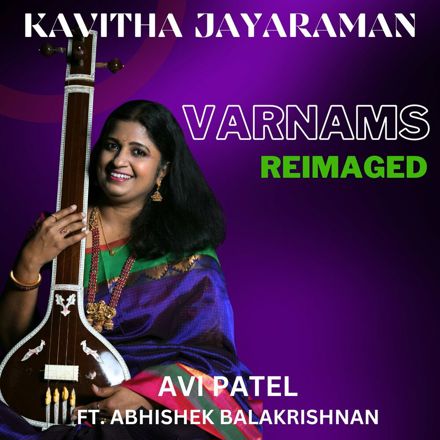 'Varnams Reimaged' is one of Kavitha's masterly albums created as part of her mission to disseminate Carnatic Music for the digital age audience. A fusion of tradition and modernity, the songs of this album serve Indian classical music to her fans with a contemporary twist. The album has helped resurrect some rare Varnams that are not popular across digital recordings.   
'Varnam' literally meaning 'Color', refers to the quintessential representation of a particular Carnatic Raga. Usually a short or long musical composition, Varnam helps the listener adequately grasp the mood of the underlying Raga. Varnams are also the most complex kind of vocal musical exercises featuring the characteristic patterns of a specific Raga. As per the general practice, a Varnam is sung in two different Talas or metric systems known as Adi Tala (8-beat cycle) and Ata Tala (14-beat cycle), while the Varnams set to Ata Tala are more advanced and complicated.
For 'Varnams Reimaged', Jayaraman has chosen the five most beautiful Ragas, which find their mention among the representative members of Carnatic Music.
1) Amruthavarshini 03:48
The term 'Amruthavarshini' translates as 'shower of nectar'. A dedicated and authentic performance of this raga is believed to bring rain. The highly cultured voice of Jayaraman churns the notes of this raga and brings the best out of it. The carefully chosen accompaniments enrich the Varnam and the overall effect of this song engages the listeners well when fused with the captivating beats of the electronic pads. 
2) Ranjani 04:05
The meaning of the term 'Ranjani' is 'one which attracts'. Indeed this is a highly unique and charming raga in Carnatic Music generally sung in asymmetric scale. Emerging into popularity over the past 50 years, this raga has found its place across some popular devotional chants and songs. Jayaraman's meticulous handling of the raga brings out the nuances in this scale. Listening to her perform this varnam is a pure delight.
3) Nagaswarali 03:31
Usually not sung in mainstream performances, 'Nagaswaravali' is a rare raga in Carnatic Music. Various composers have however used this raga to sing some Kritis and devotional songs. The dexterity with which Jayaraman handles this raga and composes this varna is a wonder and this is one of the most illustrative songs in the album that helps surface the depths of Carnatic music.
4) Lalitha 04:05
The term 'Lalitha' in Sanskrit means a 'beautiful maid'. True to its name, this is one of the most captivating and attractive ragas that can mesmerize the audience when rendered expertly. In this varnam, her best is undoubtedly noticed. Transitioning between highs and lows quickly, Jayaraman delivers this varnam in a masterly fashion. 
5) Kannada 03:18
The final song 'Kannada' is also the most wonderful track in the album that can sufficiently expose a newbie to some of the nuances of Carnatic Music. Referring to one of the four most famous Dravidian languages, the term Kannada also refers to this highly interesting raga. Jayaraman's nectarine voice wonderfully merges with the violin in the background as she proficiently delivers the varnam.
Take Away
'Varnams Reimaged' is a real musical treasure any passionate lover of Carnatic Music will adore and will like to preserve for future listening, and in fact over multiple repetitions. The album has also helped surface the masterly expertise of Kavitha Jayaraman in Carnatic Music, which she has put to use in resurrecting a few rare Ragas of the heritage. I feel this rare kind of mission is most likely to inspire many such endeavors in the future that will play a pivotal role in enriching the school of Carnatic Music. Listen to 'Varnams Reimaged' very soon and I am sure you will instantly fall in love with this masterly musical work and will recommend it to your dear ones too.