Album Review–What We Need Is Here by Lisa Reagan

Dissolving The Boundaries Of Poetry And Music For A Happy Union
Nature inspires human thoughts and creativity like nothing else on this earth. Artists, especially poets and musicians have banked heavily on nature from times immemorial to inspire their themes and discourses. Moving forward, works from these two worlds have inspired human's spiritual journey in myriad ways. In creating an awesome album "What We Need Is Here", Lisa Reagan converts ten famous poems of renowned poets into melodious songs. Notably, we have read most of these poems in our school and college days, and in bonding with human hearts, these poems have survived the invasion of time.
In terms of its deeper treatment of the subjects the artist covers in her songs, I find Reagan's stupendous musical work provides directions to the soul's journey. In making each of the tracks stir the listener's consciousness, Reagan leaves no stone unturned. "What We Need Is Here" is a bridge between poetry and music. This album reveals that poetry and music have similar objectives, which they can realize at their best by teaming up with each other.
Getting the two worlds together
Reagan's choice of poems for these songs is so surprising and must have stemmed from her spiritual journey. Her notes to this album reveal how she loved poetry all her life. She has laid her hands on this task with due respect to her mission and has done justice to her undertaking. She says, "When I thought about composing music to these poems, I felt a great responsibility to honor them. When I started writing the music, I began with how the poem made me feel. It was like creating a painting that "looked" how the poem felt to me."
The artist
Reagan has been recording from the young age of 16. The untimely death of her sister made her philosophical and the event triggered the making of her first album of original songs. All in all, to date she has released seven albums of her music. She says her latest album "What We Need Is Here" is a musical project dear to her heart and endeavors to "honor the poets and their muses". In the process, she has accomplished a delicious meal to serve to the souls of her audience.
I am sure you have not forgotten her collaboration with Suzzane Jackson forming the Shunia Group releasing one of the finest collections of sounds I ever heard of in the form of the album 'Shunia'!
Preparing to listen
Her work is sure to take any philosophically oriented mind to storm. While preparing to listen to this album, you are in for a bounteous treaty you might not have relished elsewhere. Erase your mind like a clean slate and keep aside all your judgments before playing the songs for yourself in a peaceful and serene setting.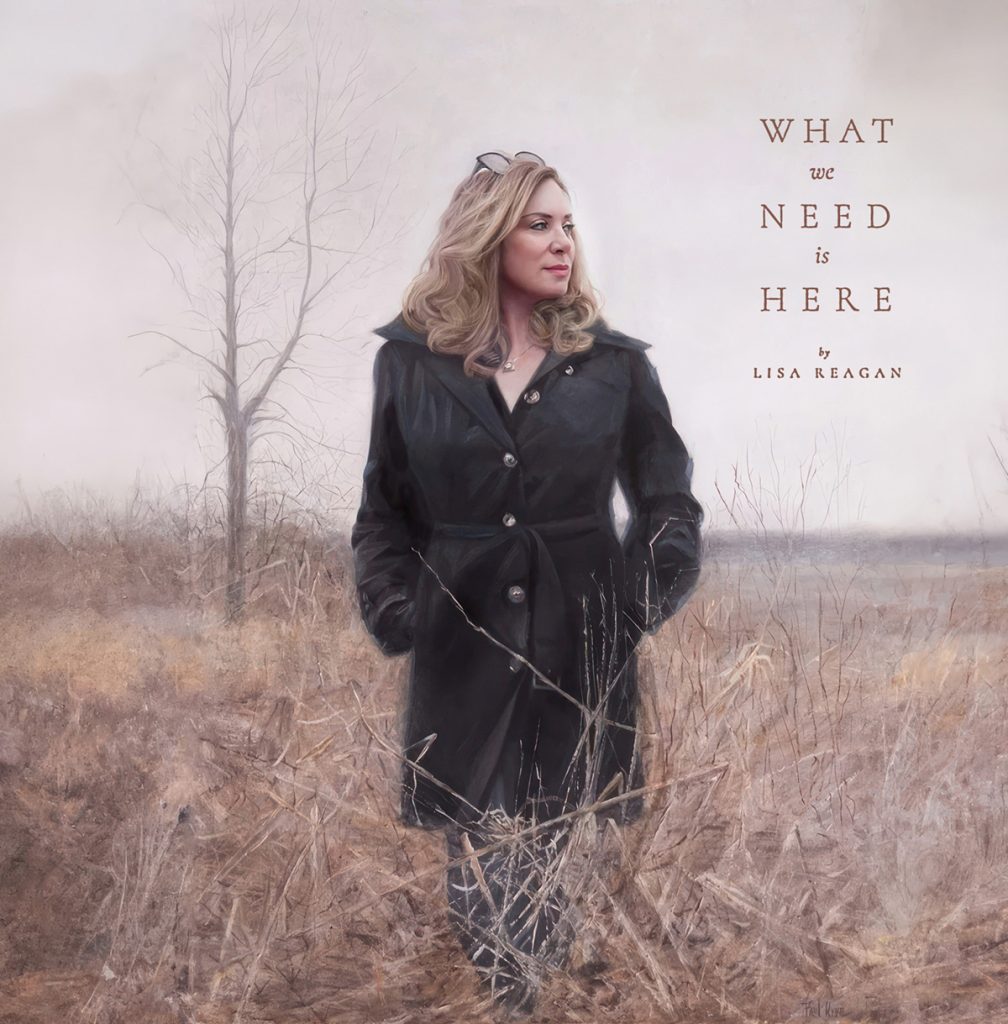 What We Need Is Here
#1. The Owl – Arianrhod Bel-Moore
The first track singing Arianrhod Bel-Moore's poem "The Owl" follows the poet's track to learn from the bird's distinguished life as the ruler of the night world. Her voice is heavenly and how effectively it teams up with the piano is a wonder.
#2. I Wandered Lonely as a Cloud – William Wordsworth
The second poem she sings is William Wordsworth's and as usual, the bard gets intimate with nature in his lines and Reagan shares the poet's joy with her angelic music.
#3. Shall I Compare Thee to a Summer's Day – William Shakespeare
In the third poem sung by the artist, Shakespeare compares his love to a summer's day – not the ordinary summer that repeats with seasons, but the eternal summer that does not fade. The aptly composed music brings the song alive in front of us.
#4. The Peace of Wild Things – Wendell Berry
While Wendell Berry narrates how the wild nature made him forget the worries of the world, she seems to join him in taking recourse to music that redeems the soul.
#5. Stopping by Woods on a Snowy Evening – Robert Frost
Life keeps us always engaged and we hardly have time to gaze at the beauties of nature. In the fifth song, Robert Frost and Reagan seem to tell us how much we miss out on the heavenly world around us.
#6. The Road Not Taken – Robert Frost
The sixth song "The Road Not Taken" by Robert Frost is one of the oft-quoted verses saying how our choices impact our life. She gets it correctly in her music and seems to enjoin her audience to make the right decisions in life. The tune she has created for these lines is fantastic.
#7. The Two Trees – William Butler Yeats
Often, we fail to realize that what we need is right in front of us. Reagan uses Yeats' lines "BELOVED, gaze in thine own heart, the holy tree is growing there" as a vehicle to talk of the right approach we must take towards life.
#8. Bright Star – John Keats
Reagan joins Keats in this song and draws inspiration from the brightly shining star to seek patience and steadfastness. Reagan's music in this song is especially mesmerizing.
#9. He Wishes for the Cloths of Heaven – William Butler Yeats
The fourth poem she picked up to sing for the eleventh track is a very short one, but one of the most powerful ones of Yeats. Heralding nature's best colors, this poem seeks to celebrate the protagonist's commitment to his love.
#10. The Wild Geese – Wendell Berry
The title of the album has been picked up from Windell Berry's poem. "What is the most important thing in life" is beautifully conveyed by Berry as well as Reagan in their poem and song respectively. Especially the lines, "And we pray, not for new earth or heaven, but to be quiet in heart, and in eye clear. What we need is here" tell us what we must be seeking in life and praying for.
Take away
Lisa Reagan's mammoth efforts evident in the making of this album are certainly worth applauding. The songs of "What We Need Is Here" are an invitation to peace and tranquility. They are worth listening to a thousand times and more for their ability to engage in intimate conversations with the human heart and soul. You are never tired even after multiple listening of these tracks and every time you listen to them, you discover each song in a newer flavor and purport. So, I deem this album one of the rarest works in music for all those who wish to see music facilitating impossible missions inside them. Over and above, if you are a lover of poetry, I would say you have found the most valuable treasure of your life in this album.
Listen on Spotify: