Interview with Milind Date–a flutist

Milind Date is one of the most versatile musicians from India. Today, he has carved a niche for his excellent abilities of Bansuri–Bamboo Flute playing and composing. Milind is a senior performing disciple of world famous Bansuri virtuoso–Pandit Hariprasad Chaurasia. With  more than 2000 performances to his credit, Milind has several award winning albums to his credit too. His concerts are usually energy packed and the crowd involvement is surely exciting.
Milind has not studied only Indian classical and folk music but he has studied and been featured in different styles of music from all over the world. Indian Classical Music, Indian Folk Music, Devotional Music, Jazz, Blues, Rock, Fusion-World Music, and Free Music are the common types in which he is seen performing and recording. An accomplished, versatile composer and arranger, Milind has experimented with several music and dance forms in as showcased in his band Fusion Ensemble.
This experimental trait has led him to incorporate various dance forms and instruments and perform with several musicians from around the world. Milind has composed music for several short films and documentaries too One of these documentaries was on The Dalai Lama and other one on Dr. Shardchandra Dicksheet the well-known Plastic Surgeon.
We had a telephonic interview with Milind.
Q1. Tell us something about your earlier days. How you grew up learning flute?
I started it very late. Technically speaking it was very late. I started it when I was in the college. Generally, you will see people learning classical music at very younger age.
Q2. How your family did support your musical career?
They were not happy because my family is from business background, so they were not happy as usual.
Q3. Did you try to convince your family members that you want classical music as a career?
No, since I was not a child at that time. So, I didn't go for convincing anyone for that.
Q4. How did you directly come in contact with Pt. Hariprasad Chaurasia?
He was not teaching anybody at that time. One of my friends took me to him and it started.
Q5. How was it to directly talk to such a great artist, did he immediately agreed to teach you?
Yes, he is a mentor. He has great knack of knowing a person internally. Perhaps, he would have seen in me more than I had seen in myself. So, he agreed to teach me; whatever I am today, is because of him.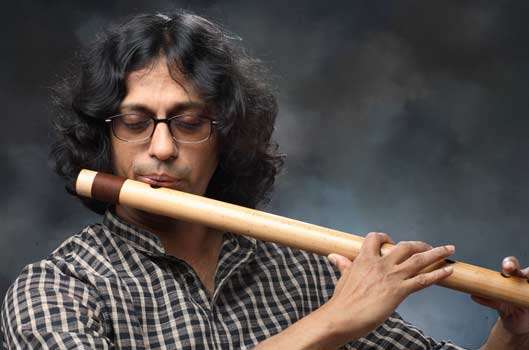 Q6. Learning from such a great guru directly, did it help you personally in your lifestyle, habits etc.
It helped me tremendously in all senses. He is a great mentor. He is like my father. Twenty years back when we started, there were only four-five students and all were very good. After 10 years, he has started a Gurukul and lots of students are there now.
Q7. Which year was that and where?
Mumbai 1989. We used to go to his place. He was there with his wife; we grew up in his circumstances just like being at home. I am from Pune, so I had to come back to attend my college. But I have stayed with him. I learnt in Guru-Shishya Parampara.
Q8. You were glad to be his disciple?
I am extremely lucky and honored to be his disciple.
Q9. You have collaborated with many artists, do you feel that classical music does not depend upon too much style, but it depends upon understanding?
Absolutely correct! First, you have to understand, only then you can collaborate with other artist to have a successful output; otherwise, what happens that you keep on playing your own music which is meaningless.
Q10. Do you think that for a young artist to take up classical music as a career, a deep foundation should be there?
Foundation can be created because basic understanding and basic sense of music are God's gift.
Q11. Do you like performing on stage more than recording it in the studio?
Fundamentally, music is a performing art.
Q12. Is it very hard nowadays to have a career in classical music given that the technology is taking music to the wider horizons especially to foreign countries?
Everything is hard and everything is simple. It depends how you see it. Technology helps: many things can be achieved in the studio, which cannot be done in the front of audience.
Q13. How important it is to learn from real guru?
It is very important. I've met with many musicians who were self taught. They perform well, but you imagine how good they would have been had they learnt it from a Guru. So, learning is very important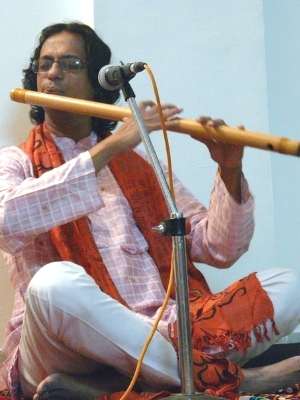 Q14. How was your first experience on stage, where it was and with whom?
Really speaking, my first performance was in a college competition. I stood 4th because there were only 4 guys (Laughs). I was really frightened so I couldn't perform well. One year after that in the next competition, I got the first prize. After that, I was like winning 25 prizes per year for my college.
Q15. What was your mind set at the time of your first performance?
It was not like first performance. I told you that I started very late, but within 2 years I was performing with artists like Asha Bhonsle, Jagjit Singh, Suresh Vadekar, Yashwant Dev, and lot of others. It was a parallel thing that I was learning and performing as well. One of the great things about our Guru Ji is that he has not restricted any of his students to go and perform anywhere. Now, I've performed in more than 3000 performances. It is now tested and proven whatever Guru Ji has taught me.
Q16. All the great artists keep on saying that they are still learning, do you feel the same thing?
Yes, of-course! I am still learning.
Q17. You have collaborated with so many great artists, how do you feel about the experience?
See, when you use the word collaboration, there are two things: you go to my website and you will see pictures of performances with Asha ji, Jagjit Ji and Gulam Ali and many others. This is basically accompanying. Collaboration is basically contributing equally on an equal dais for the composition of a song or an album. So, I have not collaborated with any of this big artists; it was just accompanying. In future, if you ask any artist about his collaboration, he will tell you about his work to create some music.
Whenever I performed with Asha Ji in front of 50,000 people, they had come to see her not me. When I did my own performance in Korea or India in front of 30,000 people, they come to watch me. If I am in collaboration with Taufiq Qureshi or Shivmani, it's a different thing.
Q18. You are a renowned artist now. But when you were a starter, did the name of Pandit Ji help you in getting the stage performances with great artists?
In our Indian culture, there is a great tradition how we know our culture and how we follow it with the modern touch. If you are not following the modern touch then you are living in a different world. Our Hindu culture is very vast. It has given lot of things to the world in the fields of Mathematics, Science, History etc. But the tradition of Indian classical music is that you don't tell your Guru's name. Unfortunately, not many people know this. People should understand who might be your Guru after listening to your music. Usually, people know that you are a disciple of such and such Guru, but you are not supposed to disclose the name yourself. When I picked up the flute, I was mature enough to understand what I was doing. I was not a kid then. So, whenever I performed, people themselves came to me and asked: did you learn Pt Hariprasad Ji? After 10 or 12 years of my learning, it was written in the newspapers that following his Guruji's style and tradition extremely well, he has also imbibed some of his style or work in his performance. His own thoughts can also be seen in his performance, which is very-very important
Q19. Was there mutual competition among the disciples in those days?
Although we learnt together for many years, Roopak and Rakesh were learning flute four or six years earlier than me. So, I was not definitely in the competition. I picked up very fast that was different, but I have great respect for both. They were my seniors. Except during my college days, I never ever thought about any competition with anyone. Actually Rakesh, Roopak and Ramakant helped me. Even today, if I have some problem, I take their help. We often meet and talk over the phone and this is going on.
Q20. What about your new programs?
First, I would like to tell you what I done in the past. I've done around 15 albums but most of them are outside India. 'Prayer of the Heart', which is relaxation type of the album; 'Fantasy' is another one. Four or five of them are released in Korea. Some of the albums have won critics' choice award there. There is one album called 'Earth Concert': you can find musicians from six countries namely Iran, Iraq, Morocco, Israel, India and Korea performing in this. Recordings have been done in Korea and about 20 different instruments are used in this but not even one Western instrument was used in it. It is a fusion of eastern and eastern music. I was the main producer there. Kamanche, Santoor, Komungo, Khanjiras, and lots of other Indian percussions were there. One more album I would like to talk is 'To the top'. The performing artist is 'Angeli'. She is basically an American pop singer. She came here in 2006-07 and I co-produced her album. The most interesting thing about that album is that the two songs were taken from for two different Hollywood films. In one, Eddie Murphy's brother was acting. 'Twisted Fortune' and 'Baby Baby' were the names. It was mixed in Mumbai and mastered in America. I've not released any album in India. I have released in Korea, Holland, Austria, America, Argentina and other countries. I am thinking about doing something for the Indian audience also.
Q21. Which category of audience applauds you most? Purely Indian, NRI's, or purely overseas?
See, I've been blessed with very good music from one of the greatest Gurus. So, wherever I have performed, I got the applause from each category of audience. I firmly believe that music is a performing art. My Guru would have released one thousand albums, but he is one of the greatest performers also.
Q22. Does academic qualification make an impact on learning classical music?
Academic qualification is completely different ball game than learning classical music. I know so many musicians, who can't even speak proper English, but they are phenomenal performers that one would like to touch their feet.
Q23. Anything else you would like to talk about?
I've many experiences abroad in Korea. I've gone there around ten times and some books are also written about me. In fact, people have written poetry on my performances. I have performed in Yoga classes; I've performed in Korean govt. performances; I've done about 700 concerts there. I also inaugurated a theater there.
I tell you a very interesting thing from one of my tours:
There was a fifteen years young girl. She was a pianist. Her name was Jinbora. She was a Korean girl and a phenomenal pianist. She was with me for a few tours and we became very-very good friends. She could barely speak English. Her father could speak good English. She liked our Indian music so much and she also realized that Buddhism came from India. Eventually, she took an Indian name. Now her name is Madhura Jinbora. She said to me to give her some nice name. So, I gave her this name. She was very sweet or madhur so now she is known as Madhura Jinbora.
There are many musicians with Indian names but were actually foreigners.
Q24. Any message for the startups?
Keep practicing.