Interview with Michael Whalen–Creating Music as a Mode of Self-Expression

Michael Whalen is an award-winning musician who has composed numerous television and film scores and thousands of advertising jingles. His energy is palpable through various collaborations that he does with a number of musicians across the globe.
We talked to him for an e-interview about his passion and creativity, which translates to composition and brings joy to listeners around the world.
Q1. What makes you prolific with music composing–it seems you are releasing albums almost every year!
I am actually releasing THREE albums this year! The soundtrack to "Exaltation", a group collaboration recording titled "Our April Tigers" and the new album "Walk in Beauty, Like the Night". I am so lucky to have the opportunity to make music in many different styles and modalities. As an artist, I am led by instinct and desire to be fully self-expressed.
Q2. What new dimensions do you look to incorporate in your new music?
First and foremost, I make music that I myself want to listen to. I love music that is melodic and cinematic.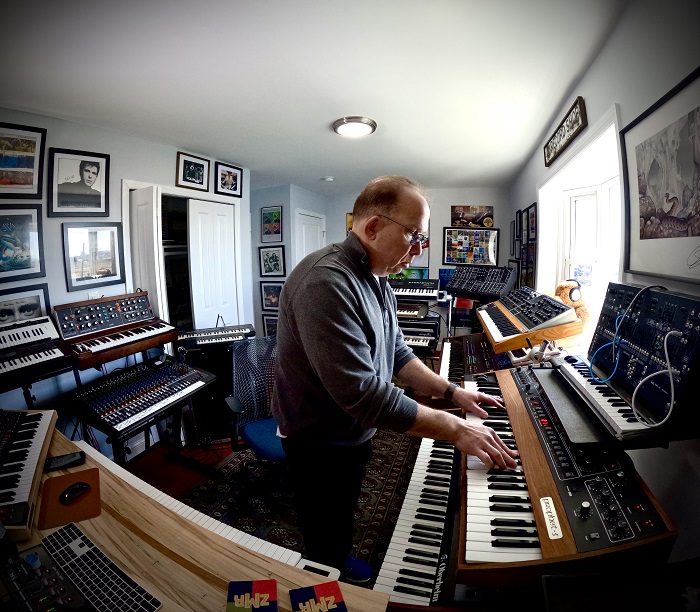 Q3. You work in many areas including mentoring young musicians and even your personal fitness. What gives you so much energy?
I schedule my life: sleep, exercise, composing, and even when I eat. Having discipline in how you use time makes the time you DO have much more effective. I have energy because I try to live and create from my passion and my commitment. First, I am committed to being fully self-expressed, and second, making a difference for others is truly the most important thing you can do.
Q4. With the online streaming portals, how the music industry and the whole listening experience has changed?
Because of streaming, the importance of albums has been reduced. People don't listen to albums from top to bottom. They listen to songs they like and they make playlists or collect playlists of music that suits their activities or feelings. I still like making albums but I think those days are numbered.
Q5. What are a couple of things musicians should keep in mind while composing music to make it popular with the new generation?
I don't think you should make music for others. It is arrogant to believe you know what people will like so making music for yourself is always the best way to go. In other words, if you LOVE the music there is a good chance of being loved by others.
Q6. You are also big on collaboration with other musicians. How do you achieve the end result when it comes to collaborating with musicians from different genres and styles?
I think the key is to let your collaborators do what THEY do. You call the right people. You empower their creative choices and you work to get great performances from them.
Q7. Which is your favorite one: recording music for albums, composing music for TV or films, or performing live, and why?
I love doing all of them! They are all opportunities to perform and express yourself!
Q8. Your thoughts about the new album–what was the inspiration behind it?
The new album: "Walk in Beauty, Like the Night" was an opportunity to revisit the romantic ambient piano that I started on my very popular 2005 album "My Secret Heart". I see this album as a "sequel" of sorts to that earlier recording which also incorporates everything I have learned and done since 2005 – especially my electronic sound design.
MUSIC VIDEO to the title track:
Q9. Any future plans you would like to share with our audience?
I have A LOT of new music coming up for 2024 and 2025 so stay tuned!
Q10. Any advice for budding artists or our audience in general?
Many artists feel the need to make music they think will be popular which will drive their monetary success. I think it is much more important to be true to yourself and your artistic expression. Being authentic about what you want to say with your music is always the right choice. People can hear authenticity.
INTERVIEW with MW about the album: