CD Review of Binary Scenes by Atomic Skunk, Rich Brodsky

Album: Binary Scenes
Artist: Rich Brodsky
Total Time: 57:24
"Binary Scenes" is the debut album of Atomic Skunk, Rich Brodsky. However, I am moving the other way while writing this review, as I listened to "Portal" earlier than listening to it. Rich's music is very unique, as it involves lots of technology apart from the traditional instruments used by artists to compose music.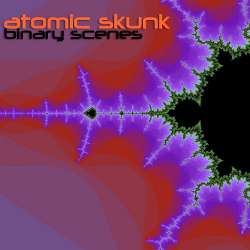 The album starts with "Chronoswamp". The track starts with nocturnal sounds of insects and then move on to some compound sounds. If you are tuned to this track with a peaceful setting around and not too much noise, there is no limit to the imagination that you can generate through it. A very powerful and spellbinding opening!
Thunder welcomes the listener in the next track as it moves to stand before its "Liquid Dharma". "Dharma" is a Sanskrit word meaning two things—duty and righteousness. The track name suggests the duty of liquid, which lies in its flow. A fluid is supposed to flow and move on and keep the process of evolution and involution going. It is continuous and unending. A very soft piece and beautifully delivered.
"Chinabox" starts with some mysterious-sounding notes as if there is something that is approaching or coming towards the listener. In fact, if a listener has listened to some Hindi film music, one can find the resemblance of this track's sounds to RD Burman's music.
"Winter's Gift (The Chamber)" starts with chilly winds making gurgling sounds, raging in their cold fury. Suddenly, a door opens and closes—a chamber has been reached. It is unexplored and could contain unknown gifts for the explorer. With the terrible winters that mar the activity, the chamber brings something to cheer about. The track requires deep concentration to understand its beauty. But as the listener moves into it, the music picks up and develops beautifully.
This brings us to the next track, "Frozen Neptune"—the longest track of the album and almost double the size of any of these. As clear from the name itself, it moves to the celestial objects in the outer space. Once again, if you are sitting in a peaceful atmosphere, preferably a closed one, you can almost levitate with this track if your mind allows thus. I once heard a similar-sounding composition from Ustad Zakir Hussain in his album "Earth". Indeed, Rich has done wonderfully well in this track.
"Flying Spiders of Babylon": what comes to your mind when you read this name? Yes, the track is webby. Like those nimble but carefully-chosen steps of spiders, the track moves quickly yet in a controlled manner. A vocal commentary also accompanies the music. A very different piece from all other tracks of the album!
The vocal commentary continues to this track but has a gender change—it becomes feminine. The track is like a caution reminding the listener not to move away from the overall theme of the album. In the previous track, Rich tried to disturb that theme but returns back with a cautious approach that is musically rich.
As the listener learns to control its mind and bring it back on track, "Suspended Ascent" floats gently and gives a fitting end to the album. The movement of the track is almost lilting and very relaxing.
Unlike Rich other album "Portal", Binary Scenes is not that much experiment-oriented with technology and electronic sounds. It moves on a definite pattern and has a beautiful theme underscoring the spirit of concentration, depth and meditative silence.
I am sure whoever listens to Binary Scenes will enjoy it to the full extend. I am very thankful to Rich for creating such a wonderful music and then sharing it with me. Wish him good luck for his future projects!
| | |
| --- | --- |
| Track Name | Time |
| Chronoswamp | 06:57 |
| Liquid Dharma | 07:36 |
| Chinabox | 05:41 |
| Winter's Gift (The Chamber) | 06:06 |
| Frozen Neptune | 13:04 |
| Flying Spiders of Babylon | 06:17 |
| Mind the Gap | 06:10 |
| Suspended Ascent | 06:53 |