CD review of Fire in the Rainstorm by Kori L Carothers

Album: Fire in the Rainstorm
Artist: Kori L. Carothers
Total Time: 43:40
Music has this mystical and indescribable power that weaves a magic around anybody who approaches it with bare soul. It enchants you; at the same time, endows you to create the same magic for others. This is what Kori did when she let music consume her soul completely.
She threw away any lurking fear of going solo on a piano, and was rewarded with such richness and finery of expression.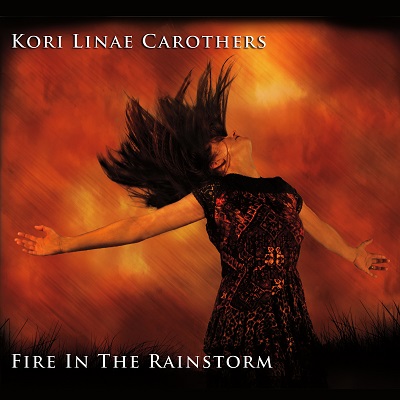 Without doubt, her previous albums carried the undercurrent of the hidden talent that she has, but this one is a real gem–I don't know if she would like to call it her masterpiece! (I see a lot of music still brewing inside her child-like heart)
The album has 12 tracks and everyone of them had a depth and convincing emotion that a listener can connect to.
NuNu's sunrise is definitely my pick! It sets the mood right in after 'A day like no other' gives you a beautiful introduction of what you can expect next.
The title song has a unique freshness of a morning when the seeds germinate from the soil. How appropriate the name is–Fire in the rainstorm. It keeps on burning bearing the onslaught of the one that is called the 'fire-enemy' (water) in Sanskrit language! The fire that burns inside us, and keeps us going on weathering multitudes of rainstorms that seems to rampage our lives.
Away from the concept of making popular music which sells and helps make money, an artist's heart lies in giving something that is rewarding to the listener. The artist is more concerned about sharing that mystical power which gives wings to your imagination, and frees your soul from burdens of time.
It's like a soul records its message and lets other souls decode it. Kori has succeeded in coding that magical message–I invite every soul to decode it and feel the bliss.
| | |
| --- | --- |
| Track | Duration |
| A Day Like No Other | 04:09 |
| NuNu's Sunrise | 02:49 |
| Meadow | 03:53 |
| Tidal Rift | 04:20 |
| Fire in the Rainstorm | 02:58 |
| Time Passages | 04:10 |
| The Day | 04:22 |
| Winters End | 02:31 |
| Liberty | 04:05 |
| The Kindly Beast | 03:18 |
| Whispers of the Heart | 03:13 |
| When the Trees Fell | 03:52 |