CD Review of This Little Light by Matthew Schildt

A lot of artists all over the world feel that they have this little light or small streak burning/shining inside them, which keeps their creative ingenuity alive and fed. This ability to feel the electrochemical change in our body and to give it a different texture is so unique and fulfilling. What surprises me more is how multiple people respond to the same emotion with similar expressions, and this is, for me, what harmony is all about.
To represent what you feel inside through artistic expressions is not easy. As I once wrote:
"If the night is real dark,
Make a painting.
Torture the stars with your ebon symphony."
You have to become an observer of what's going inside you and then make art out of it. Only a handful of people become adept at handling this creative process that is inside all of us. Most get confounded. Baring your soul to others is never an easy task to do, but music is something that makes this whole process so fulfilling.
When I plugged my headphones to listen to this album, I had no idea that it would be so joyous and surreal. I wonder how Matthew would have conveyed what he wanted to create to his fellow musicians and how they imbibed the description and sat on to work on their own music, producing a beautiful mix of music.
The first couple of tracks display the beautiful texture of Kyrstyn Pixton's ethereal voice and little streaks of the mandolin and the electric guitar. The title track introduces you to more comprehensive sounds of the piano keys. As you keep listening to the songs, you realize that almost an hour has passed–you have lost track of time. This, in itself, is the proof that you felt lost in music where actually you found the beautiful company of your Self.
I found the music to be relaxing as well as soft enough for a romantic drive.
Album Name: This Little Light
Artist's Name: Matthew Schildt
Total Time: 46:28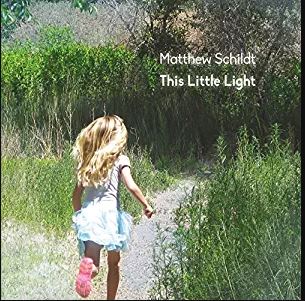 Because Matthew has given so much space and time to other musicians including electric guitar and vocals amply supported by the percussions, you will quickly notice that the composer in him could not sit back and wanted to create a melody that is jazzy enough to make your feet tap.
This is a wonderful album and one worthy of your collection!
| | |
| --- | --- |
| Track Name | Duration |
| Morning Flight, Changing Light | 04:05 |
| Circling Sky | 05:35 |
| This Little Light | 04:40 |
| Now the Day | 05:15 |
| Listening from the Other Room | 03:59 |
| New Life Ahead | 05:22 |
| Shine | 03:36 |
| New Morning | 03:50 |
| Late Evening Waltz | 06:24 |
| Reunion | 03:42 |