Album Review: Silent Whispers by Kaveh Karandish

There is a distinct flavor in music when some capable musicians from across the world and carrying the music of different genres come together to create a fusion–the same thing you will notice in the music album of Kaveh Karandish.
Packed with high-speed melodies and phrases that make your fingers run on the table as if you were a pianist, the album brings a host of musicians, instruments, and styles together.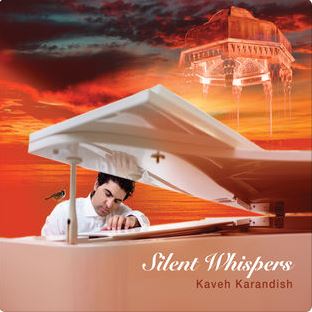 Album Name: Silent Whispers
Artist Name: Kaveh Karandish
Total Time: 60:29
A true fusion album, there are 14 songs and the second-last one has Iranian vocals too. There are tracks that showcase various artists and instruments including flute, Sitar, etc.
Because of the speed and tempo with which almost all the tracks are composed, a listener can expect to experience the exhilaration similar to a roller coaster ride. It is on the 11th track that you will have a slow tempo.
If you are used to listening to the solo piano music, expect a total shift from that approach as this album shows a completely different aspect of the instrument. Kaveh has done a fabulous job by creating such an album because it has a lot to offer to the listener.
My personal favorite is the 8th track: Zaagros Zephyr.
| | |
| --- | --- |
| Track Name | Duration |
| Silent Whispers (feat. Farzin Farhadi) | 5:36 |
| Southern Sunrise | 4:28 |
| Passion Dance | 3:51 |
| My Dream (feat. Mazy Karandish) | 5:07 |
| Kaveh and Sherif (feat. Sherif Sherifov) | 3:11 |
| Moments (feat. Sherif Sherifov) | 4:13 |
| Sunset Sparrows (feat. Eric Zang) | 3:56 |
| Zaagros Zephyr (feat. Mazy Karandish & Eric Zang) | 5:04 |
| Delicate Dreams (feat. Mazy Karandish & Eric Zang) | 3:33 |
| Shiraz Nights (feat. Mazy Karandish) | 4:43 |
| Traveler | 4:00 |
| Desert Dance (feat. Eric Zang) | 4:06 |
| Jaan E Jaanaan | 4:49 |
| Golden Dreams (Variation) | 3:52 |