Review of Eternal by Kevin Wood

This is not a solo piano album–why I started with this revealing line is because a lot of listeners tend to, and quite obviously too, make impressions from the name, cover, and the artist of the album–Kevin Wood, being a pianist, has created something more than presenting his own music. It is an ensemble of World Music with soothing sounds and rejuvenating vocals of various guest artists. So, expect more than what you know of an album produced by a pianist!
To start with, I would say I was totally surprised by the variety and flavor that this album offers. From Gregorian chants to vocals from various traditions, it seems to have a rich platter of tastes. It is like tiny sticks of incense of various fragrances have been presented as a spiritual sonic offering. It is no surprise that Kevin worked on this album for close to five years before bringing it to life for the listeners. Definitely, he has shown his prowess as a composer quite well in this album.
This is the first time I heard Kevin's music but I felt an immediate connection because the music is oriented towards alleviating the pain and grinding routine of our mind to keep feeding it by dwelling on it. The music helps you to take your mind off of your pain.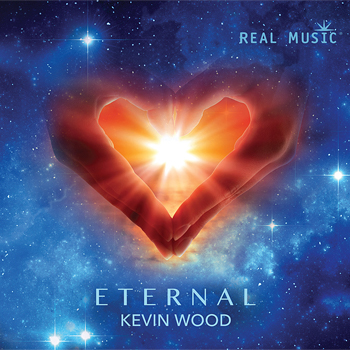 Album Name: Eternal
Artist Name: Kevin Wood
Total Time: 55:17
There are 12 tracks on the album with almost an hour of soulful music, and almost all the tracks have vocals as the major feature.
Various artists supporting Kevin on instruments including drums, guitar, and cello etc. have added brilliance to the compositions.
As always, I am fascinated by the nomenclature of the songs. For me, the names of songs are the essence that every piece carries, and often the name itself gives me the thought process that an artist would have followed while creating that particular track. The names of the songs on this album are so meaningful and well-picked.
My favorite song is the very first one–In Search of Meaning.
If you love listening to World music and enjoy vocals in different languages set to some soul-stirring tunes, this album should definitely be in your collection.
| | |
| --- | --- |
| Track Name | Duration |
| In Search of Meaning | 06:14 |
| Light Shines Through (feat. Francois le Roux) | 05:15 |
| Father's Love (feat. Jami Sieber) | 02:59 |
| Love's Embrace | 06:03 |
| Time for Change | 05:50 |
| Grace Eternal (Pachelbel's Canon) | 06:52 |
| Peace Begins with Me (feat. Jami Sieber) | 02:24 |
| Compassion Reigns | 02:38 |
| Blessed Awakening (feat. Craig Toungate & Shawnda Rowe-Birch) | 05:16 |
| Life Eternal (feat. Jami Sieber) | 04:22 |
| Atonement (Bonus Track from Kindred Album) | 04:50 |
| Stillness (Postlude) | 02:34 |