Review of Healing Music Vol 2. by Valerie Romanoff
Picking up the dual-disk album, I thought, I will be listening to some guitar-based tunes and maybe some fusion of instruments given that the artist is a multi-instrumentalist. However, I got a pleasant surprise when I got to hear many Indian instruments weaved so beautifully in almost all the songs. Though the name suggests that the music will have a certain tempo and groove, you never know what an artist is thinking when he/she is looking to create healing through music. The whole album gave a flavor of South Asian music as if you are listening to Nepali, Tibetan or Indian music itself. Valerie Romanoff has created an excellent compilation of different tastes for the listener.
There are 18 tracks in total (8 in the first disk, written originally by Valerie; 10 in another which are radio edits and also two bonus tracks), and all of them have a distinct sound of strings–something very elevating and relaxing. As various instruments weave their stories, a flute, here and there, renders its rhymes. Tom Rossi (Flute and Percussion) and Stevin McNamara (Sitar) have done a great job in bringing that South Asian element to the whole album. Overall, a very different compilation of songs, ideal for relaxation, rejuvenation, and meditation, etc.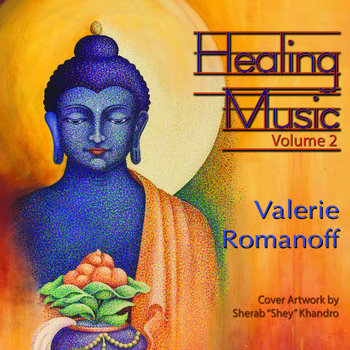 Album Name: Healing Music Vol. 2
Artist Name: Valerie Romanoff
Total Time: Disc 1–76:13; Disc 2–61:58
The album, of course big, offers a lot of variety in terms of moods. There are very meditative pieces and at the same time very joyous and rhythm-based ones. Then there are some groovy ones where you will hear the flute and the Sarod imparting that nostalgic touch.
It is not surprising that the artist categorizes her music as STILL or CHILL because you can feel that kind of impact in every song. I just wonder how much time it would have taken the artist to compose so much of work with such a variety!
While 'Dawn of Tao' is a meditative piece, 'Moving Glass' takes you on a very reflective journey, at the same time 'Prelude Went Beyond' enjoys a joyous mood. 'Pink Sky Over Still Water' has that thoughtfulness while 'Pink Sky Over Waves' flows like a semi-thick fluid.
There is a sense of softness and childlike innocence and at the same time a spirited touch every now and then. The compilation is a potpourri of flavors that multiple listeners can savor at different occasions.
Valerie has done a commendable job by bringing out such a magnificent collection of songs. I will recommend this album to anybody who is looking for some chill and relaxing music to rejuvenate and detox from the daily stress.
| | |
| --- | --- |
| Track Name | Duration |
| Disc 1 | |
| Pink Skies Over Still Water (STILL) | 09:57 |
| Pink Skies Over Waves (CHILL) | 07:35 |
| Beyond The Bend (CHILL) | 08:28 |
| Dawn of Tao (STILL, CHILL) | 17:42 |
| Backdrop (STILL) | 07:26 |
| Moving Glass (STILL) | 06:58 |
| Om Shanti Shalom- Beatmix Instrumental (CHILL) | 06:50 |
| Prelude Went Beyond The Bend (STILL, CHILL) | 11:17 |
| | |
| Disc 2 | |
| Pink Skies Over Still Water (STILL)- Radio Edit | 05:00 |
| Pink Skies Over Waves (CHILL)- Radio Edit | 05:00 |
| Beyond The Bend (CHILL)- Radio Edit | 06:00 |
| Dawn of Tao (STILL)- Radio Edit | 05:00 |
| The Bend (STILL)-Radio Edit | 03:07 |
| Backdrop (STILL) -Radio Edit | 04:58 |
| Moving Glass (STILL) -Radio Edit | 04:52 |
| Om Shanti Shalom CHILL)- Radio Edit | 05:31 |
| Prelude Went Beyond The Bend (CHILL)-Radio Edit | 05:00 |
| Pink Skies: Full Suite (STILL, CHILL) | 17.30 |