Review of Magic Kingdom by Peter Sterling
Reading a bit about this album, I came to know that Peter Sterling wanted it to be for children, because he had his own son Micah in his muse when he sat to create this beautiful album like a freshly bloomed flower–well, the exuberance and the joy of every song will definitely make you think of your own childhood and all the mischievous yet amazing time you spent and possibly long to experience once again.
When you think about the Sun, the first thing that usually comes to your mind is 'energy.' Given that the album was inspired by a solar eclipse, you will notice a palpable sense of energy in all the songs. I listened to this album with my headphones on, and it took me on a different plane of existence, and made me dance and play like a child. If you are looking for some half an hour of magic that would make you forget about your daily routine of stress and continuous engagement, pick this album and explore the joys so easily available to children.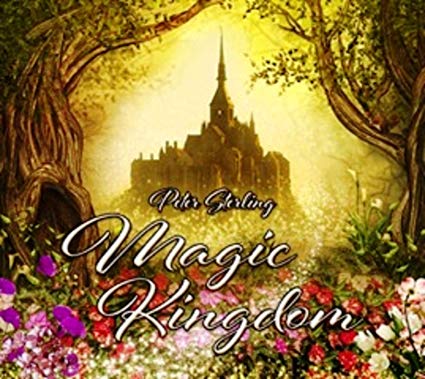 Album Name: Magic Kingdom
Artist Name: Peter Sterling
Total Time: 46:08
Creating meaningful music for kids is not easy, and more so if you are talking about instrumental music. If you are thinking of randomly playing some instruments and joining some tunes here and there and calling it 'music for kids,' stop kidding yourself! Creating songs with words is altogether a different matter because children could relate to the words, but weaving a story with sound alone is something that only a seasoned musician could accomplish. This is what I noticed in the whole album of Peter. He has conjured scenes and stories with every song.
While 'Everlasting Love' makes you feel dancing at a birthday party, 'Tomorrow's Child' takes you on a reflective journey reminiscing the carefree and stress-free days of your childhood. 'Kiss the Sun' is a delicate melody, fresh like the morning of the hills where chirps of the birds and flutter of the butterflies greet you as you awaken from slumber. If you like to sing along and are looking for a tune 'Joyful Journey' will serve as a great Karaoke. 
Peter has used multiple instruments, including vocals and different sounds, to create various effects and impressions. The rhythm is also an essential part of almost all the songs, often making you tap your feet with the music. The harp is quite prominent and makes the whole music angelic and ethereal. 
The album would make a great gift if you are looking to expose young ones if your family or friend-circle to some good music.
I congratulate Peter for bringing such an inspirational work and wish him more muses in the future so that he continues to share his gifts with the world. We need them!
| | |
| --- | --- |
| Track Name | Duration |
| New Horizon | 07:31 |
| Joyful Journey | 05:57 |
| Over the Bridge | 05:30 |
| Sword and Stone | 03:14 |
| Everlasting Love | 05:43 |
| Tomorrow's Child | 06:24 |
| Kiss the Sun | 04:43 |
| Magic Kingdom | 07:06 |