Review of Riding the Thermals by Nicholas Gunn
Though I am not trained in music yet there are some types of music that I prefer more over the other. Ambient music is the one that would come at the farther spot on the spectrum of my liking. But Nicholas Gunn has changed the whole perception! If ambient music can be so beautiful and impactful, maybe I will place it in the first few categories. And to know that this is just an exploration by Nicholas trying to capture a new genre, I just wonder what he will do in future! 🙂
By far, one of the best ambient/electronic music I ever heard–it is totally stunning and full of emotive sounds that will transport you to some of the choicest places may be hiding in the wishful corner of your heart.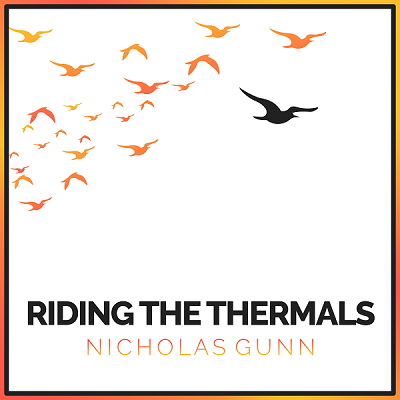 Album Name: Riding the Thermals
Artist Name: Nicholas Gunn
Total Time: 43:05
The album has 10 songs out of which 4 feature the melodious vocals from Alina Renae. In fact, the alternate positioning of instrumental and vocal numbers make the experience of listening to music like riding a sign-wave of sonic temperature. The album is so appropriately named as 'Riding the Thermals.' The listeners feel light like a feather and as if he/she is flying with the sound waves, gliding gently.
The album opens with beautiful seagulls' sounds readying you for the flight that you are about to take with the title song 'Riding the Thermals.' If you got such a beautiful title song, I would always prefer it to be the first one on the album–it just sets the tone for the later ones.
'I'll Always' shows the range and dexterity that Alina possess with her voice–boy, what a listen it makes with your headphones on! So soothing and rich.
'Finding You' is another amazing piece. It is so intriguing. There is a strange kind of suspense making you feel searching over some strange and unknown planes.
'Older' is a total stunner. The lucidity of Alina's voice coupled with amazing electronic sounds capture you and take you on a journey reminiscing about your past and maintaining the poise that you would want to adopt in your life. It is just the perfect combination of words and sounds!
A lot of people tend to relate the term 'ambient music' with 'lounge music,' which is sometimes applicable but this is not a lounge music album, for sure. It is 'creative music' if I could categorize it thus because it makes you energized and think–powerful, emotional, and stirring.
I would like to convey to Nicholas that you have picked the right chord if you are looking to create more music in this genre. You could the perception-changer for listeners!
| | |
| --- | --- |
| Track Name | Duration |
| Riding the Thermals | 05:24 |
| I'll Always | 04:01 |
| Be Tulum | 04:20 |
| I'll be Gone | 03:35 |
| Finding You | 03:03 |
| Saint Lucia | 04:39 |
| Out There | 04:41 |
| Ibiza Sunset | 04:56 |
| Above the Clouds | 04:24 |
| Older | 04:02 |