Album Review: "Call of the Mountains–Ascent"

Soul's Explorations Of Nature and Beyond – Discovering Where Music Can Take You To
Registering his reflections on Masako's album "Call of the Mountains – Ascent", Will Ackerman, Grammy-winning guitarist, producer, and founder of Windham Hill Records writes, "Some of the very finest work I've heard in my career . . . Performances of such quality that are so rare to be nearly mythical . . ." this one line is good enough to leave the audience in anticipation suggesting what to expect in this musical marvel. I found "Call of the Mountains – Ascent" truly a 'Wonder in Sounds', as this treasure of musical notes instantly engages in a deep work at the core of your being.
Masako's monument in sounds
'Music to inspire the soul' is an off-the-beaten-track concept in music that very few artists dare to attempt with a justifiable degree of perfection. Masako's musical works have always belonged to a niche that could ably inspire millions to draw their soul's nourishment from her music. She has a superior understanding of what music is capable of and how to encapsulate the energy of music into her tunes to be conveyed to her audience.
Will continue to enthuse millions
Steered by an exceptional kind of acumen in the solo piano genre, Masako invests in the power of her music to explore the new world of beauty. Admiring the loveliness of nature is a recurring theme in her compositions which seek to fuse nature, music, and human consciousness together into a composite whole. This theme reaches new heights in this album which is sure to stand out as one of her most bespoken musical works.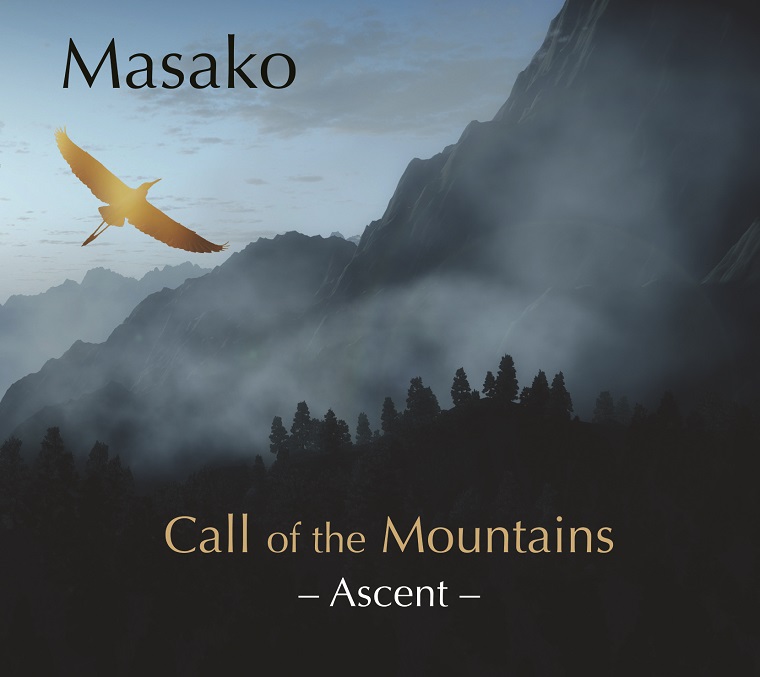 Now, together let us explore the different tracks of the album "Call of the Mountains – Ascent"
1. Calling
Each of Masako's albums dwells on a select phenomenon in nature and this time it is mountains. Masako says through her music that the call of mountains is irresistible and hence she goes on a voyage to explore the wild beauties of the rugged world. As you move with the notes of the first track, you get to see the different layers of mountainous regions open in front of you.
2. Final Ascent
Hikers have to travel several miles to reach the final summit of Mt. Katahdin, Maine on the Northbound Appalachian Trail. Viewing the last mountain on the trail at this point can be an inexplicable experience, which Masako captures in the second track 'Final Ascent'. The feeling is a mixture of exhilaration and marvel. As the song progresses, you will move through towering peaks that will add up to the excitement.
3. Elusive
The wild worlds are shared by both flora and fauna. The sights of trees, bushes, and creepers thrill you while the sounds and signs of animal movements intrigue you with surprises and excitement. Unknown footprints keep you guessing what they could be of. You keep exploring with a mix of feelings that are hard to explain. The third track contains a lot of notes suggestive of surprises all through.
4. Conifers
Conifers towering above your head are a sight to behold in forests and mountainous regions. The fourth opus is a cute-sounding composition that meanders through some unexplored terrains.
5. Embraced by Green
'Green' is the predominant color in nature dominated by forests and mountains. As you invade a lush green mountainous region, you are encapsulated in the greenery that is soothing for your soul. 'Embraced by Green' is an assemblage of melodies that will linger in your ears for so long.
6. Solitude
Solitude can be a lovely experience especially when you get to enjoy the beauties of nature all alone. Given completely to oneself to get immersed in the beauties of nature is a rare experience we may not get to experience often. Masako records some lovely musical sentiments in this track that can overtake us when we are alone with nature.
7. Traverse
Traversing through the challenges of the mountainous regions can feel overwhelming. However, the rewards of this mission can be an unearthly experience many passionately crave for. 'Traverse' is a fantastic piece in this album that contains some rare reflections on a mountaineering enthusiast who find the tasks dear to his heart.
8. Mothers
Wild nature consisting of flora and fauna is a forum of mothers that give rise to a plentitude of offspring that will continue their lineage. The eighth track is a moving song that pays tribute to the creative power of nature that ensures the continuation of a grand story.
9. Swift Rivers
Swiftly flowing springs, streams and rivers are a symbol of energy. 'Swift Rivers' is an energetic composition that captures the power transmitted by fast-flowing waters. Every note that you encounter is spontaneous and energizing. You begin to discover a strange freshness overtaking you as you move along.
10. What I Left Behind
We do not get to spend time with nature very often. Finally, when we get to experience those cherished moments, we forget everything about the world including our earthly commitments. The longing we had been carrying for such a delight for ages is finally fulfilled and the happy moments are to celebrate. The effect intended by the musical notes is heightened by the humming vocals n this track.
11. How to Calm a Bear
Not everything about wild nature is enjoyable. There are some perils to watch out too. 'How to calm a bear', the eleventh track prepares you for some unexpected dangers in the mountains, which you must know how to deal with. This track is the work of a skilled artist who teaches how to converse with animals in the language of music.
12. Deepening Autumn
True to its title, the twelfth song is progressive in nature and deployment. The effect deepens when you move with the tunes. Snow around you intensifies and you begin to experience harsh weather that you must endure to survive and continue with your mission.
13. Above the Tree line
No adventure is free of perils. The whole mission in front of a mountaineer is to safely face the difficulties of trekking and rise up to successive altitudes with a cheerful spirit. The thirteenth piece seeks to refresh and energize the adventurer nourishing his soul with some musical motivation. Once again we get to listen to vocal harmonies merging with the piano notes.
14. Lady's Slipper
Named after cypripedioideae, a subfamily of orchids, the final track in the album is a masterly work by Masako. The composer's shrewd maneuvering of the piano chords results in a successive array of soothing music that intends to reward the voyager on his expedition. The listener discovers an inexplicable sense of joy and fulfillment that lingers long after listening to the track.
Before you go . . .
Listening to the album, you begin to wonder at the power of inspired music. No listener can help but admire the zenith that Masako is capable of reaching through her music. Listening to her music and especially "Call of the Mountains – Ascent" is a delightful mission of the soul in which the spirit finds a fitting ship to travel in the blissful oceans of the eternal quest. Her music is infectious in nature and especially the one we experience in this album. So, give yourself completely to this astounding work and share it with your dear ones too as there can be no better gift to them than this.