Single Review—Paheliyan Saheliyan by Madhumita Chatterjee and DJ Rapper William March

I was listening to hallowed talk today and the mention of the 'Friendship Day' came. A lot of examples were cited from the epics of Indian history, and it was clearly elucidated that 'friendship' is a very special term and relationship though used very casually. This casual attitude towards almost all relationships among the present generation, called Gen Z, is in fact, the seed of this song.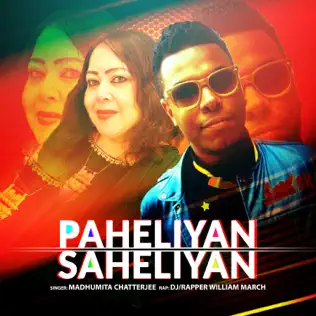 The lack of patience or fortitude and the availability of experiences that provide instant gratification makes it hard to drill down lessons or teachings that have no short-term results. This is the bane of today's generation, which often results in frustration and isolation and ultimately many negative impacts on physical and mental health (not to mention overall societal health).
The song was penned by Sandeep Nath, who wrote the famous 'Sun Raha Hai Na' Bollywood song. Composed by Samir Bodhi and sung by his wife Madhumita Chatterjee and DJ Rapper William March, the song gives you the gravity of the situation in your own modern terms—pop genre.
The Hindi lyrics coupled with rap English make it very unique—yet the message remains stable and hits you hard.
There is no denying that Gen Z comes with its own specialty and singularity like any other previous generation did—the one that stands out is that this generation needs proof to believe in something and will not take your words at their face value. They are ready to admit faults and move on to improve themselves—failure is no longer considered a roadblock but rather a discovery of a method that should not be followed. However, too much rationalistic and materialistic repose also results in a void, which can't be filled by another form of gratification. It needs something substantial and meaningful.
This is where the song leaves you—detailing the present situation and making you thoughtful of perhaps going deeper inward and finding something truly hearty that could make you feel valued.
The amalgamation of Bollywood-style Hindi verbiage with English rap is very admirable and the music makes it a pop song, which you would like to play as an anthem on your mobile phones. Indeed, a very noble way of addressing a very important issue!
Kudos to the whole team and wishing the best!
Music Producer: Mike P.
Mixing: Aloke Punjani ( Studio 208 Mumbai)
Mastering: Alex Gordon ( Abbey Road Studios)
Artwork: Rick Sarkar
Listen on Spotify: