Album Review–Weathering by Tom Eaton

Everybody's Story
A host of maxims defines 'LIFE' in myriad ways. For Tom Eaton, LIFE is a process of self-discovery. No two men can have the same story, but a common thread connects all human experiences. Therefore, humans are able to share something in common between them. In everybody's life, there is a time when all hopes are shattered and they feel lost. The shock and disillusionment resulting from this experience kick-start the process of rediscovering oneself. Precisely, Eaton's latest album 'Weathering' is based on this concept.
A versatile American artist, Tom Eaton is at once a musician, producer, and mastering engineer. Deploying a rare combination of guitars, vintage and modern synthesizers, basses, a diverse range of sonic sculpting devices, his signature piano, and field recordings, Eaton champions a rare musical style described as 'lush, shadowed, emotional music' under the genre of ambient music. Hypnagogue describes Tom's music as "breathtaking, rich, complex, and beautifully structured". The Grammy Award-nominated artist's music was featured on Hearts Of Space, Echoes, Star's End, Sirius XM, and NPR.
'Weathering' is a musical narrative of the artist's tryst with life. The storyline in the tracks describes how he lost hopes, lost his home, sought clarity, and finally found his way back to light and life. Eaton wrote, performed, produced, recorded, mixed, and mastered the album at Universal Noise Storage in Newburyport, MA, and Sounds & Substance in East Kingston, NH, between 2018 and 2022. In "The Lost Years", Huck Eaton contributed with the strummed electric guitar while Tom performed on Piano, basses, guitars, synthesizers, accordion, and percussion.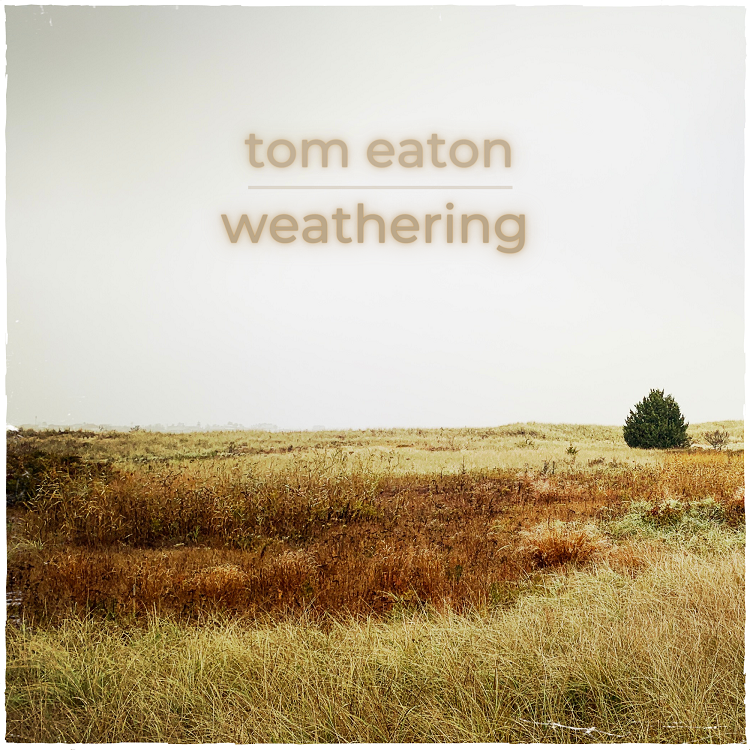 #1. Prelude To The Lost Years
The opening track is a short song of just 55 seconds. In fact, I would call this song a bunch of soft but stark notes meant to warm up the audience. As I played it, I felt like the artist asking me, "Hey! Are you there? Come on, let's get started."
#2. The Lost Years
Any self-discovery must start with self-introspection. Looking back at our past years, if we are not happy with our performance for some reason, we might feel remorseful. In this track, Eaton has squeezed the best out of ambient music to evoke an apologetic mood in the listeners. As we get to the end of the song, the song would have quietly prepared us for the self-introspection that would follow in the subsequent tracks.
#3. Above The Mad River
The artist's notes for this track say the inspiration for this song was an unusually mystifying experience he had once while hiking. Everything around him felt silent and he was reminded that the peace he had been searching for was always there within him.
I found this track a stupendous member in ambient music. Close your eyes and commit to the song in a silent setting. You are sure to travel to the deepest spot of your being to find a reservoir of peace over there. The somber feeling nurtured by the song was so tempting that I played it a couple of times before moving on to the next tracks.
#4. Instead I Said Goodbye
True freedom is the freedom to make choices in life. When we are not willing to be crippled by the situations, we will have the guts to say 'Good Bye' to something which we want to quit for good. The fourth track cradles your heart and teaches the art of decision-making. One of the most pensive yet powerful compositions, you will find this track engaging in a soothing conversation with your soul.  
#5. The Empty Page
While looking for a positive change in life seriously, we must have the guts to leave the familiar and pursue the opportunity that we have always wanted. Life is an empty page and you must fill it with notes, words, or colors. In this track, the artist paints a splendid picture using a set of ambient melodies. We begin to feel that life is worth living when we have the cherished objective in front of us.
#6. Weathering
The title song, the sixth track, 'Weathering', is about transformation, growth, and maturity. The melodies of this song are deeply probing and evoke a sense of deep search within. While relating to the process the artist underwent while moving from uncertain times to a promising understanding of himself, the musical narrative is also suggestive of the process of maturity that comes with self-introspection.  
#7. The Beach, The Rain, And Hope
The theme of the seventh track is how Tom and Sarah came to share their lives with each other. The life partner also becomes a mentor in teaching the art of life. This track is a uniquely different member of the album. The tone of hope and promise permeate the entire track and the tunes have a magical effect in refreshing the listener's being. 
#8. The World With Her In It
When we feel there is someone to care for us, we feel like wearing a smooth texture. Describing the setting behind this composition, the artist says it was the time when he experienced some calmness in his life for the first time. The eighth track marks significant progress in the journey of the listener. The music teaches you where calmness lies and how to experience it in life.
#9. When Clouds Give Way To Stars
Every journey leads you to a destination and every search lets you find a solution. The long tryst the artist has had with himself seems to give way to a renewed understanding of himself. In turn, his wisdom translates into the message he wants to give his audience. The tunes of this track lead the listener to perceive the grand cosmos of which one is just a small part. In the end, a heavenly peace surrounds you and you are wholly comforted.
Take away
Investing in his deeply personal experience, Tom Eaton makes universal recommendations for everyone's life, which no amount of money can buy. Every single track opens up a new door for your life and widens your understanding in a unique way. As you commit to these songs, you begin to relate your life with the music, virtually feeling that you have lived the experience the artist narrates.
Tom Eaton's "Weathering" is a masterpiece you will definitely want to preserve for the rest of your life. A kind of musical Bible, it is worth listening to it more than a thousand times whenever you need the succor and support of an unseen hand. Every time when you play it, the music reminds you that you are with something rare to find on this earth, easy to comprehend, but difficult to explain.
Listen on Spotify: