Interview with Chetan Joshi–a flutist

Chetan Joshi and his golden bamboo flute seem to be so compatible with each other that one loses a meaning without the other. A strong exponent of the purity of the Classicism, Chetan Joshi handles very difficult themes with ease and that tells of his training and
rigorous riyaaz that he goes through.
He has won many accolades and awards for his pursuit of excellence in music. Some of the include:
'Sur Mani' (1992) – Mumbai
'Bismillah Samman' (1992) – Bihar
'Venu Shri' (1997) – Uttar Pradesh
'Sangam Samman' (2005) – Ranchi
'Praveer Pratibha Samman' (2005) – Bokaro Steel City
'Rajakiya Sanskritik Samman' (2006) – Jharkhand
'Best Teacher' (2007) – Ranchi
Swar Sangam Samman (2008) – Dhanbad
We  had an email interview with Chetan.
Q1. Tell us something about your early days. How you grew up liking music?
It was my early childhood when I used to live in a small village called Noamundi. The village was tribal dominated and there was no means of entertainment available other than the radio. My mother is fond of old songs and I too picked up this habit of listening songs on the radio. Till my matriculation, more or less, this was the situation.
Q2. How you picked up flute as your instrument? What was the main attracting point?
We shifted to Bokaro Steel City from Noamundi in early eighties. There once I got opportunity to participate in the Marching Band. I was given option to learn Drums, Bugle or flute. I picked up flute because of its beautiful sound. I started learning few compositions suitable for marching. Later I started experimenting with the flute and started playing few film songs. This was the time when I got attracted with flute and started looking for an opportunity to learn.
Q3. Tell us something about your tutelage and how has been your training into classical music?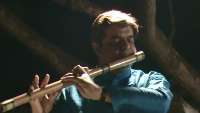 It was by chance that I could see the sign board of 'Bokaro Sangeet Mahavidyalaya'. I visited the music college and took admission under the guidance of Acharya Jagdish in the month of April 1982. He is a disciple of Late Pandit Omkar Nath Thakur and many other great gurus. He himself is a vocalist but knew basics of flute. Under him my learning started in full swing. Within six months I gave my first public performance and also won First prize in All India Music Competition organised by Prayag Sangit Samiti at Allahabad. This gave me a boost and I started practicing more vigorously. The competition was another turning point for me because I met with Late Pandit Bholanath Prasanna in the green room. That was the moment I decided to come to Allahabad and learn from him.
In the year 1985 I started learning from Pandit Bholanath Ji and he asked me to start from the beginning. The reason was my unawareness of techniques of flute playing. I agreed with him and stayed two years in Allahabad to learn from him. Those days, I use to practice flute for more than 10 hours every day. Guru Ji has given me a lot of attention and made some good flutes for me.
In the year 1992, I went to Mumbai to learn from Pandit Raghunath Seth. He is like ocean of knowledge and I am very fortunate to get blessings from him. Till now, I am learning from him by visiting Mumbai whenever opportunity comes.
I heard first time Pandit Ajoy Chakraborty in a concert at Bokaro. It was a mesmerizing experience for me. I went to him and requested him to accept me as his disciple. I am grateful to him for obliging me. I am attending his master classes whenever we both get suitable time.
Q4. Have you collaborated with the artists from various styles and genres of music playing different instruments? How has been the experience?
I believe in experimenting, yet I do not compromise on certain issues. I feel beauty of the music should not be compromised on the name of experiments. I have performed many Jugalbandis with different artists. In Japan I played with Shakuhachi. In India, I have performed with Violin and Santoor. My friend Shruti Adhikari from Bhopal has performed with me several times at places like Delhi, Varanansi, Durgapur, Motihari, Bhopal and many more places. We have developed an understanding and can produce good music without disturbing each other. I have also made an ensemble 'Sanskar Band' with about ten instruments and that too was successful in many public concerts. I have experimented in Choir singing too and some of my compositions have got prizes on the National level group song competitions.
Q5. Indian style of presenting the music through concerts is a unique one. There is no written music as it is in Western style. How do you feel it helps the artist in experimenting on stage?
I would like to quote my Guru Ji Pandit Raghunath Seth – " The major difference between Indian and Western musician is, in west composer writes the score, conductor conducts and instrumentalist performs; but in India, all three are done by one artist and that too instantly at the stage."
Though it sounds amazing but it comes very naturally to the Indian musicians. This happens due to our cultural lineage which runs through thousands of years.
Q6. Which artist inspires you as a flutist?
I am fond of My Guru Pandit Raghunath Seth's flute. I also take inspiration from great maestros like late Pandit Pannalal Ghosh, Pandit Hari Prasad Chaurasia and Pandit Vijay Raghav Rao.
Q7. What other passions you enjoy?
I do enjoy playing chess. I like to read good books and fond of reading autobiographies of great artists.
Q8. What do you feel keep you going on scaling higher and higher goals?
It is sweetness of music, audience expectation and self analysis which keep me going. I always look for some new avenues and try to learn new things.
Q9. Any message or advice you would like to send to the readers?
I firmly believe that we must be open to all kind of music. Creativity has no boundaries and whatever is good could be appreciated. We should not confine ourselves to Indian, Western, African or Oriental music. Any kind of music, which is good, should be welcomed with open heart.