Interview with Sameer Rao–a young flutist

Sameer Rao is a young flutist nestling around the famous Vrindavan Gurukul started by the flute-God Pt. Hariprasad Chaurasia. For a young and budding flutist, there could be no better place to learn at the Gurukul and taking direct lessons from Guruji. He has accompanied his master to many concerts and is mastering the techniques for which Pt. Hariprasad Chaurasia had and has been famous.
It goes without saying that having a solid background in classical music helps the musician to have a solid foundation. Once a musician develops this solid foundation, he/she is ready to experiment, innovate, and be creative.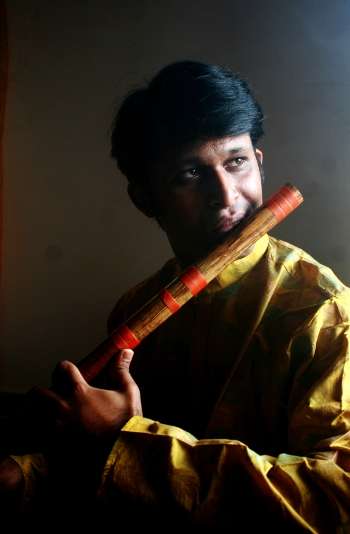 Sameer represents the youngest generation of musicians or flutists to be precise who are into classical music and is venturing out to make a musical career for himself.
Consistency in practice, single-minded devotion to the art, and physical hard-work are the required ingredients for any life devoted to serve music.
We had an email interview with Sameer knowing more about him and his stay at the Gurukul.

Q1. Tell us something about your early life. How and where you grew up and how you got inclined towards music?
I was born in a place called Shimoga in Karnataka. When I was 6 months old, we shifted to Mysore. So, my schooling and all happened in Mysore only. My father has an ear for Hindustani Music and he played the gramophone records and many cassettes frequently. So Right from my childhood, I've been listening to artists like my Guruji – Pt. Hari Prasad Chaurasia, Ustad Ali Akbar Khan Saheb, Ustad Vilayat Khan Saheb, Pt. Ravi Shankar Ji, Pt. Bhimsen Joshi Ji, Pt. Kumar Gandharva and many more, almost all the time when he was at home. When I was in my mother's womb, he even had started learning to play flute but for some reasons, it didn't continue. I think this is how I got attracted towards Hindustani Classical Music.
Q2. How it anyhow came that you picked bamboo flute as your instrument?
When I was young, I found a small straight flute at home and started playing it. I used to play many self-taught tunes on that like the 'Jana gana mana', 'Saare jahaan se accha' etc. My father recognized my talent and he got me admitted to a music school in Mysore. Then I started learning from Pt. Veerabhadriah Hiremath, disciple of Pt. Puttaraj gawai of Veereshwar Punyashram, Gadag. He showed me how to play the Sargam on the flute. But as and when I got advanced, it became difficult for me as he didn't know how to play the flute and I didn't know how to sing. Every time he used to sing a phrase, I used to come home, figure it out on flute and go back to the class. Guruji's cassettes and CDs helped me a lot in developing the techniques. I learnt from him for almost 8 years and then in 2002 I was accepted as a disciple of Pt. Hari Prasad Chaurasia. Ever since then, I'm been at his feet and feel blessed that Guruji accepted me as his disciple and gave me a chance to live in Gurukul. It's an opportunity of a life time. I truly feel immensely fortunate.
Q3. Taking direct instructions from Pt. Hariprasad Chaurasia, what the experience has been like?
Its truly a wonderful experience. Guruji expects the student to be dedicated, hard working, single-minded and devoted apart from being talented. Every class with him encourages me to practice more and more. There are so many new things, so many new corners in the ragas. There are so many new angles and so many new ideas to think and work on. It is a beautiful journey.
Q4. Tell us something about your schedule at the Gurukul.
Well, our daily schedule is quite simple. Wake up and play flute, eat and play flute, sleep and play flute. 24/7 music…you are free to play and practice at any time of the day, any time of the night. We get our breakfast at 9 in the morning, lunch at 1 in the noon, dinner at 9.00 pm. In between, you get tea and snacks if you want. There is a cook who prepares food for us and Guruji. There is a care taker also…we all assemble and do Aarti in the temple at 7.00 pm every day. Guruji teaches us whenever he is in Mumbai. What he gives us in one class is more than sufficient for us to work for a week. Apart from his busy concert schedule, (he has a record.. 365 days and 400 concerts all over the world!)  he takes out time to teach us. We get around 20 classes in a month approximately. He is 70 now. Even at that age, so many times, he comes to the class room straight from the airport to teach us. We are allowed to go and perform outside when we get opportunities. Guruji also takes us with him to accompany him in his concerts sometimes. We also attend music concerts as we learn a lot by listening to different musicians. For me, he is not only the guru who teaches music, but he means the world to me.
Q5. You have performed with your master at various places? How do you feel it is different to be on stage with him and being with him at the Gurukul?
Being on the stage with Guruji is indeed a wonderful experience. Every concert with him gives me so much learn and so much to understand. Whatever he tells in the class, kind of comes and stands in front of you when you are on the stage with him. How to treat different taalas and different ragas, how to play with the Tabla and things like that. Of course, the presence of the audience in the concerts makes the difference, but Guruji makes me comfortable and confident. In the class, you get one thing at a time but in the Guruji's concerts its like 100 things.
Q6. What do you like most in bamboo flute in terms of its range, variety, tonal quality, etc?
I like everything about Bansuri. Bansuri has a range of one and half octaves which is more than enough to show my emotions. I like the sound, I like the tonal quality, the texture and everything about the flute. The most I like about the flute is its simplicity.
Q7. What do you want to do in future as a musician? A lot of musicians like to try  fusion music where artists from different backgrounds come together. Do you feel that could be an option for you?
I do play with many fusion bands; I do a lot of jugalbandis; play for recordings; films and everything. But my first love is to play solo concerts.
Q8. Any experience you would like to share with the readers—your personal life or your life at the Gurukul?
The Janmashtami that we celebrate in gurukul is a wonderful experience. Guruji and all his students get together on that day and we play flute for 24 hrs non-stop. It starts at around 12.00 am when Krishna takes birth and goes on till the next day 12.00 am. It's really a memorable experience every year.
Q9. How your music shaped your own personality down the years?
Music has changed a lot of things in my personality. It has made me more patient; has made me more calm and peaceful. The restlessness that I had in me is gone. You know always wanting to do something. My thoughts have more clarity than before and its getting better day by day.
Q10. Any advice to the young and budding musicians and our readers?
Well, I'm too young to give advice to anyone. All I can say is that whatever you do, if you do it with your heart, you will get the best results. So, one has to work hard with total dedication and total awareness.